Mary Lucille Hefley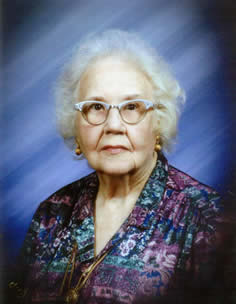 Obituary Notice
Lucille Hefley, of Little Rock, departed this life to be with her maker on Saturday, September 24, 2005. She was born in Little Rock in 1910 to Jennie Glover Rogers and William Sanford Rogers.
In 1927, Lucille had the honor of being elected Senior Class President of the first graduating class of the newly constructed Little Rock High School, later named Central High. Lucille was also a National Honor Society member.
In 1984, Lucille retired as Secretary and Program Administrator at St. Luke United Methodist Church in Little Rock.
Lucille and her husband, Reverend John B. Hefley, lived in several Arkansas towns during Reverend Hefley's career as a Methodist minister.
Since 1967, Lucille has been a member of St. Paul United Methodist Church, and a member of the Neil Hart Sunday School Class. Lucille was honored as a "Pillar" of St. Paul. Throughout her life, Lucille was a serious student of the Bible and taught Sunday School classes for 70 years.
Lucille was preceded in death by her parents, her husband, and three brothers: Eugene S. Rogers, Fred A. Rogers and Glen F. Rogers. She is survived by two sisters, Allene Wells of Hot Springs, Arkansas and Pauline Lewis of Tyler, Texas; and several nieces and nephews.
A memorial service will be held at 11:00 a.m. on Tuesday, September 27, 2005 at St. Paul United Methodist Church. Memorial gifts in lieu of flowers can be sent to St. Paul Methodist Church, 2223 Durwood Road, Little Rock, AR 72207.
Arrangements by Ruebel Funeral Home, www.ruebelfuneralhome.com.

---
Register Book
---