Madeline Bauer Gibson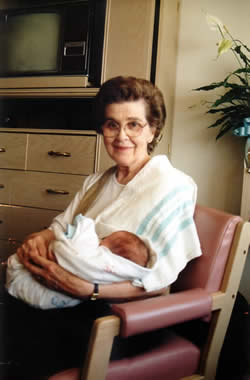 Obituary Notice
Madeline Bauer Gibson, "Me Mommie Madeline", age 81, of Little Rock, passed away November 18, 2005, after a long battle with Parkinson's. She was born in Old Monroe, Missouri, the daughter of the late Paul and Apollonia Bauer. She was a devoted wife, mother and grandmother. Madeline was a kind, gentle soul who filled the world with love, and laughter. She completed every task with such perfection. She was an accomplished seamstress, extraordinary cook and pastry chef. She will be missed greatly by everyone who knew her.
Madeline is preceded in death by her husband of 44 years, Harry Charles Gibson who died in 1993; three children, infant John Gibson, and sons, Jerome and Christopher Gibson; four brothers, Leander, Cornelius, Paul and Arthur Bauer; a sister Ester Bauer; and a grandson, Matthew Miller.
Survivors are five daughters, Janet Korenblat and husband Scott of Little Rock, Jennifer Honeycutt and husband Jeff of Little Rock, Deborah Bolinger and husband Bobby of Morristown, Tennessee, Kathy Lee of Little Rock, Mary Boyd and husband Jim of Virginia Beach, Virginia; two sons, Robert Gibson and wife Lisa of Little Rock, Michael Gibson and wife Sun of Abilene, Texas; a daughter-in-law Davina Bolinger of Morristown, Tennessee; four brothers, Edwin Bauer and wife Harriet, Sylvester Bauer and wife Gen, Victor Bauer and wife Bernadine, James Bauer and wife Ruth; a sister Sally Ohlms and husband Glennon; grandchildren, Brian and Amy Lowery, Lisa Miller, Joey, Rebecca and David Bolinger, Jesse Honeycutt, Liana, Kelly and Luke Gibson, Anna Gibson, Tyler and Adam Korenblat; three great-grandchildren, and many nieces and nephews.
A Rosary will be recited at 7:00 p.m. Monday, November 21, 2005, at Christ the King Catholic Church. Funeral Mass will be held Tuesday at 11:00 a.m. at Christ the King Catholic Church, officiated by Monsignor Herbert Hebert. A reception will follow in the Church Social Hall. Graveside services will be 2:00 p.m., also on Tuesday, at Pinecrest Memorial Park.
Arrangements are under the direction of Ruebel Funeral Home, www.ruebelfuneralhome.com.
Memorials in lieu of Flowers should be made to Arkansas Hospice, 5600 W. 12th Street, Little Rock 72204; National Parkinson Foundation, 1501 NW 9th Ave., Bob Hope Road, Miami, Florida 33136, www.parkinson.org; or the U.A.M.S. Center on Aging, 613 S. Elm, Little Rock 72205.

---
Register Book
Jeff and Jennifer, There are no words that can ease your pain right now but please know that we are praying for you to find peace in your hearts as time passes. Please let us know if there is anything we can do.
James and Amber Neumeier
Lonoke, Arkansas
---