Lucy Lee Pryor Moore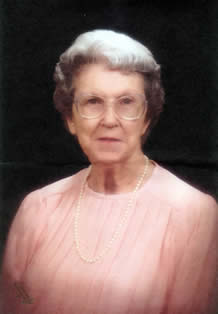 Obituary Notice
Lucy Lee Pryor Moore, age 83, of Franklin, Tennessee, formerly of Little Rock, died Monday, October 3, 2005 at Williamson Medical Center in Franklin. She was born in Malvern on September 19, 1922 to the late James and Linnie Staggs Pryor. She was a Licensed Practical Nurse, and was a member of Antioch Missionary Baptist Church in Little Rock.
She was preceded in death by her parents, a sister Glenna Kelly, and her husband, Franklin C. Moore, who died in 1985. Franklin was a retired Little Rock Police Officer.
Survivors include daughters, Mary Frances Butler and husband Steve of Maumelle, and Carolyn Riviere and husband Paul of Franklin, Tennessee; granddaughters, Amanda Butler of Maumelle, Cathy Riviere of Franklin, Tennessee, and Becky Riviere Collins and husband Spencer of Knoxville, Tennessee; sister, Jimmie Kooistra and husband John of Little Rock; and several other relatives.
Visitation is 5:00 to 7:00 p.m. on Friday at Ruebel Funeral Home. Funeral services will be 10:00 a.m. on Saturday, October 8, 2005 in the Chapel of Ruebel Funeral Home, officiated by Rev. Robert Slagley. Burial will follow at 12:30 p.m. in Mount Pleasant Cemetery, Quitman.
In lieu of flowers, memorials should be made to the Deaf Ministry at Antioch Baptist Church.
Arrangements are by Ruebel Funeral Home, Little Rock, www.ruebelfuneralhome.com.

---
Register Book
With Sympathy.
Jason Engler
Funeral Director, Ruebel Funeral Home
Little Rock, Arkansas
Carolyn and Mary Frances, Walter and I are sorry to hear of your Mother's death. I will always remember our visits in and out of your parents home when we were in school. It seems we were always in a rush to get somewhere. I have fond memories of those times. May it comfort you to know that your loss is shared by those who care about you. Thinking of you during this time of sorrow.
Love,
Sherry and Walter Ahring
Little Rock, Arkansas
Email: wahring@comcast.net
---