John W. Clayton, Capt. USNR, Ret.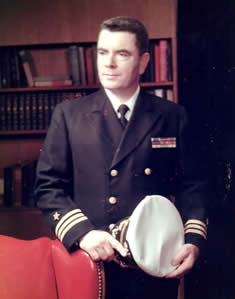 Obituary Notice
John W. Clayton, Capt. USNR, Ret. died November 22, 2005. He was born in Edina, Missouri, to the late Ralph and Ruth Clayton. He was preceded in death by his wife, Catherine and sisters Olive Hardke and Nina Miller. Capt. Clayton was a World War II veteran, a Pearl Harbor Survivor and a 1946 graduate of the United States Naval Academy. He served with distinction in many capacities as a Naval Officer, including Executive Officer on the USS Independence in the Mediterranean in 1966 and as President of the United States Naval Reserve Officers Association in 1980. He owned and operated Clayton Health Stores for number of years and was appointed to a term on the State Board of Health by then Governor Bill Clinton. Many will remember him as Director of the Junior City Baseball League in Little Rock from 1957-1964. He was a Mason, member of the Scottish Rite and a Shriner.
He is survived by a son, John W. Clayton, Jr. and wife Regina of Richmond, Virginia, grandsons John W. Clayton, III, and Jason W. Clayton both of Atlanta, Georgia, and nephews Fred Hardke of Carlisle, Robert Miller of Lonoke and Bill Miller of Cabot.
Services will be held in the chapel of Ruebel Funeral Home at 11:00 AM on Monday, November 28, 2005, with visitation at 10:30 AM.
Memorials in lieu of flowers should be made to Arkansas Hospice, Pulaski Academy Scholarship Fund or a charity of choice.
www.ruebelfuneralhome.com
---
Register Book
The Military Order of the World Wars, Central Arkansas Chapter
North little Rock, Arkansas
Email: jimelmer @swbell.net
We will miss Captain John W. Clayton, a great patriot, hero, and leader.
Colonel James D. Elmer
North Little Rock, Arkansas
Email: jimelmer @swbell.net
Helen Goff
Little Rock, Arkansas
Email: helen@pulaskiacademy.org
---