Janet Louise Yarbrough Brizzolara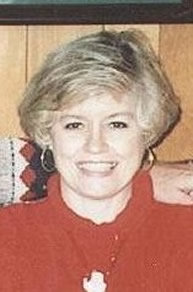 Obituary Notice
Janet Louise Brizzolara, age 57 years, of Little Rock, passed away December 25, 2005, after a long illness. She was born July 12, 1948 in Benton, Arkansas the daughter of the late Byron and Ann Yarbrough. Mrs. Brizzolara was a graduate of Benton High School before graduating from the University of Arkansas at Little Rock with a degree in English. Before her illness she taught at Miss Selma's School and at Holy Souls Catholic School. After her illness she loved "needle pointing", collecting figurines and she loved playing the piano. She maintained an up beat pleasant demeanor at all times no matter how she was feeling.

Janet is survived by her husband of 35 years John P. Brizzolara of Little Rock, a daughter Tricia Ann Maudlin and husband Todd of Oklahoma City, Oklahoma, a son John P. Brizzolara, Jr. and wife Abigail of Little Rock, two granddaughters, Mollyann and Isabella Maudlin of Oklahoma City, two sisters Cathy Dicus of Fayetteville, Arkansas and Vicki Johnson of California.

There will be a Rosary Tuesday evening at 7pm at the Ruebel Funeral home, followed Wednesday with a Mass of Christian Burial at Our Lady of Holy Souls Catholic Church at 11am with The Very Reverend Monsignor David LeSieur as celebrant. Burial will follow at Calvary Cemetery.
Arrangements are under he direction of Ruebel Funeral Home, www.ruebelfuneralhome.com.

Pallbearers; Tommy Jones, Jim Niedermeyer, Charles Dicus, Jonathon Dicus and Junior Holleman.

In lieu of flowers memorials should be made to the St. Vincent Infirmary Foundation.
---
Register Book
To all members of the Brissolara Farmily:

Please accept my condolences for you loss of JP's mother and Abigail's mother-in-law. My personal experience with Janet was too brief but always very happy. The Brizxzolara family has been so kind to my Abigail and loved her and encouraged her as though she was their own child. This is due to the great leadership and guidance of a great mother.

I know she will be greatly missed and suffered much in her life. May the blessings of God be on her and each of you as you learn to live without her daily physical presence. She is with you always.

Please forgive my lack of attendance, but there is no one to take my place on the farm and I am unable to drive for that long a distance by myself. I am there with my prayers and Abigail will have to stand for us as the Smith/Darnell representative at the funeral.

Katherine C Darnell
Castalian Springs, Tennessee
Email: squatngobblefarm@aol.com
I have such wonderful memories of Janet when I was growing up. I haven't seen her in such a long time but I am so sad at the loss of such a beautiful person especially for her family. My thoughts and prayers are with her husband and children. They are also with Vicki and Cathy.

Becky Cobb Wilcox
Arkadelphia, Arkansas
Email: rcwilcox@cox-internet.com
Gary and Nancy Pendleton
Little Rock, Arkansas
---