Gertrud Posner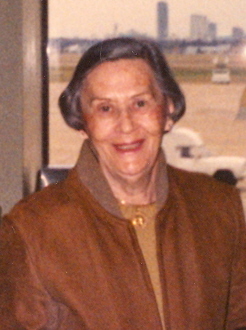 Obituary Notice
Gertrud Posner, of Little Rock, born April 2, 1919 in Cologne, Germany died December 27, 2005. A loving mother and wife, she was a survivor of a Nazi Labor Camp, a contributor to Voice of America, a tireless advocate for the integration of Little Rock public schools and advocate for children with learning disabilities. She taught her children to stand up for those who suffer injustices at the hands of power. She also taught them to follow their dreams.
She is survived by her son, David Lee Posner of Little Rock, and daughter, Mary Louise Cooper of Chapel Hill, NC. She was preceded in death by her husband Henry Posner.
In lieu of flowers please make memorials to Hospice Home Care of Little Rock, 1501 North University Avenue Suite 500, Little Rock, AR 72205.

Cremation arrangements by Ruebel Funeral Home. www.ruebelfuneralhome.com
---
Register Book
I have many fond memories of Gertrud- many things she said and believed have stayed with me all these years. Our years together at Stifft's will stay with me forever. I still carry a beautiful simple silk evening bag that Gertrud gave me years ago-I treasure it! I lost my mother last year and one of my 2 sisters(Demaris) in August- it hurts terribly but we somehow get through. Love to both David and Mary Louise- I'm thinking of you.
Debra Wahlquist Frye
Little Rock, Arkansas
Email: dfrye@aristotle.net
Dear Mary Louise and David, I was so sorry to read in the paper that you lost your mother. I can't tell you how often I think of her. A day didn't pass when we worked together that you weren't in her thoughts. How she loved you and your father. "My David , My Mary Louise and My Henry." I missed her after I left Stifft's. My warmest thoughts and deepest condolences are with you. She was a fascinating and fun person to know.
Lee Holt
Little Rock, Arkansas
Email: Steele1223@aol.com
---