Ernest Lyndon "Sonny" Whitelaw, Jr.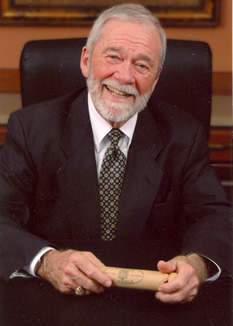 Obituary Notice
His beloved pet, Bo, was there to greet him on the Rainbow Bridge to take Ernest Lyndon "Sonny" Whitelaw, Jr. to the nursery in heaven where the babies were joyfully waiting to feel his loving arms around them.
He was born on July 2, 1927, to Ernest Lyndon Whitelaw, Sr. and Aldah Thompson Whitelaw Wilkinson, and died on December 29, 2005, at his home following a brief illness. He was preceded in death by his parents and his stepfather, Oscar ³Buck² Wilkinson.
He is survived by his bride and soulmate of 27 years, Mary Sue Benedetto Whitelaw, seven children, Martha Lyndon ³Marty² Whitelaw Hendricks, Little Rock, AR; Aldah Jean ³Jeanie² Whitelaw, Clifton, NJ; Sam Whitelaw, Magnolia, AR; Drew May (Suzanne), Conway, AR; Dr. Steven Whitelaw (Marisela), Fayetteville, AR; Spencer May, Little Rock, AR, and Erin Whitelaw McConnell (Hugh), Sherwood, AR and his loving pet, Buddy. He is also survived by nine grandchildren, Kristin Hendricks Sharp (Shane); Ashley Whitelaw; Blake Hendricks; Alex Whitelaw; Morgan May; Landry May; Haley Whitelaw; Mac McConnell, and William Whitelaw, and three great-grandchildren, Tyler, Ryli and Cannon Sharp.
He is also survived by his sister-in-law and brother-in-law, Frances Anne and Tommy Gascon, Brusly, LA, and his brother-in-law and sister-in-law, Frankie and Marlene Benedetto, The Bluff, LA. He was preceded in death by his mother-in-law and father-in-law, Genevieve and Charles D. Benedetto.
He leaves behind a host of special nieces and nephews in Louisiana who he loved dearly.
He graduated from Fishburne Military School in Waynesboro, VA, and from Southern Arkansas University in Magnolia, AR.
His career began in 1950 with Arkansas Power & Light Company. In 1968, he was named Executive Director of the Southwest Arkansas Planning & Development District in Magnolia, AR. In 1980, then Governor Bill Clinton appointed him as Deputy Director of the Ozarks Regional Commission in Little Rock, AR, and in 1980, he was promoted to Vice President and Program Officer of the Council of Ozarks Governors, Little Rock, AR. In 1983, he returned to Entergy, Inc., where he served as Manager for Community Development until his retirement in 1997.
He was highly sought after to serve on boards in the state because of his integrity and the high level of esteem in which he was held by many. Those included the American Indian Center of Arkansas, where he served as chairman of the board; the Regional AIDS Interfath Network, where he served as president of the board; and LeadAR Arkansas, the Industrial Developers of Arkansas; the Southern Industrial Development Council; and the Community Development Council. He was co-founder of the Community Development Institute at the University of Central Arkansas in Conway, where he also served on the faculty.
He was most fulfilled by his volunteer work with the Holy Souls RAIN Careteam, Arkansas Children¹s Hospital, where he rocked babies once a week for six years, and his role as Advocate for the Marriage Tribunal of the Diocese of Little Rock.
Honorary pallbearers are Lawrence "Tommy" Gascon, Frankie Benedetto, Bill Canino, Bill Inman, Bill Waters, Christine Allen, Louis Lefebvre, Paul Crossman, Ray Riggs, Joe Murrey andTom Murrey.
Special thanks to Dr. Robert Henry and Dr. Laura Otter for their loving care, Jan McRaven and the rest of the staff at Arkansas Hospice and all of our family and friends who have been our light even in the darkest hour.
A memorial vigil will be held at 7:30 p.m. on Friday, December 30, 2005 at Our Lady of the Holy Souls Catholic Church. Memorial Mass will be 11:00 a.m. Saturday, also at the church, officiated by Monsignor David LeSieur. Inurnment will follow in the Holy Souls Garden Columbarium.
In lieu of flowers, the family requests that donations be made to Our Lady of the Holy Souls Bell Tower Fund, The Pulaski County Humane Society or Arkansas Children¹s Hospital Infant and Toddlers Unit.
Cremation and service arrangements are by Ruebel Funeral Home, www.ruebelfuneralhome.com.

---
Register Book
Ernest was one of those exceptional people that you never forgot once he touched your life. He touched our lives in 1978, when he helped each of us with our career. As a result of his mentoring and support, we came to know each other and were soon best friends. We married and have been together since. (Thank you Ernest)

Over the years we have had occasional contact with Ernest, but we have thought and talked about him many times. Whether we were thinking about him or seeing him, that "warm fuzzy" feeling was present. We send our condolences to the family he was so proud of, as well as to all of the other folks whose lives he touched. We will all miss him!

Jim and Karen Jackson
www.EagleViewCove.com
Heber Springs, Arkansas
Email: jbjackson@aristotle.net
The state of Arkansas has lost a knowledgeable and caring individual. I first met him during my first year at the Community Development Institute in Conway. I, like others who attended while he was there, will never forget the sound of his whistle signalling us back to class. That whistle inspired other Class Directors to look for our own signature sounds for our classes.

"CDI will be different this year,
something will seem out of place,
Though many of the same people will be there
We'll no longer see Ernest's smiling face."

My sincerest condolences to the family. He is already missed.

Debra Banks
DCDDC Training and Development Mgr.
Monticello, Arkansas
Email: dpbanks61@gmail.com
Meredith McDonnell Smith
Hot Springs, Arkansas
Email: meredithmcdonnell99@yahoo.com
What a class act Ernest Whitelaw was. A true prince of a man and I am so thankful that the good Lord brought him into my life thru his angel Mary Sue. I love you both and will miss you Ernest.
Leigh Vernon
Conway, Arkansas
Ernest was my dear friend for 35 years. Ernest taught me everything I know about economic and community development. I was allowed to call him "Sonny". He was my friend and I already miss him. God bless you Mary Sue.
Charlie Cummings
Economic Development Specialist
Lonoke, Arkansas
Email: johntabor@aristotle.net
I came to know Mr. Whitelaw at Entergy in the 1980s. The most kind, pleasant and respectful man I have ever met. You have my deepest sympathy.
Revyanell JoAnn Jackson
North Little Rock, Arkansas
Email: revajjackson@sbcglobal.net
We have both known Ernest for over 30 years; he was always generous with his time and a person of unquestioned integrity. I can't begin to think of all the people Ernest has mentored over the years. We will all miss him greatly. May you rest in peace, my Friend and my Idol.
Fred and Sharon Frawley
Plano, Texas
Email: frawley11@verizon.net
I worked with Earnest for many years as he did everything he could to improve the quality of life of all arkansas people. More of us should live our life the weay he did - giving.
Bob J. Nash
Vice Chair , Shsorebank Corporation
Chicago, Illonois 60615
Email: nashbj@aol.com
---