Ellen Hawbecker Moore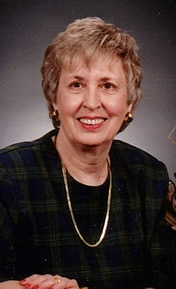 Obituary Notice
Ellen Hawbecker Moore died Friday, September 10th, 2005 after a brief battle with cancer. Born in Little Rock in 1939, she was a graduate of L.R.C.H., class of 1957. She attended the University of Arkansas where she was a member of Pi Beta Phi sorority. She graduated from Arkansas Tech, class of 1962.
Married 46 years, she and her husband Calvin traveled extensively through his job with Dupont/Conoco. For 16 of those years, she taught adult education in various locations in the U.S. and overseas.
Survivors include her husband Calvin of Hot Springs; daughter Terri of Atlanta, Georgia; son Mike and wife Susan of Ft. Worth, Texas, and granddaughters Caitlin & Sarah Moore.
A celebration of life will be held at Ruebel Funeral Home, 6313 West Markham, from 6:00 to 7:30 p.m. on Sunday, September 11, 2005. There will be a graveside service at Pinecrest Cemetery at 11:00 a.m. on Monday for family and close friends.
In lieu of flowers, donations can be made to the Humane Society of Garland County, P.O. Box 1484, Hot Springs, AR 71902.
Arrangements are by Ruebel Funeral Home, www.ruebelfuneralhome.com.

---
Register Book
Calvin, my heart and thoughts are with you and your family. Although I haven't seen you or Ellen except at reunions since we were all together at LRCH, I will always remember Ellen with love and fondness, especially her beautiful smile and friendly ways. May God be with you and yours always, especially during this time. You are in my thoughts and prayers.
Sylvia Swaim McWilliams
Little Rock, Arkansas
Calvin, we were so sad to hear of the loss of Ellen. Our thoughts and prayers are with you and your family.
Bill & Suzanne Harmon
Russellville, Arkansas
Email: billharmon@centurytel.net
To Calvin and all of Ellen's family. I am so sorry to learn of Ellen's death. She was the most full of life person I have ever known. And, I have known her since kindergarten!! That is a very long time.We went to kindergarten through college together a long time ago. I know you all will miss her vitality and sense of humor. Just remember, you have your very own cheerleader up there cheering you each and every step of the way! Fondly,
Sherry Mizell Kerr
Beaver, Arkansas
Email: csk@arkansas.net
Calvin, We are very sad to learn of Ellen's death. Our thoughts and prayers are with you and your family during this period of loss.
Pete and Dee Collins
Granbury, Tesas
Email: PeteCollin@aol.com
---