Dr. Frank Kumpuris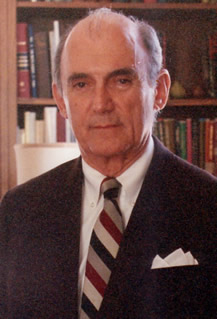 Obituary Notice
Frank Gus Kumpuris, MD of Little Rock, one of Little Rock's outstanding surgeons died on November 2, 2005. He was born on June 15, 1917 the son of the late Gus and Katherine Kumpuris.
He is survived by his wife Kula Makris Kumpuris of Little Rock, two sons; Dean Kumpuris, MD and his wife Mary of Little Rock, Andrew G. Kumpuris, MD and wife Nancy of Little Rock, one daughter Katherine Ann Trotter and husband Scott of Little Rock and eight grandchildren; Katherine Vogel and her husband Jon, Victoria Brown and her husband Stuart, Frank Kumpuris, Andrew Kumpuris, Richard Hahn, William Hahn and Elise Hahn. He was predeceased by one granddaughter, Anne Kumpuris, who died in 1997.
Dr. Kumpuris was a graduate of Tulane University and Tulane University Medical School. He did his internship at Charity Hospital in New Orleans, surgical residency at the Mayo Clinic in Rochester, Minnesota and was Chief Surgical Resident at St. Mary's Hospital of the Mayo Clinic. He was a Fellow of the American College of Surgery and was the Chief of Surgery at St. Vincent Infirmary in Little Rock. Dr. Kumpuris was owner of Bensky Furs of Little Rock and was co-owner of MK Distributors of Pine Bluff along with his brother in law, George A. Makris. He was on the board of directors of National Investors Life Insurance Company of Little Rock and later served on the board of Norin, Inc., a publicly traded insurance holding company based in Miami, Florida. Dr. Kumpuris was also on the board of Union National Bank. He was appointed to the University of Arkansas Board of Trustees by Governor Bill Clinton, where he spearheaded the development of the Cammack Campus and the implementation of system-wide educational standards. In addition, he served on the board of the Arkansas Symphony and was president of the Parent and Alumni Board at Washington and Lee University. Dr. Kumpuris was a 25-year member of the XV Club and the Downtown Rotary where he was a Paul Harris Fellow. He was an active part of the congregation of St. Mark's Episcopal Church for half a century, donating his time, talents and funds. He was an excellent golfer, an avid duck hunter and enjoyed traveling with his wife, Kula. Frank helped countless people pursue their dreams.
The family would like to acknowledge the loving care of St. Vincent's HomeCare especially, Pat Sims, Dorothy Jackson and Renee Modica as well as Arkansas Hospice.
A memorial service, officiated by The Reverend Rocki Proffitt, will be held on Friday, November 4 at 11 a.m. at St. Mark's Episcopal Church. Funeral arrangements are under the direction of Ruebel Funeral Home, www.ruebelfuneralhome.com.
Honorary Pallbearers will be the members of the XV Club.
Memorials in lieu of flowers should be made to St. Mark's Episcopal Church, 1000 N. Mississippi, Little Rock, 72207; Easter Seals of Arkansas, 3920 Woodland Heights Rd. Little Rock, 72212; or to the charity of choice.

---
Register Book
Dean: We are thinking of you and your family and offer these words of encouragement for your comfort in this time of loss. 2Cor 5:6-8; Eccl 12:6-7.
Don Keene, Sr. and family
Sherwood, Arkansas
Email: dwksr@yahoo.com
Doctor Kumpuris, was a dear friend of this community, and a man of genuine integrity. We share your grief.
Dale Nicholson
President KATV,LLC
Little Rock,Arkansas
Email: dnicholson@katv.com
Dean & Drew, our thoughts and prayers are with you and your families at this time.
Dub & Corinne Allen
Little Rock, Arkansas
Email: f4jrider@hotmail.com
Olivette C. Dettor
Little Rock, Arkansas
Email: ohmisslass@aol.com
Charles and Linda Kumpuris
Little Rock Arkansas
Email: charles@hortonandhorton.com
Tom and Cindy Pugh
Little Rock, Arkansas
Email: tom@tompugh.com
I am so sorry to hear of Dr. Kumpuris' death. Please know that you are all in my thoughts and prayers. He was one of my father and mother's favorite friends and doctors. He will be greatly missed......but what a full life he lived!! Love to you all,
Kate Henry Allen
Fayetteville, Arkansas
Email: katethegreat@sbcglobal.net
Dear Dean and Mary, So sorry for your loss. Your dad was such a nice person. I remember how fun he was at your engagement party at Aunt Rose and Uncle Billy's. Also, whenever I saw him here. I very much regret not being able to be at his service. We have a memorial service for Diane's family at the same time. I know you all will have many friends and family there for comfort. Please know my thoughts are with you. Love,
Nancy McNair
Maumelle, Arkansas
Dr. Kumpuris performed a miracle surgery on my mom, Essie Mae Duke, in the 50's. She always had tremendous words of praise for Dr. Kumpuris and I feel that she would not have lived if she'd not had him as her doctor. The world was certainly a better place with him in it. He helped so many people.

Nancy Duke Dolan
Little Rock, Arkansas
Email: njdar@aol.com
---