Dr. Charles Fitzgerald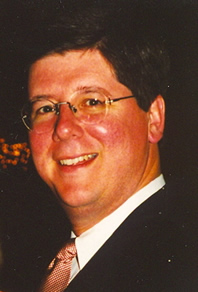 Obituary Notice
Charles Patrick Fitzgerald, M.D. of Little Rock died Monday. He was born in Frankfort, Kentucky the son of Charles Andrew and Nellie Christine Cook Fitzgerald of Frankfort. Charles was a graduate of Frankfort High School before attending Vanderbilt University, graduating Magna Cum Laude in Physics. He was also selected as a member of Phi Beta Kappa. He then attended Vanderbilt Medical School where he also served his internship and residence. After a Fellowship in Cardiology at the University of Texas in Dallas he began his practice in Cardiology in Little Rock in 1986. Dr. Fitzgerald was an avid reader especially concerning the Bible and American history. His lectures and teachings of various subjects were rejoiced by many. He was also known for his less than humorous jokes he insisted telling.
He is survived by his wife Martha Elise Deitz Fitzgerald of Little Rock, 2 daughters, Elise and Emily, 2 sons Drew and David all of Little Rock, 1 brother Tom Fitzgerald and wife Barbara of Frankfort, Kentucky, 1 sister Kim Eckerle and husband Bruce of Louisville, Kentucky, and is predeceased by a brother John who died in 1980.
There will be a memorial service 11am Thursday at Fellowship Bible Church officiated by Reverend Bill Parkinson. Arrangements are under the direction of Ruebel Funeral Home, www.ruebelfuneralhome.com.
In lieu of flowers memorials should be sent to Fellowship Bible Church, 1901 Napa Valley Drive, Little Rock 72211.

---
Register Book
Elise, So sorry for your loss.You & your family are in my prayers.
Lauren Finley
Little Rock, Arkansas
Email: bratz89@comcast.net
My Mother and I are acquaintences of the Fitzgerald Family and wish to express our sympathy to the entire Family during this difficult time. Hoping the New Year will bring your family strength and comfort. Your family will forever be in our thoughts and prayers! Ruby Benton (mother of Kim Echols) was a patient of Dr. Fitzgerald and wishes to express her sypathy as well...
Kim Echols, Jessica Woodson, and Ruby Benton
Little Rock, Arkansas
Email: j7woodson@aol.com
Dr.Fitzgerald was the most wonderful friend and Dr. in my life. He was the most deicated Dr. I have ever know in my entire life...Not even to mention a very Godly mentor. He was always there for me... anytime of the day or night..and for my family.... Thank God. I will see him again someday in heaven..... He has already seen my precious mother and sister that he took care of for years..... He just beat us others here to heaven first..My love and prayers are with his wife and family and the girls that worked for him.I always said he has a special woman for a wife,to understand his deications to his patients like he was...My heart is broken today,,but I know Dr. Fitzgearld is with our heavenly father.Altho at this time I do not know what I will do without him for a Dr.My prayer is that God will guide me to another Dr.that was as kind and compassionate as Dr.Fitzgearld was...My God be with family and his staff. I loved Dr.Fitzgearld and someone has some BIG shoes to fill........
Bobbie Jones
Clarendon,Arkansas
Email: bobbiej@centurytel.net
God bless him , he took good care of my family.
Mike and Jennifer Hurst
Pine Bluff, Arkansas
Email: mdhurst2002@yahoo.com
Dear Mrs. Fitzgerald and Family - There are no words to adequately even begin to convey my heartfelt sorrow at the loss of incredible Dr. Fitzgerald!! He has been a part of Mother and my lives since she moved here from Illinois in June, 2001, with her doctors up home saying she would die at any moment. Dr. Fitzgerald never confessed this, but told her she was going to be fine...and thanks to Dr. Fitz and our Wonderful Lord Jesus Christ, she turned 90 in August!! When we went for an annual check-up the end of August, 2005, he told her she was doing fine, and to come back and see him in a year. Mother asked why so far away, and our Beloved Dr. Fitzgerald said if he made appointments that far away, he'd be sure the patient would still be alive in one year!!

Dr. Fitzgerald has played an extremely important part in our lives, and still will with regard to Mother's health and medicines! Please accept my deepest sympathy being sent to you and your children, and to all his co-workers, as well. Oh, how I wish I would wake up from this horrible "dream" and find that Dr. Fitzgerald is still with us, continuing to be so very kind, considerate, encouraging to us, caring about everyone, making such wonderful decisions regarding his patients, and on and on and on!!!!

May our Wonderful Lord Jesus surround you at this time, and in the days ahead, and His Holy Spirit give you rest and that peace that passes alllllll understanding!!! God bless and guide each of you as your "new" lives begin!! You are in my heart and prayers.


Annette Vinson
Patient's daughter, and secretary at BHRI
Little Rock, Arkansas
Email: av822@hotmail.com
Martha and Elise, Words cannot express the sorrow we felt in learning of Chuck's death. Please know our hearts and prayers are with you.

Jerel Brown
Sheridan, Arkansas
Email: Jerelebrown@yahoo.com
Dr. Fitzgerald will be missed in the medical community by one and all. His contribtuions to EECP therapy have made it possible for many patients to receive the therapy. The International EECP Therapists Assocition would like to extend our sincere sympathies and prayers to his family and friends. We will not forget this great man and his achievements.
Louanne Tempich
President for The Internaional EECP Therapists Association
Vero Beach, Florida
Email: harteecp@zbzom.net
I was a patient of Dr. Fitzgerald's as was my husband, Michael. We extend our deepest symapathy to Dr. Fitzgerald's wife & children. Please know you are all in our thoughts & prayers at this most difficult time.
Patti Guffey Jones
Dumas, Arkansas
I was so saddened by the death of Dr. Fitzgerald. He cared for my father until his death in 2003, Mr. Shelby Fewell. He was presently caring for my mother, Mrs. Pat Fewell. We loved and respected Dr. Fitzgerald and will miss him greatly.

In sympathy,
Dianna Snow
Cabot, Arkansas
Email: DiannaSnow@hotmail.com
My wife and I have been patients of Dr. Fitzgerald for over 15 years. He prevented me from being disabled when I had a stroke in 1998. Without his attention I would not be the man I am today. He will always have a special place in my heart. He also has helped my wife with her heart problem.
Curtis and Beverly Anne Cope
Mayflower, Arkansas
Email: bacc@aristotle.net
We are so sorry to hear of the loss of Dr. Fitzgerald. He took great care of my Dad for years prior to his death last year. We feel certain that through his treatment, Dr. Fitzgerald added years to Dad's life. Dr. F. will be missed by many and our thoughts and prayers are with his family.
Tom Nelson
Conway, Arkansas
Email: tnelson@bankozarks.com
My heart is better because he helped me. But now my heart is so sad because he has left to never smile at me again. I pray for you and your family during this hard time. I want you to know that Dr. Fitzgerald changed my life 12 years ago. And because of him my life was been improved 200 percent. He was a walking miracle that God aloud to walk with us and help us. And I thank God that he walked into my life. I will truly miss him. May God watch over your family and kept you close to him.
Sherrie Dahly
System Administrator
Sherwood, Arkansas
Email: sdahly@mwsgw.com
This is a great loss, our prayers are with you...
Christy Snell-Burcham
Maumelle, Arkansas
Email: PandCBurcham@aol.com
God bless you Dr Fitzgerald. You were so kind and caring. We will miss you.
Wremetta Hill, R.N.
Jefferson, Arkansas
To the Fitzgerald Family, Dr. Fitzgerald was very special to my family not only was he my dad and mom's doctor he was their friend. My Dad thought there was only one doctor in the world and that was Charles Fitzgerald. We lost my Dad (Jimmy Love) January 19, 2003 and Dr. Fitzgerald was there comforting my mom and I. Dr. Fitzgerald has touched alot of lives because he cared about people and I guess thats why my whole family went to him. We will keep you all in our thoughts and prayers

Frances (Love) Grimmett

Alexander, Arkansas
Email: gemini1988@msn.com
Charles was an exemplary physician entirely devoted to his patients.He took his time to listen to them and did his best for them.He will be truly missed.
Ludwik and Joanna Kozlowski
North Little Rock, Arkansas
Email: ludwik_koz@yahoo.com
I worked with Dr Fitzgerald thru SVI. I am saddened by his death and wish to send my thoughts and prayers to his family.
God bless you all.
Olivia McDougal
Little Rock, Arkansas
Email: omcdougal@comcast.net
As are the entries above, I am deeply saddened at the passing of this incredible devoted, giving, loving, caring, brilliant physician. Dr. Fitzgerald, you will be so missed. Thank you for saving Mother's life numerous times and for the care and treatment you gave her and me. To his family, may God comfort and strengthen you at this difficult time, you are in our thoughts and prayers.
Julie Wright-Locke
Little Rock, Arkansas
Email: jwright@pulaskitech.edu
To Martha and children, A year after I lost my husband, I had my checkup with Dr. Fitzgerald. His words of comfort meant so much to me. He said, "Cheryl you can do this, you are strong in the Lord, and He will be with you every step of the way through the grief process." Everyday after that I thought, "He is with me." I thank the Lord for such a Godly man like Charles Fitzgerald. He lived with such kindness and compassion. My prayers are with your precious family. He will be missed my his patients and his family members at Fellowship. May God bring your family comfort and peace.
Cheryl Roach
Little Rock, Arkansas
Email: caroach1945@aol.com
L. D. Livingston
Sherwood, Arkansas
Email: livingston80@earthlink.net
Donna Provence RN & Doyle Provence CMT
BHMCLR
Little Rock, Arkansas
Dr. Fitzgerald will be sorely missed. I am one of his patients. He cared for me for several years. I have never had a doctor that cared so deeply for his patients. I am so sorry for your loss. Dr. Fitzgerald was a wonderful man and the world is a little less without him. But I'm sure that heaven is all the better. My prayers are with you at time and from this day forward.
Daina Potter
Malvern, Arkansas
Email: dainapotter@hotmail.com
My husband was a patient of Dr.Fitzgerald. I grew to love him as a friend.He got my husband well so we could have more years together.Thank you Dr. Fitzgerald .God bless you the family and hope for a bright New year.Gods love for you.
Richard and Virgie Winkler
Mabelvale, Arkansas
Email: virgielee@aol.com and Fishinwink@aol.com
I am so sorry to hear about Dr. Fitzgerald. He was my doctor. I was 31 years old and had a new born baby when I had heart failure. And I do not think I would be here today if it wasn't for him being such a caring and wonderful doctor. He will be missed so much. Martha you and your family are in my heart and prayers.
Sharon Hill Hydrick
Clarendon, Arkansas
Email: sherryh72029@yahoo.com
My thoughts and prayers are with each and every one us touched by Chuck's kind, giving soul. I feel blessed to have had the opportunity to work with him. To say he was special would be quite the understatement!

I hope all of us can gain comfort in the knowledge that he's in a better place. God Bless!
Todd M. Curtis
GM / Arkansas Razorback Sports Network
Little Rock, Arkansas
Email: tcurtis@katv.com
I always knew my dad was in the best possible "human" hands having Dr. Fitzgerald as his doctor. He was so kind to dad and mom. He answered the countless questions they had at daddy's visits, not to mention when dad was in the hospital, and he even took calls personally from my sister in Seattle just to calm her nerves about dad's condition. Dr. Fitzgerald will be missed more by this family than words can say. Our prayer is that the Lord lead dad to the second best cardiologist to take care of him.
To Dr. Fitzgerald's family: Our heartfelt sympathy to each of you. He was loved by all, admired by all, respected by all. May God give you comfort during this time that only He is able to do.
Dianne Tartar Baker
Russellville, Arkansas
Email: dianneb376@yahoo.com
Cheryl E. Baldwin
LPN
Little Rock, Arkansas
Email: EECPNURSE@AOL.COM
I want to thank Dr. Fitzgerald and his nurse Barbara for saving my life almost ten years ago.

There won't be another one like you Doc. We love you and will miss you dearly.
Charles W. Johnson
Little Rock, Arkansas
Email: majohnson23@comcast.net
To a great mentor and friend. It was because of Dr. Fitzgerald that we started EECP in Lake Village and we have never been the same. To his precious family, may God hold you in the palm of His hand and give you the peace that only He can give.
Jo Beth Selby, R.N.,CET
Angie Lynn, CET
Lake Village, Arkansas
Email: jobethselby@yahoo.com
Dr.Fitzgearld was not only my Dr. but also my Grandmothers and my Mothers Dr. He was always there for my family,anytime of the day or night.His girls, that worked for him, was equally like family and friends.You dont find many Drs that has the compansion and bed side manner that he had. He was one of the most intelligent Doctor that I have ever known...
To Barbara,Harmoline,Sandy,Lenita,Kim (the ones we knew personally)and to all of the rest of his staff..We love you girls and will be praying for all of you.To his wife and children.......You had a special husband and Father......He such an inspiration to me and my family.....Some people you meet in life leave footprints on you heart and he certainly left his on my families. My mother and I,pray that God will wrap his arms around his wife,children,and office staff..and give them the comfort only he can give at this time of their loss...but what a glorious thought to know he is in heaven with his eternity Father.....Dr.Fitgerald with be greatly missed as a friend and a great Doctor.......We loved him dearly...
DeAnn Jones
Clarendon,Arkansas
Email: bobbiej@centurytel.net
Dear Family, Dr. Fitzgerald was my cardiologist for the past couple of years. He was a very kind and caring person. He would listen to what you had to say and your concerns, then he would give his advice what to do to help. You never felt rushed.He had the gift of being a wonderful doctor. He will be greatly missed. I just want you to know you are in my prayers. I lost my father suddenly a year ago and it takes time to cope with loss, but I want you to know God will be there with you to go thru all of the emotions you will be feeling if you only let Him. May God be with you and your family.
Lisa Young
Registered Nurse
Portland, Arkansas
Email: blb@seark.net
I had the privilege of working with Dr. Fitzgerald on EECP research. He was a dynamic, impressive, and humorous man, who made a difference in countless people's lives through his medical innovations, and somehow also found the time to personally guide the care of so many individuals. I am sorry he is gone.
Rich Holubkov
Salt Lake City, Utah
My deepest sympathy and prayers to the family of Dr. Fitzgerald. I had the privilege of working with Dr. Fitzgerald through the Pfizer Speaker Program. I was truly impressed with his committment, unending energy and professionalism. He will truly be missed. God Bless.
Michele Moynihan
Program Coordinator
Grand Haven, Michigan
Email: michele.moynihan@cardinal.com
Your death is a great lose to our family. We have been in wonderful hands for many years now and we will deeply miss you. We pray God's peace and mercy at this time of loss for your family. Thank you for all you have done.
The Hutsell's, Jim and Joyce, and Tim and Debbie
Hoxie, Arkansas
My thughts and prayers are with you and your family. I grew up with Chuck and his brothers John and Tom in Frankfort, Kentucky attending Good Sheperd School with the "Fitzgerald boys." Chuck was a terific human being, brilliant and an over-achiever from a very early age and will be missed by all who had the privledge of knowing him. God bless all who knew and loved him!
Tom Yunt
President & COO; Woodward Communications, Inc.
Dubuque, Iowa
Email: tyunt@wcinet.com
I am so very sorry to hear about the death of Dr. Fitzgerald. I found this out yesterday (03/14/06) and I am shocked. Dr. Fitzgerald treated my mother when she got sick in Little Rock. After being under his care, she felt the best she had ever felt in a long time. I thank him for the work that he did with my mom. I will be praying for his family and I want them to remember, "God's grace is greater than our grief and God's power is greater than our pain".
Jimmy L. Wilson
Little Rock, Arkansas
Email: jimmy_wilson57@yahoo.com
---