Doris Clark James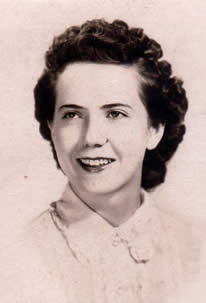 Obituary Notice
Doris Clark James, 82, of Little Rock passed away peacefully on December 4, 2005. She was born in Prairie Grove, AR on October 2, 1923 and was a graduate of Fayetteville High School and Fayetteville Business College. Doris is preceded in death by her parents, Troy and Clara Carl Clark and nephew Marc Langston. She is survived by her three sons, William C. Keeton and wife Marlene of Fayetteville; Robert James of Little Rock; Stephen James and wife, Mary Sue of Brenham, TX; daughter Carla Bolton and husband Bill of Hot Springs Village; sister Carlyn Wilbourn and husband Sanford of Little Rock, one grandchild, Kerry Keeton of Haines City, FL and three Great-grandchildren, Kenneth, Carolyn and Samantha Keeton. Doris is also survived by her nieces, Ann Cooper, Laurie Brooks, Sandy Watson, and nephew Harold "Hodie" Langston.
She lived in Little Rock since 1972 and was retired from the State of Arkansas Department of Disability Determination and served as secretary of her AARP Chapter. Doris was a longtime bridge player. She loved being around her family and friends and enjoyed decorating her home for the holidays. She was well known for her sense of humor and outgoing feisty personality.
A memorial service will be held at St. Mark's Episcopal Church, 1000 N. Mississippi, at 3:00 p.m. Tuesday, December 6, 2005 officiated by Rev. Rocki Proffitt. Memorials may be made to Alzheimers Arkansas, 10411 W. Markham, Little Rock, 72205 or Hospice Home Care, 2200 S. Bowman Rd. Little Rock, 72211. Arrangements by Ruebel Funeral Home. www.ruebelfuneralhome.com.

---
Register Book
---