David Alonzo Perry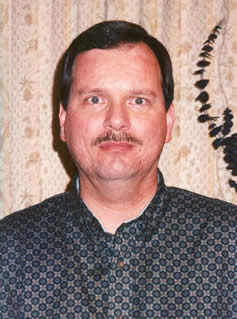 Obituary Notice
David Alonzo Perry, of Little Rock, passed away Tuesday, December 27, 2005.

Born November 28, 1954, St. Louis, MO, his family moved to Union City, TN for thirteen years then a year in Bartlett, TN and on to London, KY, finally arriving in Islamorada, FLA half way to Key West, where he owned his catamaran and snorkeled the coral reefs as a High School Junior. Moving to Little Rock, he graduated from Hall High School in 1972, later receiving two degrees from UALR, first as a psychology major and a second in Computer Engineering. He worked as a Counselor with Youth Home, Inc before working with the City of Little Rock in the computer section. He later joined Systematics, Alltell, Fidelity Information Systems where for fifteen years he worked as a World Wide Help Desk Senior Applications Manager.
His many interests included exploring the caves of Arkansas, canoe trips down the white river, his three motorcycles, traveling the United States as well as England, Mexico's Copper Canyon, Aztec Ruins and Columbia, S.A., and more.
A child of God, he fought a good and long battle against colon cancer, never complaining and always a good friend to those who knew him as a true and faithful son, caring for his father Loyd during his final illness.
Predeceased by his grandparents, Alonzo H. and Grace Williamson Perry, Dorothy Wolf Eaton Towery and Tom L. Eaton and his father Loyd S. Perry, he leaves to mourn his passing his sister, Holly Perry Gray, his mother, Nancy Eaton Martin, his stepfather, Charles Martin, his faithful golden retriever , Buddy and many cousins.
He chose to have his body cremated. A memorial service will be held at 1:00 p.m. Friday, December 31 at the Ruebel Funeral Home Chapel. His ashes will be interred in the family plot at Mt. Holly Cemetery.

www.ruebelfuneralhome.com Memorials may be made to the Baptist Health Hospice.
---
Register Book
Nancy - My sympathy go to you and Charles on the loss of your son, David.
James W. Bell
LRHS Class of '47
Little Rock, Arkansas
Email: j22bell@comcast.net
Nancy and Family, May the Grace of God be with you.
Our love,
Lee and William Rippey

LRHS Class of '47
Highlands Ranch, Colorado
I was very sorry to read of your loss. I know it's hard to be comforted at a time like this. I just wanted to share two scriptures from the Bible that really helped me when my Grandfather passed away. They are Revelation 21:3,4 which speaks of a time when death will be done away with & John 5:28,29 that reassures us that those who die are in God's memory and we have the hope of seeing them again. I truly hope you will find comfort in these verses.
Lovella Rodgers
North Little Rock, Arkansas
Email: rwrodgers20@yahoo.com
I'm sure he lives in peace in heaven now. We will miss him.

Cherry
Asia Support Center (ASC)
Thailand
---