Andrew Griffith Pursley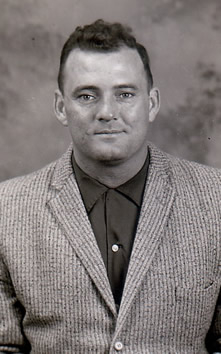 Obituary Notice
Andrew Griffith Pursley, of Little Rock, was born on June 29, 1928, in Lebanon, TN and died on Sunday, October 9, 2005. He entered the U. S. Army in 1944, completed paratrooper and gliderist training. He served on active duty in Japan from 1946 to 1948. From a young age, Andrew enjoyed the outdoors, especially forests and wildlife. In 1953 he joined the Tennessee Game and Fish Commission and served with them until 1961 at which time he joined the U.S. Fish and Wildlife Service and served with them until his retirement in 1983. He conducted Eagle Awareness programs throughout the country with Jane Gulley. Their program was the first education program sponsored by the USFWS and became the prototype for others. He worked at conserving species from Alaska to the marshes of Louisiana. Andrew took numerous wildlife photos, many were published throughout the years in wildlife publications. He was also active in his church and as a ham radio operator.
He is survived by his daughter, Ruth Pursley Klingbeil, and two stepsons, John Ogles and family of Memphis, TN and Martin Ogles and family of Granite Bay, CA.
The family requests that he be remembered as a man who made a difference in preserving the environment for future generations to enjoy and someone who never net a stranger.
A private family memorial service will be held at a later date. Memorials in lieu of flowers may be made to the Arkansas Game and Fish Foundation, #2 Natural Resources Drive, Little Rock, AR 72205 or the National Conservation Training Center, Rt.1 Box 166, Shepherd Grade Rd. Shepherdtown, WV 25443. Arrangements by Ruebel Funeral Home www.ruebelfuneralhome.com.

---
Register Book
David E. Pursley and Evy Andrus-Pursley
Atlanta, Georgia
Email: atlantabiker@biltmorecomm.com
Pursley was a dear friend and an inspiration for his dedication to the enviroment. Our family will miss him, and I know he will always be remembered by us as a true and caring friend and a loving extension of our family.
Jane R. Gulley
Little Rock, Arkansas
We shall miss our dear friend. Katy and Steve Phelan
Katy and Steve Phelan
Lebanon, Tennessee
Patsy Lane Kelley
Gallatin, Tennessee
Email: pappiek76@comcast.net
A sweet man who loved his family and loved wildlife. He will be missed. His great neice in Gallatin, TN, Katherine Woodward, was very sad to hear of his passing. They were buddies.
Terrie Woodward
Gallatin, Tennessee
Email: gracekw1@aol.com
Suzanne McGee
Little Rock, Arkansas
My heartfelt thoughts are with Ruth and Joe. Andy was a very special person and I was very fond of him. So much so, one of my sons is named after him.
Helen C. Ogles
Brentwood, Tennessee
Email: coglesnoi@aol.com
Ruth and Joe, You have my condolences over the death of Andy. I got to see him in Gallatin when Marjorie died, and I am so glad of that. I am thinking about you both, in your loss.
Your cousin,
Lane W. Tyler
Nashville, Tennessee
Email: lane315@comcast.net
Andrew was a friend from our early childhood. He was at one time very close to my family. He will be missed.
Glenda Baddour Palmer, Patricia Baddour
Hernando, Mississippi
Email: gpalmer843@aol.com
I would like to extend the services of the Arkansas Game and Fish Commission Enforcement Honor Guard for the memorial service if desired. It would be an honor for us.


Jason Whitehead
Lieutenant, Arkansas Game and Fish Commission
Sheridan, Arkansas
Email: jbwhitehead@agfc.state.ar.us
We know you take comfort in knowing that Andy is now residing in the presence of the ultimate outdoorsman and we share your peace.

Our deepest sympathy,
Brad and Sue Cromley & Family
Little Rock, Arkansas
Andrew was a very special friend to my family and meant alot to me. He is remembered lovingly and the picture of the three owls that I have will continue to be treasured. My heart goes out to you, his family, and his dear friends. I'm glad he is at peace now.
Kay Phelan Hoskins
Smyrna, Tennessee
Ruthie, that was a lovely obituary--one that Andy would have liked. I can see by that picture why your momma married him... We're keeping you in our prayers and we know Andy's in a better place. We'll see you next week. Love,
Barbara J. Ogles
Memphis, Tennessee
To the family of Andy Pursley: You did not know me but I knew Andy well. He and my dad were game wardens together and he meant the world to our family. My sympathies go out to his family. Please know that you are in our thoughts. My dad's name was Walter Matthews and we lived in Arkansas City at the time. God bless you all!
Beth Roberts
Monticello, Arkansas
Email: robertsb@uamont.edu
My children, C.W. and Jordan, will miss their dear friend, Andrew, greatly.

Cindy Green
Little Rock, Arkansas
Email: MOMCWAJ@aol.com
I have very fond memories of Uncle Andy. I am sorry for your loss, but also I am comforted in knowing that he is no longer suffering and the pain of watching him suffer is absent.
Pattie Suddarth
Gallatin, Tennessee
---