Alice Crystal McDonnell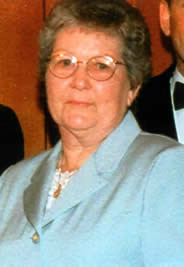 Obituary Notice
Alice Crystal McDonnell passed away September 14, 2005. She was born August 29, 1923, to the late Leonard and Rosa McLeod Outland. She moved to Little Rock and married the love of her life, Joseph L. McDonnell in 1946. She faced tragedy early in her life when her husband passed away in 1957. She dedicated the rest of her life to raising her three children and caring for her family. She retired after 20 years as a bookkeeper for the Arkansas State Hospital and greatly enjoyed traveling with her family. She loved spending time with her many family members in Kentucky. Alice was a loving mother and faced her last illness with the courage, grace and dignity that she showed for her entire life. The family wishes to thank the staff of Baptist Hospital 3A, Dr. Moses Ejiofor, Dr. Fernando Padilla and Baptist Hospice for their professionalism and compassion.

Alice is survived by one daughter Sharon Matheny and husband Bob of Atlanta, Georgia, 2 sons; Mark McDonnell and wife Jan, Kerry McDonnell and wife Sherry all of Little Rock, 4 sisters, Barbara Nell Strader and husband Orvis of Calvert City, Kentucky, Alexa Starks and Becky Hampton both of Murray, Kentucky, Mary Jane Charlton and husband Dan of Wright City, Missouri, 1 brother Bill Outland and wife Christine of Guyton, Georgia, 4 grandchildren; Karen Dodson, Miles and Jody McDonnell, Amy Wike and 2 great-grandchildren.

There will be a visitation Friday from 5 to 7pm at Ruebel Funeral Home followed Saturday with a funeral service at the funeral home officiated by Reverend Troy Costanza. Burial will follow in Roselawn Memorial Park. Arrangements are under the direction of Ruebel Funeral Home, www.ruebelfuneralhome.com.

In lieu of flowers donations may be made to ARC, Arkansas Retarded Citizens of Arkansas.


---
Register Book
---