James Cecil Moseley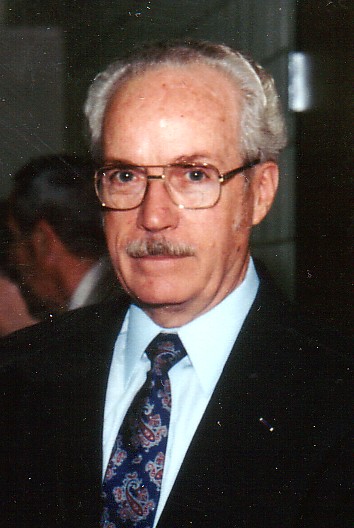 Obituary Notice
James Cecil Moseley, 85, of Little Rock, died Sunday, February 6, 2005. He was born in Decatur, Alabama. Cecil joined the U.S. Army during World War II serving in the European, African, and Middle Eastern Theatres with the Darby Rangers. Sergeant Moseley received the Purple Heart after being wounded, and also received the Bronze Star and four battle stars as a light mortar Crewman. After the war, and a period of recovery from wounds received in the war, he returned to Little Rock in 1946 where he started his career in the heating and air conditioning business, working 19 years for Pfeifer Plumbing and Heating Company. In 1976 he started the Cecil Moseley Air Conditioning and Heating Company, which is still in operation today. He was a member of the Iron Springs Lodge #342, a 32 Degree Mason and a Shriner. He loved being with his family as well as hunting and fishing, and was once served as a Deacon and Elder at First Presbyterian before moving to Westover Hills Presbyterian Church.
He is survived by his wife of 59 years, Ruth Moseley of Little Rock, one son Jim Moseley and wife Pat of Paron, one daughter Sarah Jane Greubel and husband Gary of Ferndale, two brothers Pete and wife Pat of South Lyon, Michigan, Bob and wife Helen of Redfield, two sisters, Billie Fawcett of Decatur, Alabama, Doris Fortner and husband Farris of Bryant, and 5 grandchildren, Blake, Forrest, and Lisa Moseley, and Nathan and Melissa Greubel, and 2 great-grandchildren, Kaeden and Kylie.
There will be a visitation Tuesday evening from 5 to 7pm at Ruebel Funeral Home. There will be a graveside service Wednesday 10am at Roselawn Cemetery with full military honors, followed by a memorial service at 11am at Westover Hills Presbyterian Church officiated by Reverends James and Debbie Freeman.
Arrangements are under the direction of Ruebel Funeral Home, www.ruebelfuneralhome.com.
Memorials in lieu of flowers should be made to Arkansas Hospice, 2200 Fort Roots Drive, North Little Rock 72114, or The American Parkinson Disease Association, Inc., 2150 Hylan Boulevard Suite 4-B, Staten Island, New York 10305.
---
Register Book
So sorry to hear of your loss.
Deb, Paige, Yates, Alex Phillips
North Little Rock, Arkansas
Email: armidwife2@aol.com
We are so sorry to learn of the loss of Cecil. He was such a great person and loved all of you so much and was so proud of all that you had accomplished in life. His love of Ruth was a great thing to see. Love,
Carroll and Nancy Edwards
Kingwood, Texas
Email: edwards210Q@houston.rr.com
May the comfort of the Lord envelop you.
Jeffery and Sarah Sykes
Arkadelphia, Arkansas
I was saddened to learn of your loss. I really enjoyed growing up with your family at First Presbyterian Church and being around Cecil. He was always a good listener with a great smile. I pray that God comforts you all during this difficult time. I am confident that Cecil is in a better place.
Charley Collins
Portsmouth, Rhode Island
Email: ccollinsmd@cox.net
With Sincere Sympathy
RL & Jeanne Henderson
Jonesboro, Arkansas
Email: rl_@hotmail.com
I feel your loss during this time of sorrow. Cecil was a great man and he will be missed by all who knew him.
Don Chmura
Manage Supply House
Hot Springs, Arkansas
Email: Hawgnut56@msn.com
Ruth, You know how much I loved Cecil. He was such a great friend to Daddy. Carl and I loved our visits with him during his time at the Village. Remember how much God loves you and so do we. Love and prayers to you, Jim, and Sarah Jane.
Betty and Carl Glenn
Little Rock, Arkansas
Email: bettycarl@sbcglobal.net
---