Madison Calvin (Pete) McDaniel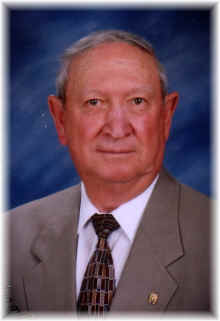 Obituary Notice
Madison Calvin (Pete) McDaniel of Little Rock went to be with the Lord on Monday, April 11, 2005. He was born December 26, 1924 in Wilma, AR. One of eleven children, MC was born to the late William Madison and Mattie Laura Wilson McDaniel.
MC graduated from Drew Central High School in 1942. He attended one year of college at Arkansas A&M and entered the Army in 1943. He served 32 months in the South Pacific with the Airborne Engineers and was discharged in February 1946 as a Technical Sergeant. After attending another year of college at A&M, he taught Veteran's Farming Programs in Dermott, from August 1947 to July 1952. MC and his wife moved to Fayetteville in 1953 where he obtained a BS degree in Agriculture, then earned his Masters degree in 1954 from the University of Arkansas.
After returning to Dermott, he taught Vocational Agriculture at the public school. He was appointed Associate County Agent for Crittenden County in West Memphis in August 1955. He served in this position until February 1958 when appointed Extension Plant Pathologist with the University of Arkansas Division of Agriculture in Little Rock, where he was employed until retirement in November 1990. While in this capacity he earned the following state and regional awards: Past President of AR Agriculture Pesticide Association 1987; Past President of "Southern Soybean Disease Workers" 1977-78; Chairman for 10 years of Southern Soybean Disease Workers Seed Treatment Committee, receiving the distinguished service award in 1986. He was a member of the Epsilon SIGMA PHI Fraternity for 38 years. During his time in the extension service he worked with farmers on row crop diseases and received numerous work grants from major agricultural chemical companies. MC was a Master Gardener and trained many in gardening and helped to edit the Master Gardening Book.
He was an active member of M&M Hunting Club of Monticello for 30+ years. It was at this camp where he suffered a massive stroke on the morning of November 23, 2004, from which he never fully recovered. His grandson at his side was proud that his PaPaw had killed a deer the afternoon before. MC's most enjoyable pastime was fishing, which he did 3-5 days a week, year round during his retirement. Family and friends were supplied fish and home grown vegetables in season. His generosity will be missed by many. When hunting and fishing wasn't filling his time, he did consultant work for Winrock Grass Farm and his son's lawn care business, Healthy Lawns and Shrubs of which he helped name and was extremely proud of its success. MC was an active member of Markham Street Baptist Church since 1964. He volunteered weekly at the church food pantry and was Chairman of the Grounds Committee.
MC was preceded in death by his beloved wife, Lillie Merle Hart McDaniel in 2003. His survivors include a daughter, Cynthia Gail Montgomery (Terry) of Roland, a son, Stanley Madison McDaniel (Sheri) of Little Rock, four grandchildren, Tye Montgomery (Cindy) of Roland, Tym Montgomery (Renee') of Little Rock, Seth McDaniel of Fayetteville, Sara McDaniel of Little Rock, a brother, Damon Franklin McDaniel of Houghton, LA and a sister, Bethel Chapman of Monticello.
A visitation will be held from 5-7 p.m. Wednesday at the Ruebel Funeral Home followed by funeral services at 2:00 p.m. Thursday at the Ruebel Chapel. Entombment will follow in Forest Hills Memorial Park. Memorials may be made to Markham Street Baptist Church, 9701 W. Markham St. 72205.
---
Register Book
Butch and Cathy Martindill
Little Rock, Arkansas
I am very sorry to hear of your Father's loss. I worked with Dr. Mac as we called him at the Cooperative Extension Service until 1996. He was always a joy and had a good word to say to you. My condolences to your family. You are in my prayers.
Mary Ann Terrell
Sherwood, Arkansas
Email: BtflyNana@aol.com
I worked for a number of years with M.C. and respected his knowledge in Plant Pathology. He was missed when he retired and will be missed now. Sorry to hear of your loss.
Ken Combs
County Extension Agent - Agriculture
Dardanelle, Arkansas
Email: kcombs@uaex.edu
When I started to work in 1976, I became acquainted wth Mr. McDaniel. I have great respect for him. After reading the e-mail from Stan yesterday, letting us know of the passing of his father, I have even more respect. What a legacy this father leaves with his children! God Bless the McDaniel Family.
Vickie Huddleston
Star City, Arkansas
Email: bhuddleston@netstorm.net
A good friend, fellow SS Class members at Markham Street Baptist and a fellow gardener at the Pulaski County Garden Center.
John and Pebble Wallace
Little Rock, Arkansas
Email: jnpwallace@aol.com
Mac was one of my mentors in my early Extension career. I learned a lot about plant diseases from him. I loved his sense of humor too. And boy could he catch fish !! He served Arkansas farmers and many other Arkansans with distinction. He made a difference. His influence will be felt for many years to come. May God comfort his family and rest his soul.
Joe D. Waldrum
Director of Organizational Staff and Leadership Development,University of Arkansas,Division of Agriculture,Cooperative Extension Service
Little Rock, Arkansas
Email: jwaldrum@uaex.edu
---