Rev. Jesse Lee Johnson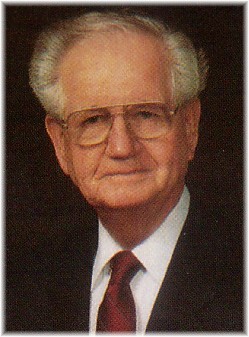 Obituary Notice
Jesse Lee Johnson, 90, of Little Rock, passed away March 5, 2005. Born October 9, 1914 in Jersey, Arkansas, he was the son of James P. Annie Anders Johnson.
Jesse was a graduate of Hermitage High School and Hendrix College. He received a Bachelor of Divinity from Perkins School of Theology at Southern Methodist University. Jesse married Kathleen Keenzel in 1939. He was ordained into the North Arkansas conference of the United Methodist Church and began his ministry with his appointment as pastor of First Methodist Church, Salem, Arkansas. Over the next forty years, Jesse served Methodist Churches in North Arkansas, Little Rock, and Texas conferences.
After his wife's death in 1983, Rev. Johnson retired from the Texas conference and returned to Little Rock where he served as associate pastor for the First United Methodist Church of Benton, Arkansas as well as the congregations of St. James and Trinity United Methodist Churches. He considered St. James his "home" church and attended faithfully as long as his health permitted. He was an avid gardner throughout his life and cooked fresh vegetables for his family. He was a member of the Kiwanis Club of Central Little Rock, serving as club president, and was named as a George F. Hixson Fellow.
In addition to his wife, Kathleen, he was preceded in death by his brothers Joe Johnson, Sam Johnson, and Carl Johnson. He is survived by his daughter, Virginia Sue Buck and her husband George of Little Rock, and son, Jesse Lee Johnson, Jr. and his wife Robin of Hohenfels, Germany. He is survived by four grandchildren, Christy Creger Jackson (Stuart) of Little Rock, Carlton Creger ( Susan) of Milan, Illinois, Ryan Johnson and Brad Johnson both of the Denver, Colorado area. Great-grandchildren include Emma Creger, Nicholas Creger, and Kathleen Jackson. Other survivors include two brothers, Robert Johnson (Helen) and James P. Johnson (Bethel) and three sisters, Mabel Graham, Frances Holderfield, and Mary Lee.
Visitation will be held on Wednesday, March 9th from 5:00-7:00pm at Ruebel Funeral Home with the funeral service at 2:00pm on Thursday at St. James United Methodist Church in Little Rock. Burial will follow at Pinecrest Memorial Park.
The family would like to extend special thanks to the staff of Arkansas Hospice, and also to three friends who showed Jesse such care and love during the past four years, Bubba Benton, Richard Davis, and Patty Lou Dillaha.
Memorials may be made to Arkansas Hospice or the St. James United Methodist Church Endowment Fund. www.ruebelfuneralhome.com
---
Register Book
Our prayers and thoughts are with the Johnson Family. A memorial donation has been made to Arkansas Hospice in the memory of Rev Johnson.
The Northrop-Grumman Team
Hohenfels, Germany
My very deepest sympathy is extended to Jesse Jr. and Virginia.
Connie Sparks Reinhardt
Little Rock Arkansas
Our thoughts and prayers are with you.
Mary and Alison Acott
Conway, Arkansas
With sincere sympathy.
Jack and Betty England
Rison, Arkansas
Email: englandb@tds.net
My deepest condolences to the Johnson family and especially Mr Johnson's son Jesse. When we loose a love one especially a parent it is something we never get over but as life continues, we through God and his mercy learn to live with it. Mr Johnson will always be alive in the memories that are shared with family and friends. God Bless his family and comfort them in this time of sorrow.
Gerald Donald Utterback
Florence, Kentucky
Email: gerald.utterback@cmtc.7atc.army.mil
---