W. J. "Jay" Jernigan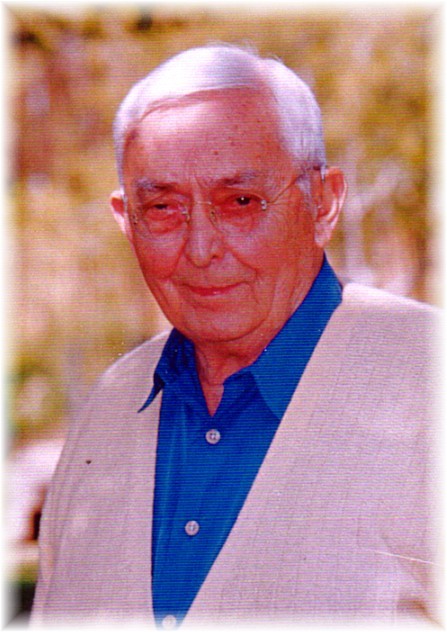 Obituary Notice
W. J. (Jay) Jernigan, Jr., age 90, died Tuesday, May 17, 2005. He was a lifelong resident of Little Rock and son of the late William J. and Lucile Tucker Jernigan. He graduated from Little Rock Senior High School, where he was a Student Manager of Athletics and a member of the National Honor Society. After attending one year at Little Rock Junior College (now UALR), he transferred to George Washington University in Washington, D.C. where he continued his pre?law studies and worked in the Agricultural Adjustment Administration, one of F.D.R.'s New Deal agencies. He returned to Arkansas to complete his education at the University of Arkansas at Fayetteville, where he graduated with a Batchelor of Arts degree and later earned his juris doctorate. While a student at the University, Jay was a member of the Sigma Chi fraternity. In 1949 he married Jean Mitchell of Morrilton. They were married over 50 years.
In the early years as an attorney Mr. Jernigan engaged in a private practice with his brother John. He served for a time as Assistant?City Attorney for the City of Little Rock and taught in the night division of Little Rock Junior College. He was active in the affairs of the Pulaski, Arkansas and American Bar Associations, serving a term as Chairman of the Junior Bar Conference of the American Bar.
In 1943 he became law clerk to United States Circuit Judge Walter G. Riddick of the United States Circuit Court of Appeals for the Eighth Judicial Circuit, a post he held for ten years. After Judge Riddick's death, he returned to private practice and later was appointed Chairman of the State Board of Review, a quasi-judicial appellate tribunal for unemployment cases. Although highly regarded and rewarding, the position was short?lived as he was offered and accepted a position as Trust Officer of a local bank. Thus began a twenty-five year career with Union National Bank, from which he retired as Vice President in 1980 and began an entirely new career on a volunteer basis. In this Jay was probably best known for his work in the Shepherd's Center movement. At a conference on aging at the Presbyterian conference center at Montreat, North Carolina, he first learned about the Shepherd's Center concept. He became immediately enthusiastic with its possibilities and came home, enlisted the necessary interest and support, and founded the Shepherd's Center of Little Rock. It was an instant success and soon became a model for other Shepherd's Centers across the country. Jay was also the prime mover in establishing ten other Shepherd's Centers throughout the South - in Arkansas, Texas, Oklahoma and Georgia.
Jay was widely known throughout the Presbyterian Church U.S.A. for his work in the field of aging. For more than 20 years he was involved in this work at all levels of the church structure. He was a featured speaker and served as director of older adult conferences at the church's conference centers in Montreat, N.C., at Mo?Ranch in Hunt, Texas and in places elsewhere in Arkansas, Texas and Oklahoma.
Throughout his career Jay was active in civic and community affairs and endeavors. He was chairman of St. Vincent Infirmary and Health Center Advisory Board for Older Adult Services; a longtime member of the Board of Arkansas Gerentological Society; President and Board member of Presbyterian Village; Advisory Board member for Active Years; member of Board, Ferncliff Conference Center; and member of the Board of Trustees of Shepherd's Centers of America, the parent organization of a national network of 100 Shepherd's Centers all across America. Additionally, he had a 48?year membership in the Little Rock Civitan Club and was a Fellow of the Civitan International Research Center, Birmingham, Alabama.
Over the years Jay received numerous awards and honors in recognition of his leadership skills. He was named "Man of the Year" by the Arkansas Democrat in 1985; received the Southwestern Bell's Sister Pierre Vorster Outstanding Volunteer Award in 1996, and was appointed a delegate to the White House Conference on Aging in 1995. Central Area Agency on Aging (now Care?Links) twice recognized him with Volunteer of the Year Awards, as did Little Rock Civitan Club with its Community Service Award. But he seemed most pleased to have been selected the first recipient of the Samuel C. Reaves Award given by Shepherd's Centers of America for his leadership in the Shepherd's Center movement. He was likewise appreciative to have been awarded the Civitan International Honor Key for his longtime services.
Jay had been a part of Second Presbyterian Church for more than 80 years, dating from his enrollment in the Cradle Roll in the original church at Fourth and State Streets during the pastorate of Dr. Hay Watson Smith. As a youth he became active in Young Adult work and started going to Montreat Conferences at Montreat, N. C. Coming full circle, forty years later, before retirement, he became involved in and directed older adult conferences there. Jay was a deacon and elder and worked with adult education and officer training in the church. He served two terms as Superintendent of the Sunday School. His last assignment was to serve as chair of the Heritage Committee, which was authorized to establish a church archives and set up a "Heritage Room" as a repository for the safekeeping and preservation of church history, official records, memorabilia and artifacts.
For more than twenty years Jay designed and decorated the Christmas trees at Presbyterian village. Every year he would go on a buying trip to the Original Chistmas Tree Store in Dallas in search of new ideas and ornaments. The trees soon became a tradition at the Village. Residents and friends of the Village would eagerly look forward to the trees from year to year. Jay regarded this as one of the most worthwhile and enjoyable times of his career.
Jay is survived by his wife, Jean Mitchell Jernigan; two daughters, Dr. Jean McGehee of Little Rock, and Lue Taff and husband Harold of Irving, Texas; two grandchildren, William Mitchell McGehee of San Francisco, California, and Jillian McGehee of Bryant.
Memorial services will be 11:00 a.m. on Friday, May 20, 2005 at Second Presbyterian Church, 600 Pleasant Valley Dr., officiated by Reverend Steve Hancock and Rev. Dr. Karen Akin. The family will receive friends in the Fellowship Hall of the church following the service.
In lieu of flowers, memorials may be made to the Shepherd's Center/LifeQuest of Little Rock, 600 Pleasant Valley Dr., 72227; to Second Presbyterian Church, or to a charity of choice.
Arrangements are by Ruebel Funeral Home, www.ruebelfuneralhome.com.
---
Register Book
To whom it may concern, The loss of Jay Jernigan will be felt not only from his immediate family, but to his Little Rock Civitan Club Family of some 48 years. We are deeply saddened by his death, and will miss him greatly. Jay was an inspiration to everyone in Civitan who came in contact with him, and the leadership he exhibited has been an inspiration to us all.

As president of the Little Rock Civitan Club, I want to express our deepest sympathies to the family of this wonderful man, and extend our offer to provide comfort during this time of mourning.

I would like to close by offering a few quotes of comfort:

Blessed are they that mourn, for they shall be comforted.
-Matthew 5:4

The Lord God will wipe all tears from all their faces.
-Isaiah 25:8

God shall wipe all tears from their eyes; and there shall be no more death, nor crying, nether shall there be any more pain: for the former things are passed away.
-Revelation 21:4

May God Bless Jay and his family.

Keith Dover
President, Little Rock Civitan Club
Little Rock, Arkansas
Email: kdover@spp.org

As a member of the Little Rock Civitan Club, I've had the privilege and honor to know Jay for the past 20 years. What a truly wonderful man and a joy to be around. We were blessed to have him for so long. I will miss him.
Diane Wahlquist
Little Rock, Arkansas
He was loved by many and will be dearly missed.
Diana, Claudia, Brenda, Clint, Laura, Melrose and Classmates
St. Vincent Pulmonary Rehab
Little Rock, Arkansas
Email: dwillis@stvincenthealth.com
Jay was a very kind and gentle person. It was always a privledge to visit with him at Civitan activities.
Joe & Kim Brazeal
Little Rock, Arkansas
Email: jbrazeal@spp.org
We will miss Jay at Civitan, his cheerful disposition despite all his ailments was a real inspiration to all of us.
Jeanne Hanson
Little Rock, Arkansas
I enjoyed the many years we worked together at Union National Bank.
Helen Lee Mashburn
Little Rock, Arkansas
Email: Christieshrw@aol.com
We will miss our founder of LifeQuest of Arkansas but his memories and achievements will remain forever.

May you know that he was loved by everyone as he touched their lives on his life's journey.

LifeQuest of Arkansas Board, Staff and Members
Little Rock, Arkansas
www.lifequestofarkansas.org
---