Gerald Foster "Chief" Martindill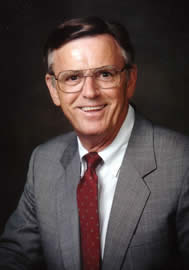 Obituary Notice
Gerald Foster "Chief" Martindill, age 81, of North Little Rock, died Friday, September 9, 2005. He was born in Searcy, Arkansas where he graduated from high school before serving in the U.S. Army during World War II. After the war he married Dorothy Jane Fike moving together to West Helena, Arkansas, in 1947, where Chief worked for the Pekinwood Company where he helped build the wood panels for Chrysler Town and Country Station Wagons. In 1955 he and Dorothy moved to Jacksonville and Chief continued his involvement with the automobile industry as sales manager for 10 years at Moore Ford in North Little Rock, and in 1967 sales manager for Rebsamen Ford in Little Rock. In 1970 he and his son Butch started the Little Rock Dodge Dealership later acquiring Little Rock Mitsubishi in 1988 and Little Rock Chrysler Jeep dealership in 1990. Chief was known for his love of training people in sales and management. He was well known for his teaching "cutting edge" retailing. Having the largest Dodge dealership in the United States in 1972 did not keep Chief from staying in touch with his people insuring they received the best training possible so they could become top sales people. He loved their success and he enjoyed competing with them later. His love of teaching continued in his church, First Baptist Church of Jacksonville, where he taught the 12 year old Sunday School Class for 20 years. In 1996 a dream came true for Chief when he and his Dorothy purchased farm land outside of Searcy now called Martindill Farms where he and his brother oversaw raising Santa Gertrudis cattle.
He is survived by his wife of over 60 years, Dorothy Jane Martindill of Little Rock, one son Butch Martindill and wife Cathy of Little Rock, one brother, Leon Martindill and wife Barbara of Searcy, and three grandchildren; Christopher, Matthew Martindill & Cara Clem.
There will be a visitation Tuesday from 5 to 7pm at Ruebel Funeral Home, followed Wednesday with a funeral service at 11am at Asbury United Methodist Church. Burial will follow in Rest Hills Cemetery. Arrangements are under the direction of Ruebel Funeral Home, www.ruebelfuneralhome.com.
In lieu of flowers memorials should be made to Asbury United Methodist Church, 1700 Napa Valley Drive, Little Rock 72212.

---
Register Book
On behalf of Joann and myself, we would like to offer our condolences on the lost of your father. We will keep you (Mr.Butch Martindill & Family) in our prayers and if there is anything that we can do, please feel free to contact either of us. God bless you.
Crawford & Joann Matthews
Little Rock, Arkansas
Email: cm2deep@aol.com
Straight into the bosom of God, heaven is a bit more vibrant today.
Taught Car Salesmen and Taught 12 year olds, sort of the same job.

My prayers are with you, Butch, and of course family and friends.
Your father is remembered and loved by many, of which I was one.

Ernest R. "Hoot" Hooten
Little Rock, Arkansas
Email: ehooten48@comcast.net
I am so sorry that you had to leave us. I learned alot from you over the years which
helped me in my life. I will miss you, but I will see you soon.
Rick Batterton
Jacksonville, Arkansas
Email: rbatterton525@comcast.net
Butch, My thoughts and prayers are with you and your family in your time of loss. Your Father was a kind and gentle man and I will miss him. Take care and may God Bless You.
Tina Moore
Arkansas Democrat-Gazette

Benton, Arkansas
Email: tmoore@arkansasonline.com
Bob Merritt on behalf of DaimlerChrysler Technical Training In appreciation for the support and help in hosting Training classes for all the years in business.

Robert John Merritt
Training Center Manager
Bartlett, Tennessee
Email: rjm5@daimlerchrysler.com
Lloyd Whitey White
Whitey's Truck Center
Little Rock, Arkansas
Thanks Chief for all that you taught me. My family and I would not be where we are today if it wern't for you and your ongoing desire to see that I was successfull. It was an honor to work for you and your family, and there is not a day that goes by that I don't use what I learned from you. You will always have a special place in my heart and in my life. I consider you my mentor and you are truly the best "Boss" I every had. I hope you can continue to gide me in life and I will never forget you.

Michael Ahlbrandt
Finance Director, Gossett Motorcars
Memphis, Tennessee
Email: fudgecat@bellsouth.net
Larry and Joy Crain
Owners, Crain Automotive Team
Little Rock, Arkansas
Email: larrycrain@crainteam.net
---