Carroll Edward Gates, Jr.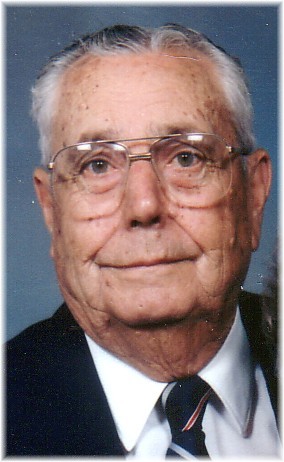 Obituary Notice
Carroll Edward Gates, Jr., 85, of Little Rock, died Thursday, March 24, 2005 at Baptist Medical Center. He was born in Little Rock on May 20, 1919 to the late Carroll Edward Gates, Sr. and Stella Winters Gates. He was an avid fisherman, and served his country in the Army during World War II, where he was the recipient of the Purple Heart Award with the Oak Leaf Cluster. He was an active and faithful member of Pulaski Heights Presbyterian Church where he served as an Elder and a past Sunday School Superintendent.
He is survived by his wife of almost 59 years, Norma Lee McKnight Gates; sons, Randy Gates and wife Rachel of Little Rock, Rudy Gates and wife Joyce of Benton, and Steve Gates and wife Candy of Maumelle; grandchildren, Tony White and wife Alise of Memphis, Tonya Oxford and Todd Gates, both of Little Rock, Sara Gates and Mandy Gates, both of Benton, Jeremy Gates, Jennie Gates, and Julianne Gates, all of Maumelle; and three great-grandchildren.
Visitation will be 5:00 to 7:00 p.m. on Friday, March 25, 2005 at Ruebel Funeral Home. Funeral services are scheduled for 10:00 a.m. on Saturday at Pulaski Heights Presbyterian Church officiated by Reverend Floyd Whatley. Interment will follow in Pinecrest Memorial Park.
Memorials, in lieu of flowers, should be made to Pulaski Heights Presbyterian Church.
Arrangements are by Ruebel Funeral Home, www.ruebelfuneralhome.com.
---
Register Book
Tom Atchley
Little Rock, Arkansas
Randy, Rachel, and family -- Our thoughts and prayers are with you for the loss of your father.
Mike and Mary Sullivan
Little Rock, Arkansas
Email: msullivan72212@comcast.net
Rudy, you and your family are in my thoughts and prayers in this time of sorrow.
Catherine Hickerson
North Little Rock, Arkansas
Email: chickerson3@comcast.net
To Randy and Family, Guy and I extend our deepest sympathy, knowing that you are never ready to lose your Dad. You all have a great family, and I know the good memories of fun times will eventually push the pain farther away. God bless all of you.
Loretta Whitney
Hot Springs, Arkansas
Email: lwwhit@aol.com
Carroll was a very special man with a very big heart. He was always a great neighbor to our father, John, who lived next door. I know you will miss him greatly, as will we, and please know that our thoughts and prayers are with your family in this very difficult time. Love, The Chase Family
Deeni Chase Sterling
Little Rock, Arkansas
Email: dwsterling@comcast.net
---