Ruby Lee Ford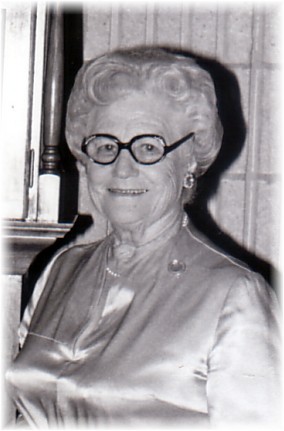 Obituary Notice
Ruby Lee Ford, 97, of Little Rock, passed away Monday, May 2, 2005, at Parkway Village. She was born January 15, 1908, in Greenbrier, Arkansas, the daughter of the late Ermon Kirkpatrick Watson and Sam W. Watson. She was the widow of Arch W. Ford, former director of the Department of Education for the State of Arkansas. Her husband, Arch W. Ford, and two sons, Justin Turner Ford and Harold Watson Ford, four brothers and four sisters preceded Mrs. Ford in death. She is survived by a son, Joe T. Ford, and his wife, Jo Ellen of Little Rock, a sister Jimmie Lee Gean of Conway, grandchildren Alison Crawford and her husband Brad, of Plano, Texas, and Scott T. Ford and his wife Dede, of Little Rock, and six great-grandsons, Jonathan, Alan and Drew Crawford of Plano, Texas, and Sam, Joe and Will Ford of Little Rock.
Ruby was an extraordinary woman whose major interest in life was her large family. An excellent gardener and cook, everyone enjoyed her table and her hospitality. She and Arch lived in Conway for many years and moved to Greenbrier in 1967.
Funeral services will be held 2pm, Wednesday, May 4, 2005, at Bethlehem Baptist Church, 506 Highway 225 West, Greenbrier, Arkansas, with The Reverend Freddie Mark Wilcox officiating. Burial will follow services at the Bethlehem Cemetery, Greenbrier.
Arrangements are under the direction of Ruebel Funeral Home, www.ruebelfuneralhome.com.
Memorials may be made to Donald W. Reynolds Institute on Aging, University of Arkansas for Medical Sciences, 4301 West Markham, Little Rock, Arkansas 72205, or Parkway Village, 14300 Chenal Parkway, Little Rock, Arkansas 72211.
---
Register Book
With love and prayers,
Win and Faye Mullen
Little Rock, Arkansas
I always enjoyed being in Mrs. Ruby's home. She was a fine Christian lady.
Gale Garrison
Greenbrier, Arkansas
Email: ggarrison@cyberback.com
---