Carrie Ellen Remmel Dickinson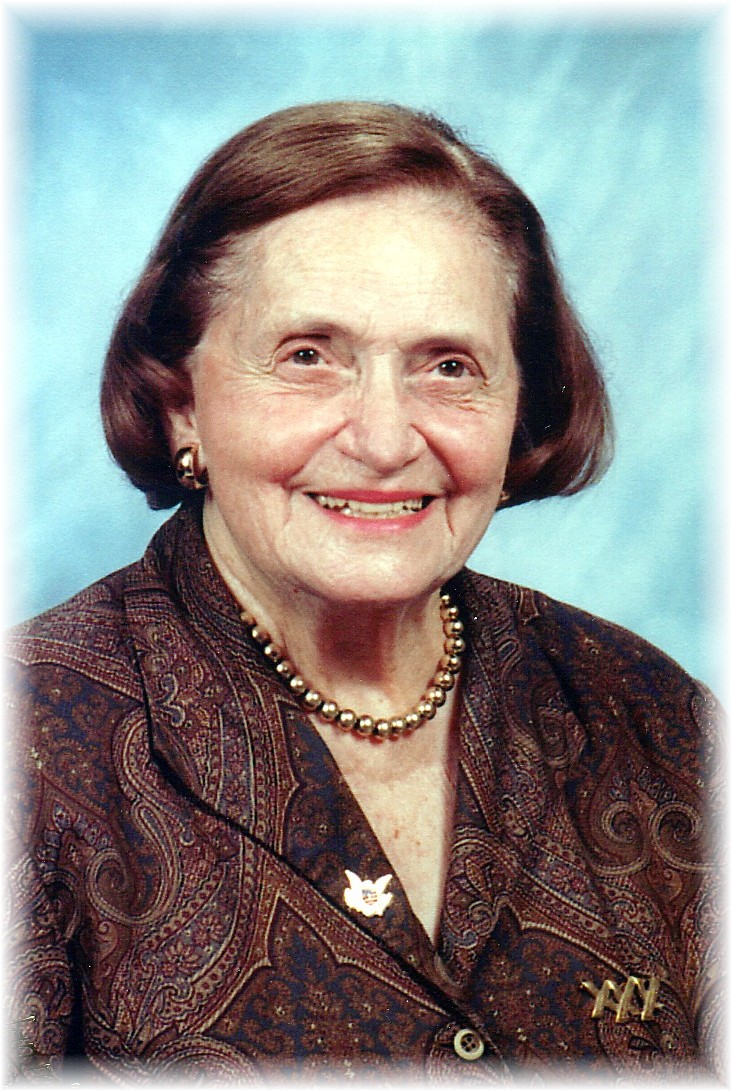 Obituary Notice
Carrie Ellen Remmel Dickinson, of Little Rock, passed away from this earth on March 24th, 2005, to join with Jesus Christ in a heavenly reunion with her beloved late husband of 59 years, Haskell Tyndall Dickinson, and all of her departed family and friends who have awaited her coming. She is survived by her three children, daughter Nan Ellen Dickinson East and husband Jack M. East, son Haskell Lee Dickinson, II, and wife Peggy, and son Remmel Tyndall Dickinson. In addition, she leaves behind six precious grandchildren and one great-granddaughter. Other survivors include a sister, Gertrude Remmel Butler, a brother and sister-in-law Roland and Ruth Rebsamen Remmel, sisters-in-law Catherine Couch Remmel and Beverly Best Remmel, and sister-in-law Jean Remmel FitzSimmons and husband Bill.
Carrie was born in Little Rock on November 27, 1919, the youngest of six children of Augustus Caleb and Ellen Lucy "Nellie" Cates Remmel. She was educated in Little Rock public schools and attended Finch College in New York City and the University of Arkansas where she became and continued to be a loyal member of the Pi Beta Phi Sorority. She was a life long member of First United Methodist Church of Little Rock. She served as president of the Junior League of Little Rock, 1958-59. During that time she played a key role in working with the late Governor Winthrop Rockefeller to help found the Arkansas Arts Center, where she continued to play a leadership role for many years. Among civic activities too numerous to mention, she served on the boards of the Natural History Museum in MacArthur Park; the University of Arkansas School of Landscape Architecture,; the Museum of the Confederacy in Richmond, Virginia,; was named Lady of Dumbarton of Arkansas for the Colonial Dames of America, and was active for many years in the Little Rock Chapter of the Garden Club of America.
Carrie was descended from one of the first white settlers in Arkansas, Isaac Thomas Cates, from the year 1806. She was a direct descendent as well of Elder William Brewster of the pilgrim ship Mayflower of 1620. Among her forebears in Arkansas were Colonel Harmon L. Remmel, after whom Remmel Dam is named in Hot Springs, Governor John E. Martineau, and Little Rock Mayor Pratt Cates Remmel. Together with her late husband Tyndall, she was honored by Hendrix College, the Arkansas Arts Center, the Historic Arkansas Museum, the University of Arkansas at Little Rock, and Washington and Lee University in Lexington, Virginia. This precious lady seemed to be universally acknowledged for her loving and respectful attitude, and had a genuine gift for making all with whom she came in contact feel special. She never had an unkind word for anyone and always looked for and brought out the best in the countless friends and acquaintances who came her way. She is irreplaceable in the hearts of her loving family and yet another member of the Greatest Generation to journey on to her reward.
There will a funeral service at 2pm Saturday at First United Methodist Church in Little Rock officiated by The Reverend Doctor Michael L. Mattox and The Very Reverend Henry Hudson. Burial will follow at Pine Crest Memorial Park. Arrangements are under the direction of Ruebel Funeral Home, www.ruebelfuneralhome.com.
In lieu of flowers, memorials may be made to the Arkansas Association for Hearing Impaired Children, P.O. Box 2007, Benton, Arkansas 72018-2007, the Carrie Remmel Dickinson Beautification Fund at the Arkansas Arts Center, P.O. Box 2137, Little Rock, AR 72203, the First United Methodist Church, 723 Center Street, Little Rock, AR 72201, or to the charity of one's choice.
Following services the family will receive friends at #6 West Palisades, from 6 to 8pm.
---
Register Book
Sorry I cant be there . But love each and everyone . My prayers are with you. I loved Aunt Carrie very much.
Richard & Rosalyn Morgan
Lawton, Iowa
Email: remmel@NETINS.NET
My prayers are with you during this difficult time in the loss of your Mother.
Marilyn Brodie Archer
De Queen, Arkansas
My thoughts and prayers are with you.
Diane Wightman Battle
Olmsted Township, Ohio
Haskell and Pratt, my thoughts and prayers are with you. She will be greatly missed by many.
Terri Campbell Korn
Fernandina Beach, Florida
Email: terrikorn@hotmail.com
Dear Haskell, Nan Ellen and Family, I lost my mother on December 30, so I am only too familiar with this path you're now on. I'm sending loving and healing thoughts your way.
Bev Montgomery Dunaway
Mountain View, Arkansas
Email: bdssi@aol.com
Haskell, My sympathies to you and your family. What an incredible contribution she made to our community and the lives of those who grew up around her. May she rest in peace. Warmly,
Gene Dunaway
Mountain View, Arkansas
Email: gdunaway@aol.com
---