William A. "Jake" Davis, Jr.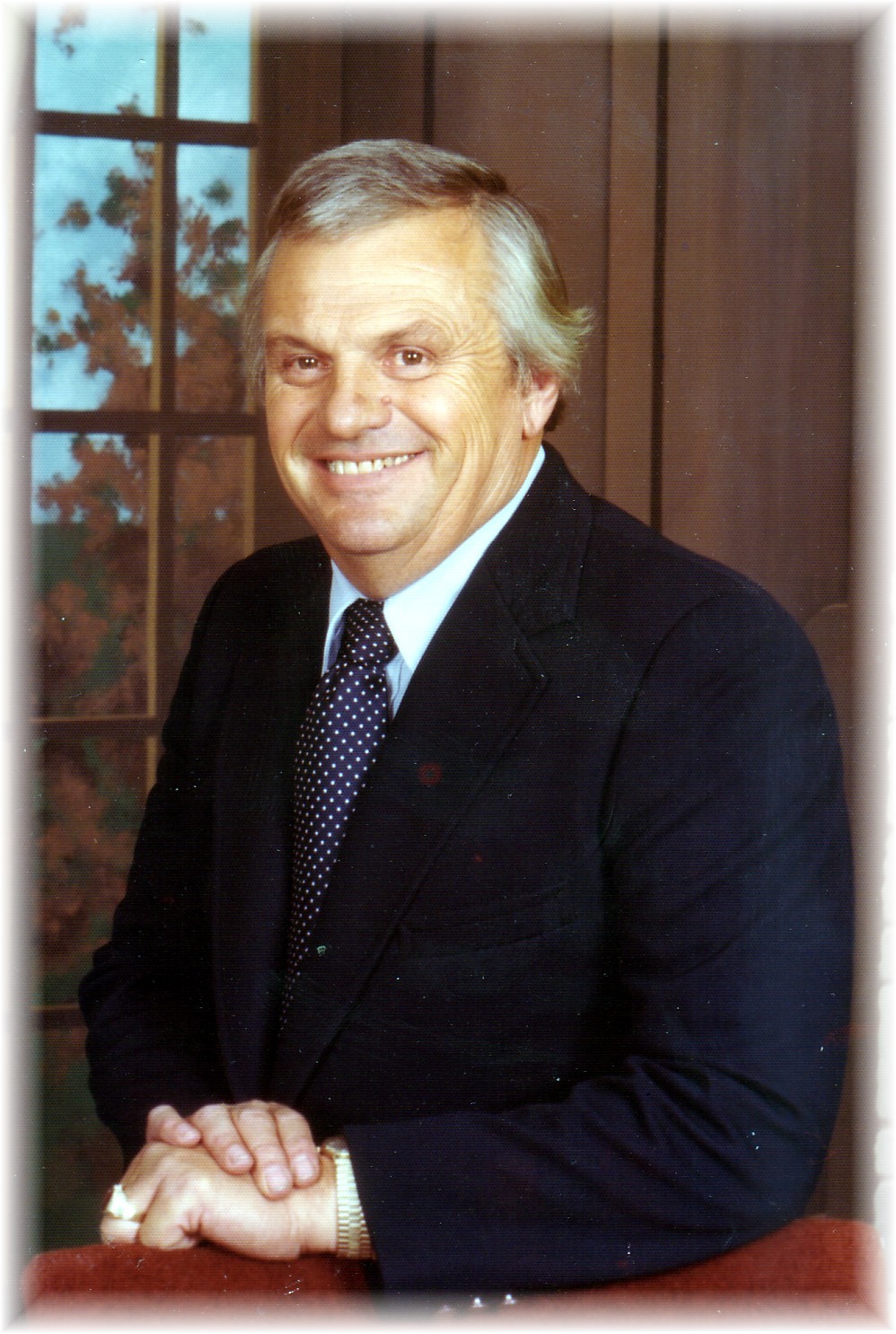 Obituary Notice
William A. "Jake" Davis, Jr., 79, of Little Rock, died Wednesday, February 23, 2005. He was born in Fort Smith to the late William A. Davis, Sr. and Fern Conley Davis.
Jake was a First Lieutenant in the Army Air Corps, serving as a flight instructor of B-24s and B-25s. He graduated from the University of Arkansas at Fayetteville where he was a Razorback Letterman and a member of the 1947 Cotton Bowl Team. He met and married Tommye Arbogast while both were students at the university.
Jake had a long career in retail truck and trailer sales. His dry wit and love of people made him a perfect salesman. During his career, he worked at Freuhauf Trailer, International Harvester, Mack Truck, and retired as manager of Peterbilt of Arkansas.
An avid racecar fan all of his life, after retirement he enjoyed working as a crewman and transport driver on his son's NASCAR race team. One of his most prized possessions was his 2002 Daytona 500 Championship ring. A member of Pulaski Heights United Methodist Church, Jake and Tommye enjoyed the Friday night service - so they could watch the NASCAR race on Sundays.
More recently, Jake enjoyed visiting and working on Bill and Gail's Chimney Rock Cattle Ranch near Batesville.
Jake was a loving and proud husband, father, grandfather, and great-grandfather. He took great delight and interest in his children and grandchildren's lives. He was loved by many, and will be missed by all who knew him.
Survivors include his loving wife of 58 years, Tommye Arbogast Davis; daughter, Diane Lord and husband Fletcher Lord, Jr. of Little Rock; son, William A. "Bill" Davis, III, and wife Gail of Batesville and High Point, NC; grandchildren, Conley Golden and husband Alex of Little Rock, Fletcher Lord, III and wife Jessica of Jamestown, NC, and Katherine Lord of Little Rock; and one great-granddaughter, Evan Elizabeth Golden.
Visitation will be from 5:00 to 6:30 p.m. on Friday, February 25, 2005 at Ruebel Funeral Home. Funeral services will be held at 1:00 p.m. on Saturday, February 26, 2005 in the Chapel of Ruebel Funeral Home, officiated by Reverend Vic Nixon. Burial will follow in Roselawn Memorial Park.
In lieu of Flowers, memorials may be made to Pulaski Heights United Methodist Church, or to the charity of donor's choice.
Funeral arrangements are by Ruebel Funeral Home, www.ruebelfuneralhome.com.
---
Register Book
I am sorry to hear about your loss. You and your entire family are in my thoughts and prayers. God Bless.
Evans Wright
Spartanburg, South Carolina
Email: thedawgg044@yahoo.com
Our hearts and prayers go out to the Davis family for their peace and comfort is this time of sorrow.
Len & Annette Batycki
Denver, North Carolina
Our deepest sympathies.
Bill & JoBeth Schlatterer
Maumelle, Arkansas
Never met him but with Bill as his Son he had to be a fine man to instill such values in his offspring......Best to all the family; you are in my prayers.
Don Greene
Conover, North Carolina
Email: eagleinthewind@charter.net
We are so sorry to hear of your loss. Darryl and I always enjoyed being around Jake and know he will be missed by all who knew him.
Shirley and Darryl Muck
Kingsport, Tennessee
We are sorry to hear about your loss.
Susan Tribucher
Rockaway, New Jersey
Email: suerace@gti.net
Diane and Bill, My very deepest condolences on the passing of your father, my thoughts and prayers are with you at this time.
Dub Allen
Little Rock, Arkansas
Email: f4jrider@hotmail.com
On behalf of myself James "Josie" Neff my mother Grace and sister Gail and everyone in the company's, divisions and websites or Team Xtreme U. S. A. - 1 Super - Crew Enterprises we wish to extend out thoughts and prayers to the Davis family and all that William A. "Jake" Davis, Jr. life touched.
James "Josie" Neff
State College, Pennsylvania
Email: xtremelyusa1@yahoo.com
Never met Jake, but knew of his previous involvement with the race team. His spirit and positive attitude will be missed by all NASCAR fans.
Michael Burton
Director of Sales and Marketing
Langhorne, Pennsylvania
Email: mailburton@comcast.net
Our deepest sympathies to the families. We enjoyed talking with Jake so much at Andy's every morning. We'll miss him so much.
Richard "Sax" & Shirle Saxton
Little Rock, Arkansas
Email: saxgolf@swbell.net
Deepest sympathy to the Davis family from Greenfield, Wisconsin. Just to let you know you have people that care about the racing community in Wisconsin.
Hope Langhoff
Greenfield, Wisconsin
Email: hopster51@sbcglobal.net
You have my sympathy.
L. A. Washam
Benton, Arkansas
May the Lord's comforting hands be laid upon your family during this time.
Debra Elmore
Haskell, Arkansas
My thoughts and prayers go out to the family.
Lynn Davis
American Honda Motor Company
Cabot, Arkansas
Email: Hondalynn@yahoo.com
I am so sorry for your loss. My Thoughts and Prayers are with you and your Family.
Stella Mae Grant
Sherman, Texas
Email: flg57@aol.com
Tommye, We just want you to know how much we loved knowing the two of you and how sorry we were to learn of Jakes death. Please know you and your family are in our prayers. Lovingly
Tom & Ruby Thompson
Perry, Arkansas
We want you to know that our deepest sympathies go out to the family at this sad time. Mr. Davis must have been a wonderful man to have raised such a fine family.
Jerry and Cheryl Sims
Trinity, North Carolina
Email: chsgls@triad.rr.com
Diane, Fletcher & Family, The Zanoff family extends our heartfelt sympathy in this sad time. Know that you are in our thoughts and prayers.
Becky Zanoff-Woods
North Little Rock, Arkansas
Email: blynn0659@sbcglobal.net
May God bless you and your family.
Keith Jones
Springdale, Arkansas
Bill, Gail, Tommye and Diane, We are very sorry to hear about Jake's passing. He used to make me laugh so hard when he would tell stories with his fantastic sense of humor! I know he will be missed by all.
Lana & Bobby Parker
Belews Creek, North Carolina
Email: Flannel222@triad.rr.com
Jake was a great person. I really enjoyed our talks together. It is my pleasure to be associated with such a fine family and a great boss.
Mark "RocketMan" Metcalfe
Transport Driver- Triad Racing Development
Bill Davis Racing
Archdale, North Carolina
Email: rocketman@northstate.net
Bill and Gail, I was saddened to hear of the loss of your Father. Our thoughts and prayers are with you and your family.
Sam Scott
Farmington Hills, Michigan
Email: sscott1@twmi.rr.com
Diane, may fond memories bring you and your family comfort in the days ahead. Our thoughts and prayers are with all of you.
Francine Barton and Frank Meeks
Little Rock, Arkansas
Email: fcbarton@aol.com
Your family is in our thoughts and prayers. May God be with you during this time of loss.
Tim Ortlieb
NASCAR Fan
Piqua, Ohio
Email: tortlieb@earthlink.net
God held out his arms, you did not hesitate for you knew it was time to go home. May you rest in peace now. I'll see you on the other side.
Gary Barnes
Sales, North Little Rock Peterbilt
North Little Rock, Arkansas
Email: garypeterbilt@yahoo.com
---