Mary Irwin Anderton Canaday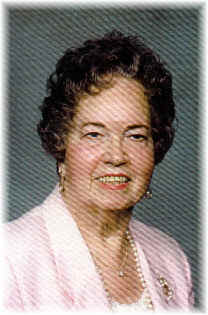 Obituary Notice
Mary Irwin Anderton Canaday, 98 of Little Rock, died April 4, 2005 in Louisville, Kentucky. She was born October 29, 1906 in Franklin, Virginia, the eldest of five children born to Oscar and Gertrude Anderton. Her father, an educator, moved his young family to Knoxville, Tennessee where Mary was educated. She graduated from Knoxville High School and in 1928, was graduated from the University of Tennessee and awarded Coed Athlete of the University of Tennessee, having been the only female to letter in four collegiate sports. In 1932, she wed college sweetheart, Paul O'Neal Canaday and they moved to New York City to begin their married life. Paul advanced in the utility industry to become Chief Operating Officer of Middle South Utilities Corporation, now Entergy Corporation. In 1958, they moved with their two daughters to Little Rock, where Mr. Canaday was Chief Executive Officer of Arkansas Power and Light Company, now Entergy Arkansas.
During her lifetime, Mary's faith was her sustenance. She was an active member of the Presbyterian Church, Sunday School teacher, choir member, and holder of many church offices. She was also a school teacher (teaching two of her brothers), homemaker, volunteer, avid duplicate bridge player, enthusiastic traveler, member of the Country Club of Little Rock, and a hands-on grandmother to her seven precious grandchildren, the delights of her life. Her friends and family appreciated her sense of humor, ready smile, hearty laugh, singing, piano playing, independence, inner strength and gusto for life.
Her husband, Paul O. Canaday (d. May 1962), daughter Mary Jane Miller (d. June 2002), parents, and four brothers, Wendell, Charles, John, and Ed Anderton, all precede her in death.
She is survived by her daughter, Anne Jones Sloan and husband Larry of Louisville, Kentucky; granddaughters, Ellen Jones White, Susan Jones Wilson, Mary Ann Miller Callison, Laura Miller, Karen Miller Viefhaus; grandsons, Robert Douglas Jones, III, and David Canaday Miller; two step-grandsons, John Stewart Sloan and Tyler Smith Sloan; fifteen great-grandchildren; seventeen nieces and nephew.
There will be a visitation held at Ruebel Funeral Home from 5:00 to 7:00 p.m. on Thursday, April 7, 2005. Funeral services will be held at Second Presbyterian Church at 10:00 a.m. on Friday, April 8, 2005. Burial will follow in Forest Hills Memorial Park.
In lieu of flowers, Mary asked for those wishing to make memorials, that gifts be made to the Paul O. Canaday Family Scholarship Fund, College of Nursing, University of Arkansas for Medical Sciences, 4301 W. Markham St., Slot 529, Little Rock, Arkansas, 72205.
Funeral arrangements are by Ruebel Funeral Home.
---
Register Book
Dearest Anne and Family, June and I want to convey our deepest sympathy for the loss of your dear mother. I always loved our conversations when she would come to see me. Naturally, you and your family were always the favorite subject of our conversations. Unfortunately, June and I will be in Chicago during the visitation and funeral celebration, therefore, we will be unable to see you. You and your family will be in our prayers to have the strength to get through your loss. Love,
Dr. H. F. "Bunny" and June M. Brown
Little Rock, Arkansas
Email: drbunnybrown@prodigy.net
Anne, I am thinking of you and sorry I will be out of town Thursday afternoon through Saturday. Please give me a call if you have time when you are in Little Rock
Mary Sue Jacobs
Little Rock, Arkansas
I had a lot of fun with you through the years. When you left Little Rock, you many grieving friends who missed you. We will always remember your sweet smile and vivacious personality.
Gatha Brack
Little Rock, Arkansas
Anne: We have just returned from a trip to Germany and learned of the news about your Mother only yesterday! My prayers and thoughts are with you! I entertained our group in Germany, with the story of you and your Mother buying the two cars while on vacation in that country!!! Your Mother was one of my favorite people! She was the light and spark of North Ridge Road!! I still remember the day that you and your Mother drove down North Ridge Road in the sports car,, waving and honking the horn! My Daddy, said,Mary what have you done and your Mother answered, Bill, the larger car is being shipped to Little Rcok!! We were blessed to have had Mary as a neighbor and friend!!
Ann Treadway Henry
Columbia, South Carolina
Email: missath@aol.com
---