Ellen Nelson Bearden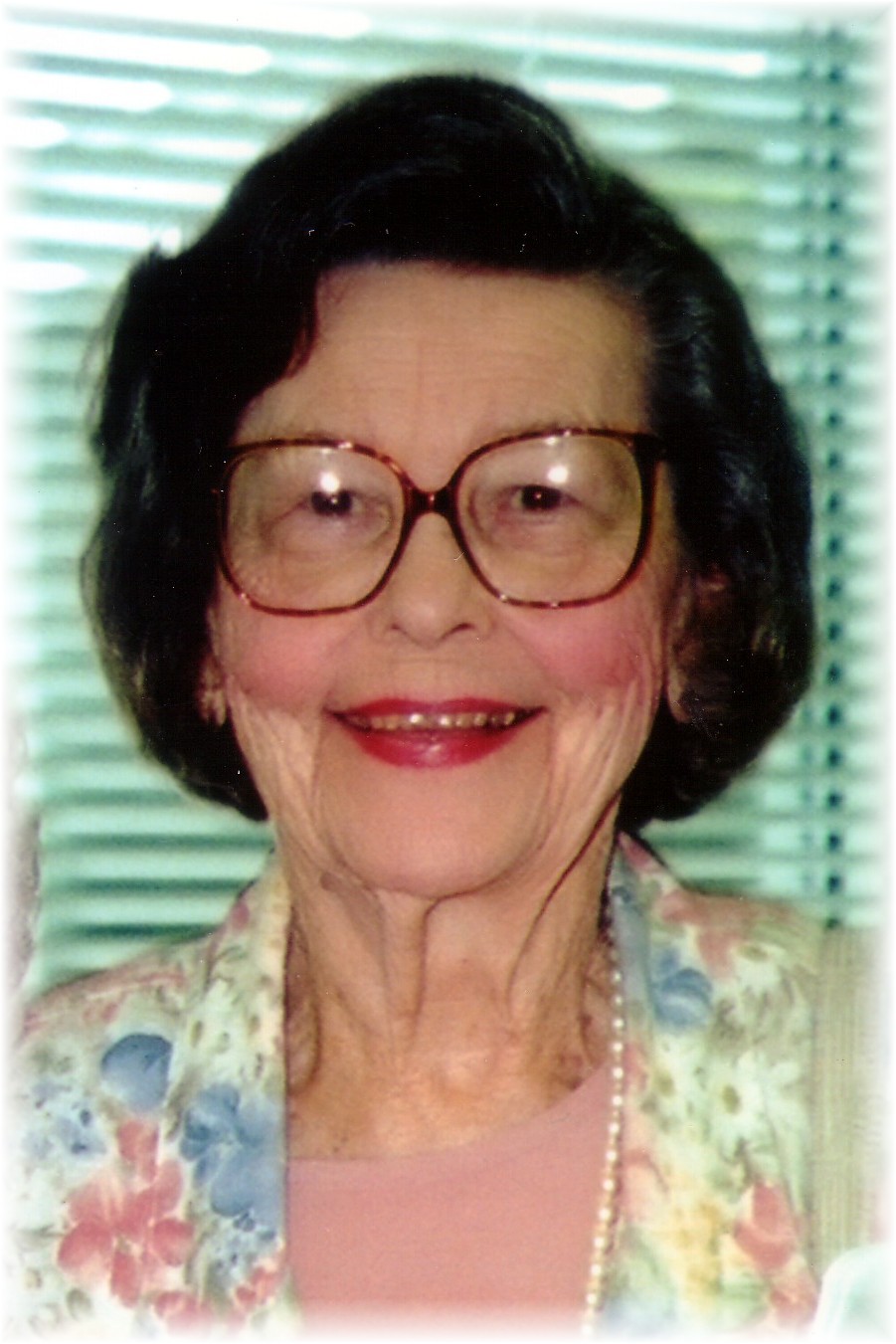 Obituary Notice
Ellen Nelson Bearden, of Little Rock died on Thursday, July 28, 2005. A lifetime resident of Arkansas, she was the wife of Methodist Minister Robert E. L. Bearden, Jr.. She was born at Russellville, AR to Mary Larch Nelson and Olaf S. Nelson.
She was graduated with an A.B. Degree from Duke University. Previously she attended Russellville Public Schools and Arkansas Tech University, where she served as a member of the Board of Trustees for six years. As a Duke Alumna, for many years she chaired the Little Rock Area Alumni Advisory Committee, where they interviewed applicants for admission to Duke.
A former legal secretary, she was employed with the Arkansas Supreme Court. A member of St. James United Methodist Church, she was honored along with her husband by the church's funding of the Robert E. L. and Ellen Bearden Scholarship at Hendrix College. A Scholarship at Henderson State University also honors the couple. As a former officer in District and Conference Methodist Women's organizations, she received the Life Member designation.
Active in community organizations for many years in Little Rock, she served the Florence Crittenton Home Auxiliary as Secretary, and was a volunteer at the Arkansas Arts Center for the Decorative Arts Forum, the Library and the Committee on Call. She was also a Literacy Training volunteer. Other memberships included the P.E.O. Sisterhood, Arkansas Native Plant Society, Quapaw Quarter Association, Little Rock Women's Golf Association, Arkopolis Questers, Wildflower Garden Club and National Democratic Party. She was active in Arts and Crafts Exhibitions receiving awards at the War Eagle Fairs.
Mrs. Bearden was predeceased by her son, Robert Nelson Bearden in 1980, and by her only sibling, O.W.(Ozzie) Nelson of Russellville in 1998. She is survived by one daughter, Clare Connally and her husband Kirkland, one granddaughter, Kimberly Dee Connally Munoz and her husband, Tony and their children Diego and Isabel all of Dallas, a niece, Nancy Nelson Pittman and her husband Tom and their sons Tripp and Trent of Plano, TX; a nephew, Bill Nelson and his wife, Andrea and their children, Jake, Whitney, Morgan and Jon all of Russellville, and many cousins in the state of Washington and in Sweden.
A memorial service will be held at First United Methodist Church, Little Rock at 11:00 a.m. on Saturday with burial prior to the service at 10:30 a.m. in Mt. Holly Cemetery. The Rev. Michael Mattox, the Rev. Fred Haustein, and the Rev. Ed Matthews will officiate.
Memorials may be made to the Bearden Scholarship Funds at either Hendrix College or Henderson State University. The family gratefully acknowledges the Christian love and support of so many, among them caregivers, Florence Pierce and Diann Myron.
Arrangements are by Ruebel Funeral Home, www.ruebelfuneralhome.com.
---
Register Book
My thoughts and prayers are with you, Bob. Ellen was a treasured friend.
Dr. F. Gladwin Connell
Little Rock, Arkansas
I wish to convey my condolences to the family, and to Bob, for whom I have great affection and admiration. Ellen was quite a lady, and I know this is truly a bitter-sweet time for you. As people of faith, may you be empowered by the sufficient grace of God as you seek comfort and courage today and in the days to come. You are all in my prayers.
Dr. Robin Moore
United Methodist Pastor
Charleston, Arkansas
Email: nrm123@hotmail.com
Clare and family, my heart goes out to you in your time of sadness. I am so sorry about your loss. Your mother was a lovely lady, and always made me smile every time I was with her. Love,
Jackie Gardner
Russellville, Arkansas
Email: jackie.gardner@atu.edu
Thank you for the love she gave in so many ways to a young Preacher Boy. God Bless and much Love
Pastor Larry Martineau
Rector, Arkansas
Email: martineau@isainet.com
Joyce and I are sorry to learn of Ellen's death. Please know that you are in our prayers. May God grant you peace in your time of grief.
Rev. John F. Walker
Hot Springs, Arkansas
With Deepest Sympathy To You And Your Family
Ralph & Roylene Smith
Little Rock, Arkansas
Dear Brother Bob, You and Ms. Ellen will continue to be more important in our lives than you could imagine God bless!
Jim and Karen Daugherty
Sherwood, Arkansas
Claire and Dr. Bearden, I remember you all so warmly from college and debutante days. Mrs. Bearden was such a wonderful, beloved woman. I share the grief of your loss.
Deenie Kenner McKay
Falls Church, Virginia
Email: deeniemckay@hotmail.com
She is in eternal peace with God now.
Lois B. Meyer
Little Rock, Arkansas
Email: meyerwjc@comcast.net
Dear Dr. Bearden and Clare:
My mother, Jessie Lee Oliver, and I send you our deepest sympathy and love. We admired Mrs. Bearden's grace and charm very much and often think of you and your family.
Carol Oliver
Northfield, Minnesota
Email: normvig@hotmail.com
---