Robert Ben Allen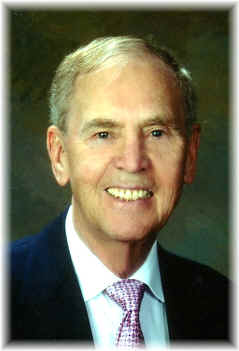 Obituary Notice
Robert Ben Allen, age 80, of Little Rock, died Tuesday, June 21, 2005. He served as State Senator, 1966-91, and a member of The House of Representatives, 1959-65. He was born in Little Rock, Arkansas, the son of the late George Mason and Josephine Myers Allen. Ben attended Perryville Schools and graduated from Little Rock High School, later graduating from Little Rock Junior College and the University of Arkansas Law School in Fayetteville. After serving in the U.S. Navy in World War II, Ben began his career as an attorney from 1951-69 with Mehaffey, Smith and Williams, which evolved into the Friday, Eldridge and Clark Law Firm. He was also a partner in the National Holding Company that owned and operated approximately fifty businesses throughout the United States, including nine businesses in Little Rock, North Little Rock, as well as, four in the Memphis area. Ben was also the original Chairman and member of the board of Metropolitan National Bank of Little Rock, member of the board of First National Bank, Leslie State Bank, Citizens Bank of Marshall, and Dardanelle Bank. He was a member of the Executive Committee of First Commercial Corporation. While a member of the State House of Representatives he authored the Freedom of Information Act, Governmental Reorganization Act, University of Arkansas at Little Rock Creation Act, and the Creation of Pinnacle Mountain State Park. As State Senator his committee assignments included being Chairman of Revenue and Taxation, Member of the Insurance and Commerce Commission, the Rules Committee, Efficiency Committee, Joint Budget Committee, and served as President Pro Tempore for two years. He was also appointed Assistant Prosecuting Attorney, and Assistant Attorney General, and served as a member and chairman of the Arkansas Ethics Commission from 1998-2002. Ben loved playing tennis, golf, scuba diving and was an avid bridge player.
Ben is survived by his wife Eloise Kreth Allen of Little Rock, sons Ben Allen, Jr., of Little Rock, David Kreth Allen and partner Scott Coenen of Minneapolis, Minnesota, Douglas Hamilton Allen and wife Julie of Northbrook, Illinois, and 5 grandchildren, Ben Allen, III, Caroline Allen, Mason Allen, Riley Allen and Philippa Allen.
There will be a visitation Thursday from 5 to 7 p.m. at Ruebel Funeral Home followed Friday with a memorial service at 11a.m. at First United Methodist Church officiated by Reverend, Dr. Michael Mattox. Burial of ashes will follow at the church columbarium. Arrangements are under the direction of Ruebel Funeral Home, www.ruebelfuneralhome.com.
Memorials may be made to First United Methodist Church, 723 Center Street, Little Rock 72201, or the Arkansas Cancer Research Center, 4301 West Markham Street, Little Rock 72205.
---
Register Book
Your friends at Pleasant Valley Country Club
Little Rock, Arkansas
Ben was a mentor and a dear friend and I will carry his memory with me and miss him always.
Steve Hockersmith
Little Rock, Arkansas
Email: skhock@swbell.net
My most heartfelt sympathy to Mrs. Allen and the family. Even though it has been several years since I have seen Senator Allen, I think of him often. I got to know him pretty well, not as a politician or business person, but as a man. I developed profound respect for him. He certainly had a quick wit and sharp intellect, but what I liked the best about him was his honest and straightforward way of approaching things. You didn't have to wonder where you stood with him. He was a good person and we are all diminished by his death. I am very sorry he is no longer with us. I regret that I will be unable to attend his service, but my thoughts will be with the family.
Richard P. Wheeler, M.D.
Little Rock, Arkansas
Email: wheelerrichard@uams.edu
Having just learned of Ben's death, I wanted to extend my sympathy to the family. Ben Allen was one of my all time favorite senators; I truly enjoyed knowing him and working with him. Too, for David Allen, I remember that after my cousin Bob Fisher died that you came to see Pansy Fisher, his mother, and me. We were grateful that you reached out to us. Now, I wanted you to know that my thoughts and prayers are with you and your entire family.
Patsy Thomasson
Ben Barnes Group
Washington, District of Columbia
Email: PatsyThom@msn.com
We are so thankful for the time that we were able to spend with Ben and Eloise in October. Our thoughts and prayers are with you Eloise, your family and others whose lives were touched by Ben.
Peggy Mills and Karen Foster
Santa Rosa, California and Fremont, California
Email: kafphn2@sbcglobal.net
We will miss Ben's smiling face and funny stories. He was a great friend to the Clark family and it's many "branches".
Cindy & Denis Hall
Maumelle, Arkansas
I will always remember Ben fondly. We were such a small high school class at Perryville Arkansas in 1940/41 that we felt we were all related. He was such a fine person. My sympathy to his family in their great loss.

Doris Powell Dorsey
New Iberia, Louisiana
Email: charles1925@cox.net
---