Lyda Holt Samuel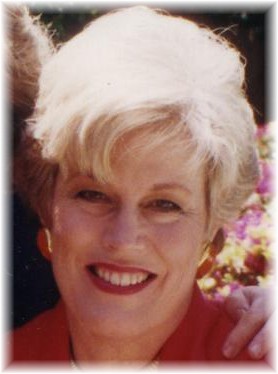 Obituary Notice
Lyda Holt Samuel, born August 24, 1947 to J. Frank and Mary Holt, departed this earth on July 16, 2004, to join her parents. She is survived by her husband of 29 years, Tom, her two sons, Christopher and Andrew, her sister and brother-in- law, Melissa and Tom Vandiver, and their children, Ben and Kate.
After graduation from Hall High School and Southern Methodist University, she worked for Representative Wilbur Mills in Washington, D.C. Along with her involvement in many civic and community organizations, she also served the city as a member of the Little Rock Airport Commission. As a co-owner of the Clothes Horse, and co-founder and owner of Et Cetera, she was known for her creative vision, generous heart and boundless energy. She was recognized professionally, both locally and nationally, for her unique entrepreneurial talents that were reflected at Et Cetera.
Lyda was a beautiful person, in countenance and especially in spirit, who found joy in music, art, people and dogs. She felt her greatest accomplishment was the creation of a home that was filled with love. Her greatest joy on this earth was her family, and with a mother's heart her two sons, whom she believed were her special gifts from God.
Memorials may be made to the J. Frank Holt Educational Scholarship Fund at the Arkansas Bar Association, 400 West Markham, Little Rock, AR 72201, or to the Humane Society of Pulaski County. Visitation will be Monday, July 19th, 5-7 p.m. at Ruebel Funeral Home. A graveside service will be held Tuesday, July 20th, 9:30 a.m. at Roselawn Cemetery.
The Samuel family asks for your prayers in the days ahead, as they seek comfort and give thanks for Lyda's life.
---
Register Book
Dear Tom, Christopher, and Andrew, Our thoughts and prayers are with you and your family.
Bill and Alice Schmid
Statesboro, Georgia
Email: schmid82@frontiernet.net

Tom, you and your family are in my thoughts and prayers
Marsha Claybrook
Sherwood, Arkansas
Email: marsha.claybrook@med.va.gov

Tom, Christopher, Andrew, and all of Lyda's family: you will all be in my prayers for God's comfort and strength as you attempt to find your way. Lean on all your family and friends for it is through their touch that you will feel God's healing love. Lyda's beauty permeated from her soul and she shared her love with everyone. I was blessed to know Lyda and will miss her very much.
Susie Wiggins
Little Rock, Arkansas
Email: swiggins@katv.com

Elsie & Howard Stebbins, III
Little Rock, Arkansas
Email: h.stebbins@worldnet.att.net

Dear Tom, My heart goes out to you and your special sons, whom Lyda talked about with such frequency and such love! She was certainly a ray of sunshine and always a joy to be around. She will be greatly missed, and my thoughts and prayers are for you all to find comfort and strength in your family and friends as you face each day. God Bless You.
Marty Vestal
Little Rock, AR
Email: martyvestal@sbcglobal.net

Thoughts and prayers are with your family as you go through such difficult times. Lyda was a blessing who touched the lives of many through her work, her friends, and her children. We will miss her.
Laura Whitmore
Little Rock, Arkansas

To Tom and family: We are so very sorry for your loss. Lyda was a kind and thoughtful person and she will be missed very much. I feel very privileged to have worked for her and to have known her. (Kerry) I am glad to have known her for almost all of my life. She was always very loving to me and my family. In your time of need I am glad my family and all of your friends are there to give you comfort just like I know Lyda would have done for any of us. (Helen) You are all in our thoughts and prayers.
Kerry Moore and Helen Hamlin
U of A Students
Little Rock, Arkansas

God Bless and keep you. My prayers are with you.
Janie Krutz Lay
Heber Springs, Arkansas

Dear Tom, Chris and Andrew, My thoughts and prayers are with you, Lyda had such a beautiful family.
Cecelia Pleva
New York, New York
Email: cecelia.pleva@nbc.com

My thoughts and prayers are with the family. Lyda was a smiling, gracious lady. I'm glad I knew her.
Marcelline Giroir
Little Rock, Arkansas

Tom: We are so sorry for your family's loss. Lyda was the epitome of beauty, both inside and out.My family has known the Holts for many years, first at the Clothes Horse, then at Et Cetera. I have many fond memories of both stores. Each was synonymous with fine products and professional, friendly service. I miss them both! Please know that we are thinking of you and the boys at this time. Our prayers are with you.
Holly Mathisen
Little Rock, Arkansas
Email: sporting@swbell.net

My heart goes out to Lyda's family. She and her parents were truly wonderful people.
Virginia Robinson Glover
North Bethesda, Maryland

You and your family remain in our prayers
Carole Bowman Cook
Maumelle, Arkansas

Chris, My thoughts and prayers are with you and your family.
Tammy Mobley
Redfield, Arkansas

My thoughts and prayers are with you.
LaDonna Cleveland
Little Rock Arkansas

My prayer is for you to be strong. I love you so.
Oleta Kirkpatrick "Mama Kirk"
Little Rock, Arkansas

Dear Samuel family, My thoughts and prayers are with you during this most difficult time.
James Murphy
Houston, Texas

Margaret Jennings
Little Rock, Arkansas

To Lyda's family: I have known Lyda since she was a little girl and am shocked and very very sad to hear of her sudden passing. Her radiant smile, good heart and sincere interest and love for others were a gift to all of us. My love and prayers to Tom, Chris, Andrew and Melissa and her family.
Kathy Rice Knowles
Wintergreen, Virginia

Lyda was a very, very special person who will be sorely missed. I have many fond memories of her and will remember her family in my prayers.
Melissa McCutcheon Leflar
Fayetteville, Arkansas

My deepest sympathy and prayers. Her beauty and talent will be greatly missed by all who knew her.
Diane Wightman Battle
Olmsted Township, Ohio
Email: diane@alanrossins.com

Dear Tom, Chris, Andrew, Melissa, your Lyda was a true lady in her beauty, caring, creating, loving, and in her suffering. She will always hold a special place in my heart. I will continue to think about you, her precious family, knowing that the legacy she received from her Mother has been passed on to you. I promise to always be there for you. So much love,
Susan Mehlburger
Little Rock, Arkansas
Email: smehlburg@aol.com

Cindy English
Little Rock Arkansas

To Lyda's family - You are in my prayers. Lyda was a very special person with boundless energy that was matched by her smile. Although it has been a long time since we had spoken, her presence was everlasting. I'm so sorry. God is with you. And Lyda is an angel.
John McCutcheon
Rogers, Arkansas

Our thoughts and prayers are with you, Tom, Chris & Andrew, and Melissa and family.
Ray & Nancy Moix
Conway Arkansas
Email: moixn@conway.afsc.k12.ar.us

Tom, I was so sad to hear of your loss. Although I didn't know Lyda well, I found her to be one of the most gracious people I have met. I know this is an overwhelming loss for you and your sons, but I know that God will help to comfort you. My thoughts and prayers are with you all.
Priscilla Skarda
Twin City Bank/Heights
Little Rock Ar
Email: pskarda@twincitybank.net

Liz and Terry Genz
Little Rock, Arkansas

Dear Tom, Chris, and Andrew, Lyda was one of the nicest women I have ever met. When I stayed at your house last year, she made me feel like one of the family. Keep your chins high because I know she wouldn't want to see her boys upset. She will always be remembered fondly.
Jeff Roth
Savannah, Georgia
Email: WAXwkr@aol.com

May your memories sustain you in these difficult days.
Marilyn Brodie Archer
De Queen, Arkansas

Dear Tom, Chris and Andrew, Our hearts go out to you as you mourn the loss of your beautiful wife and devoted mother. Please know that we are thinking of you and that we care deeply. Much love,
Becky and Ron Werle and Family
Little Rock, Arkansas

I've been out of town, in school, and just saw the obituary this morning. Her warmth, friendship, and beautiful smile will be missed. We've had many fun visits in the store and I always enjoyed getting "special" gifts there at Christmas. Not only were the gifts special, but the wrapping excelled. I was sorry to see Etc. close but happy for you, Tom, and Lyda that there would be time for other activities. She was so proud of you gentlemen, Chris and Andrew. If you weren't around helping her with your annual yard sale, she was talking with you on the phone. What a Mother! We have lost a neighbor and a friend. Our thoughts and prayers are with you.
Mary Ann Campbell (and Guy)
Little Rock, Arkansas
Email: mac@moneymagic.com

Tom, Chris and Andrew, I know this is such a difficult time for you all and you have been in my thoughts and prayers daily. Lyda was a very charming and talented lady and excellent mother. I will always remember her smile and sweet voice. With love,
Melissa Montgomery Jacob
Little Rock, Arkansas

---