J. Evelyn "Jimmy" Hembey Howland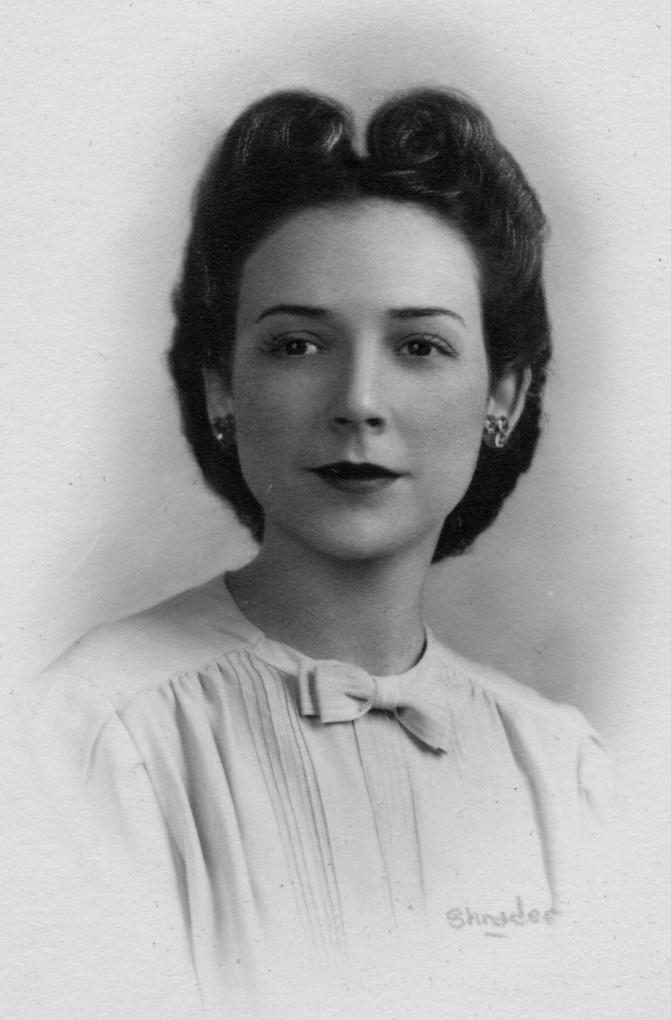 Obituary Notice
James Evelyn Howland (Jimmy) was reunited with her beloved husband Harry R. Howland Sr., October 3, 2004. The daughter of the late Hosea Ollo and Grace Hyatt Hembey, she was born on September 2, 1917. After her sister was born in 1914, her father desperately wanted a son and was sure their next child would be a boy. Throughout her life the name caused endless confusion at time with humorous consequences. She was a graduate of Little Rock Junior College that shared facilities with the present day Little Rock Central High during the 1930s. She and her husband first met while she was in high school and he was the editor of the college newspaper. He often included pictures and articles about her during their courtship.
Her life was devoted to family and friends. As her son, it seemed that everyday I would meet someone that would ask about her and say how much they loved her. She loving prepared thousands of meals and made a joyous home for her family. To her the role of wife and mother was the best of all worlds. She taught me many lessons during her life. As a child I once told her I was afraid of death. She gently explained that to her death was like an unborn child in its mother's womb. Warm, secure, and protected from all harm. She then asked me if I thought the child would want to born into the outside world. I replied that, "I didn't think so". She then said, "But look at all the things the child would never know or experience. In death we will be born into a wonderful new world". This was her faith - simple, pure, and sublime.
She is survived by her son H. Robert Howland, Jr. and his wife Nancy of Little Rock. A graveside service celebrating her life will be held 11 a.m. Thursday, October 7, 2004 at Roselawn Cemetery. The service, under the direction of Ruebel Funeral Home, will be officiated by Father John Medvick of St. Thomas Reformed Episcopal Church, 4411 Woodlawn Dr., Little Rock, AR 72205 and Rev. David Moore of Asbury Methodist Church, 1700 Napa Valley Dr., Little Rock, AR 72212. In lieu of flowers memorials may be made to either church or the Order of Discalced Carmelite Nuns, 7201 W. 32nd Street, Little Rock, AR 72204.
---
Register Book

Rob, I feel like I know you from just the little time I spent with your Mom and your Aunt. Those 2 women changed my life. I saw how they laughed and had fun together even through their illness. After making a comment about how their chairs were like my grandfather's, they gave me the grand tour of their house. They were so proud of the dolls you gave them and so proud of you. Your Aunt took me over to the lamp you had made from her house on Battery, she told me this was her most prized possession . She said it wasn't because of what it was, but because of the thought you put in it and gave it to her. They were both so wonderful and I have cried and prayed for them and can't get them off my mind. In such little time with me they made such an impression, I can't imagine the sorrow you are feeling with having a lifetime with them. And what a blessing to you. By the way, In case this website doesn't show who I am, I was the RN who saw them and set them up with an Aide. We all fell in love with them.
Laura Remmel Welch
RN-Gentiva Home Health
Little Rock, Arkansas
Email: Lwelch@aristotle.net

I am Lula Hyatt's great niece and knew your mother and aunt when we would take Aunt Lula to see them on Battery Street. I remember how gracious they always were. Please know how sorry I am about their deaths.
Helen Hughes
Benton, Arkansas
Email: NannaHelen@aol.com

---