Delmar Calvin Hart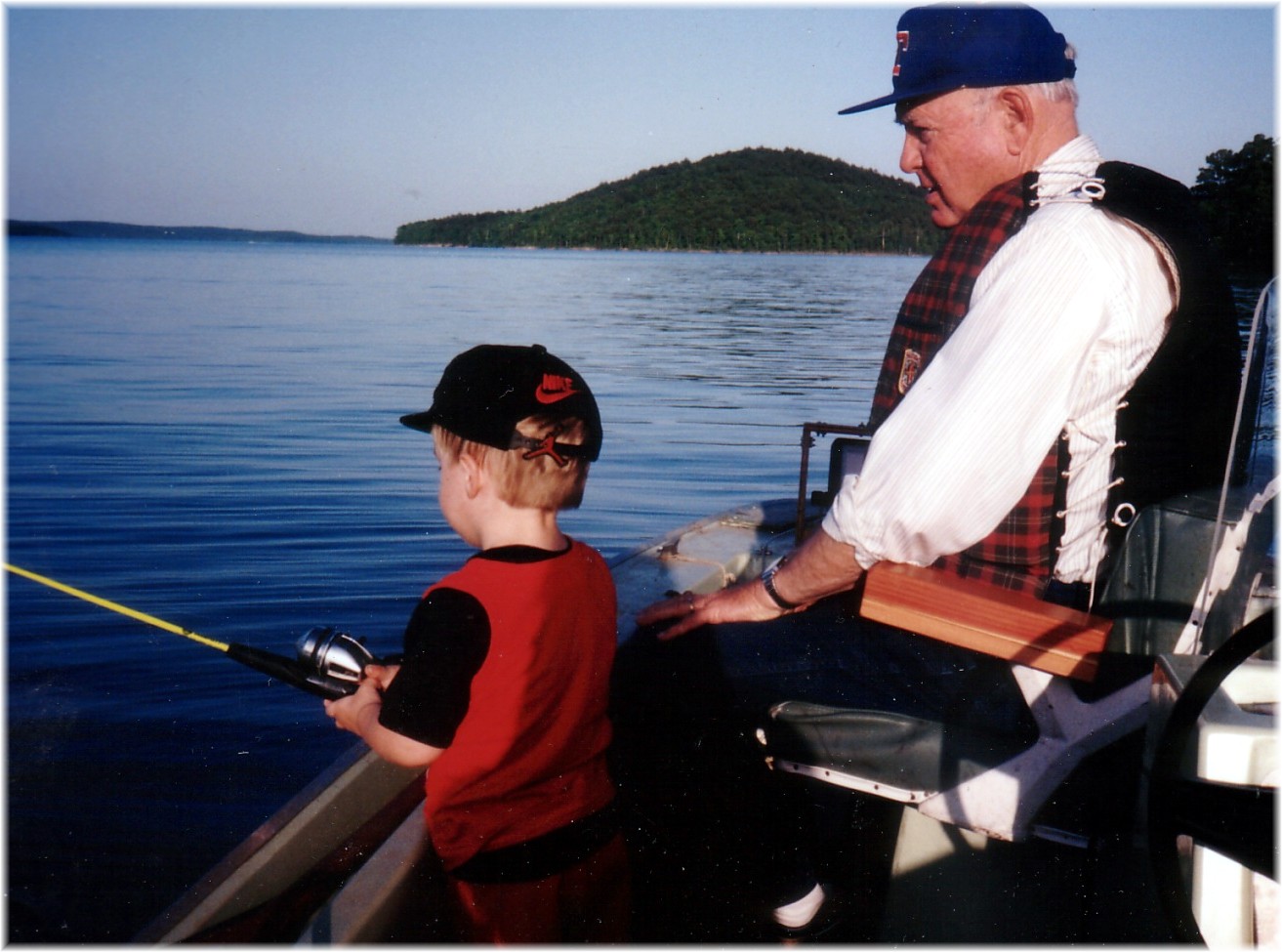 Obituary Notice
Delmar Calvin Hart, 83, of Little Rock passed away Tuesday, August 31, 2004 at St. Vincent Infirmary. He was born on May 19, 1921, in Moran Kansas to Calvin George and Amy Leota Mitchell Hart.
Delmar was a WWII Veteran serving with the 635th TDBN and took part in the invasion of Normandy on D-day. He received his teaching and Masters degrees from Arkansas Teachers College now the University of Central Arkansas. His love of sports and young people led him to his life's vocation . He coached at North Little Rock Jr. High from 1949-1951, Eastside Jr. High 1952-1959 before he became vice-principal of Central High School from 1959-1982. After his retirement his favorite pastime was crappie fishing on Lake Maumelle where a cove is named after him, Hart's Cove, and watching his grandson play baseball.
Survivors include his wife of 59 years, Mary Alley Hart; two daughters, Jane White Tullos and husband, David of Little Rock, Anne Hart of Flagstaff, Arizona; one grandson, Drew Tullos; and one sister Mary Denny of Joplin, Missouri.
Visitation will be held at Ruebel Funeral Home on Thursday, September 2, 2004, from 5:00 to 7:00 p.m. Graveside services will be held at 10:00 a.m. on Friday, September 3, at Arkansas State Veteran's Cemetery.
Pallbearers will be Dr. Dusty Malcolm, J. D. McGee, Bill Lamberson, Paul Hicks, Mike Thompson, and Roger Nesuda.
Honorary Pallbearers will be J.T. Long, Danny French, Howard Keller, Paul Magro, Lee Wagner, and Bill Barnard.
Memorials may be made to the Men's Baseball or Women's Softball; UCA Foundation, Buffalo Alumi Hall, UCA Box 4986, Conway, AR 72035, or to St. James United Methodist Church, 321 Pleasant Valley Dr., Little Rock, AR 72212.
---
Register Book
Charles Burks
Little Rock, Arkansas

Anne and Jane, I loved your dad very much. He was the best coach I ever had and he was a great person and friend. I can't possibly express in words how very sorry I am for your loss. I bet he's talking softball with my parents and they are all up there watching out for us. My love and thoughts are with you always.
Chris Curley
LTC, U.S. Army (Retired)
Colorado Springs, Colorado
Email: curleyc23@earthlink.net

Thank you, Uncle Delmar, for being such a wonderful person to us and to all the people whose lives you have touched. We are very proud of you for all you have accomplished in your life. We wish we could have seen you more often, but are thankful for the wonderful memories we do have. From shocking me as we made ice cream when I was a toddler to scouring the lake shore for lures in winter (thank God you had an extra pair of insulated overalls), to the delicious fish fries you always had. Thank you again, and we love you very much.
Dan and Liz Hart
Chino Valley, Arizona

Jane and Family, I am so sorry to hear about your father passing away, I would have been there if I had known.I think of him every time I go into my billfold because I still carry the cross he made for me. He was a wonderful man and I know you have many cherished memories of him. Now he's fishing and handing out crosses in heaven and smiling down on you guys, and I'm sure he will find time for a baseball game or two as well. You and your family will remain in my prayers and again I'm sorry I wasn't there. Love you Lots!!!
Linda Tullos
Little Rock, Arkansas
Email: lstullos@aol.com

Coach Hart was my coach in basketball and football at East Side Jr. High. My older brother and I both were in sports at East Side and those teams won most of the city championships each year under Delmar's fine coaching. I remember when I came into the seventh grade and Delmar gave a speech to the boys that would be participating in sports at East Side. He said, "Your boys have so much capability that you are not even aware of yet, not counting your God given talents. I want to tell you about one of my good football players that is in the 9th grade. Well he is good in football, but he isn't the fastest guy in the world and he wanted to go out for track. I told him okay, never thinking he would make the track team. He was at every practice, worked out harder, and ran longer than anyone else each day. He didn't make the first team for most all of our track meets, but finally got his chance in our last meet to run the last leg of the 440 relay in the city championship meet. Our main sprinter had gotten hurt. Well, his hard work and perseverance paid off when the relay team won that race and that boy won it on the last leg of the race. His name is Ronnie Deal." Coach went on to say that if you work hard and keep that same 'can do' attitude, you will do well in life and in sports here at East Side. Of course, my chest swelled up with pride, since Ronnie is my older brother. I could tell many more stories about Delmar and the great role model he was for my brother and I, but will close by saying that he was a big influence in my life at that time and it has stayed with me my whole life. Thanks Coach,
Larry C. Deal
Hot Springs, Arkansas
Email: ldeal@sbcglobal.net

I have missed the 4th of July's and shooting with you these past few years. The Fish Fries, food and fun. Now you, my Dad, and Uncle Mike can get in some fishin' and shootin', together again.
Kim D. Roehrs
Iantha, Missouri

Those were great times Kim. It is funny that sometimes when the worst things happen they bring back the greatest memories. Living in Florida I don't get to see many family members very often, but I was lucky enough to have stopped in Little Rock on the way home from Missouri a few months ago. I am very glad I did.
Russ Savage
Coconut Creek, Florida

---