Herbert Inlow Hamilton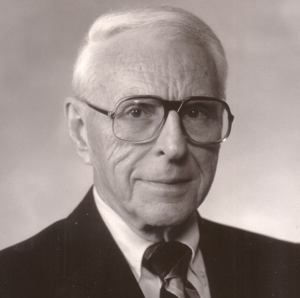 Obituary Notice
Herbert Inlow Hamilton of Little Rock died at UAMS Hospital in Little Rock on January 7, 2004. He had recently retired from 65 years in the insurance business having represented Business Men's Assurance Company of Kansas City, MO as sales representative and District Manager. In later years he also brokered for a number of other insurance companies.
He was born January 1, 1915 in Waco, TX to Herbert Virgin Hamilton and Grace Inlow Hamilton who moved to Little Rock in 1920. He graduated from Little Rock High School, now Central High, and attended the North Texas division of Louisiana State University at Monroe, LA. He transferred to Ouachita Baptist College, now University, at Arkadelphia, AR.
In 1935 he began working for BMA and received many awards in recognition of sales, one being the coveted Blue Blazer Award, as well as trips to Canada, California and Puerto Rico. He married Eloise Abernathy in 1936 and over the years they traveled extensively at home and abroad. During World War II he served as an enlisted man in the artillery, later serving in the infantry at Ft. Benning, GA.
He was a member of Pulaski Heights Baptist Church where he served on many of the church committees and as chairman of the Board of Deacons and of the Finance Committee; taught Sunday School Classes at various age levels and was Director of an adult department for several years. Faithful in all of his responsibilities, he seldom missed his hour in the Prayer Ministry of the church. He was a 32nd Degree Mason, member of the Masonic Lodge and the Scimitar Shrine Temple. He was a charter member of the Pulaski Heights Kiwanis Club, served six years as a Board Member of Westside YMCA, served one year as one of the co-chairmen of the National Conference of Christians and Jews, a charter member of Riverdale Country Club, now Pleasant Valley Country Club and served one year as secretary of the Arkansas Life Underwriters Association.
He was pre-deceased by his parents and especially close in-laws, Louise Abernathy, mother-in-law of Fordyce, AR and brothers-in-law, Sterling Abernathy, Jr, Centerville, OH and William C. Abernathy, Arlington, VA.
He is survived by his wife of 67 years, his daughter, Julie Anne Warmouth and her husband, W.B. Warmouth; granddaughters Julie Carolyn Wheat; Wendy Brandon and husband Benton Brandon, grandson, William B. Warmouth, Jr.; great-grandsons, Jackson H. Wheat, Carson W. Wheat and B.D. "Cross" Brandon, IV, all of Little Rock, a brother Benjamin Hamilton and wife Helen of El Cajon, CA; a sister, Noma Grace Perkins of Carson City, NV, and numerous nieces and nephews, as well as great nieces and nephews.
Memorials may be made to the Pulaski Heights Baptist Church, 2200 Kavanaugh, Little Rock, or the Abernathy-Hamilton-McGee Scholarship Fund at Ouachita Baptist University, P. O. Box 3750, Arkadelphia, AR.
Funeral services will be held at 1:30 p.m. Saturday at Pulaski Heights Baptist Church, . The family will greet friends at 12:30 in the Church Parlor. Burial to follow in Pinecrest Memorial Park. Arrangements by Ruebel Funeral Home.
---
Register Book
---