Bernard Wayne Thompson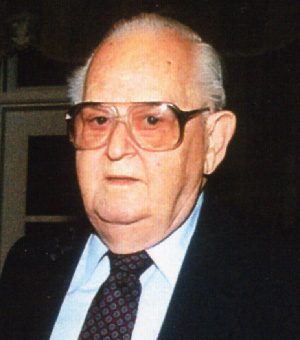 Obituary Notice
Bernard Wayne Thompson, MD, 78 of Little Rock died June 18, 2003. He was born June 2, 1925 in Bakersfield, California. He attended Bakersfield Junior College and the University of Notre Dame.
Dr Thompson graduated from the University of Arkansas College of Medicine in 1949, where he became a member of the Alpha Omega Alpha Honor Medical Society. At the time of his death he and his wife, Dr. Dola Thompson, served as co-chairs of the UA College of Medicine class '49 of Alumni Society.
He served in the U.S. Navy as a Corpsman in WWII and as a physician in the Korean War. Between the wars he did his internship at Highland-Alameda Co. Hospital in Oakland, CA and his residency at UAMS. For over 30 years he served as surgeon and professor at the Little Rock VA and the UAMS College of Medicine. He was a founder and past president of the Southern Association of Vascular Surgeons.
His other professional memberships include:
Southern Surgical Association, American Medical Association, Fellow of the American College of Chest Physicians, Fellow of the American College of Surgeons, International Cardiovascular Society, Southwestern Surgical Congress, and the Western Surgical Association. Dr. Thompson was a diplomate of the American Board of General Surgery and was certified by the American Board of Surgery for Special Qualifications in General Vascular Surgery. He frequently lectured and made film presentations of procedures at meetings of these and other organizations. His studies and research were published in journals such as Archives of Surgery, American Journal of Surgery, and Journal of Cardiovascular Surgery.
Following his retirement in 1993, Dr. Thompson and his wife traveled extensively and he frequently shared their journeys through presentations to the Shepherd's Centers in Little Rock and North Little Rock and to other senior citizen groups. The Thompsons are charter members of the UAMS Founders Society.
In addition to his wife of 55 years, Dola Searcy Thompson, MD, former professor and Chairman of the UAMS Department of Anesthesiology, Dr. Thompson is survived by his daughters Elizabeth Ann "Lissa" Thompson, of Memphis, Tennessee and Cynthia Thompson Feinberg , son-in-law Thomas R. Feinberg. MD and grandsons Stephen Neil Feinberg and Peter Thompson Feinberg all of Little Rock, and a sister Arlene Thompson Saffell of Murrieta, California.
Funeral services will be held at Westover Hills Presbyterian Church on Friday, June 20, 2003 at (2:00) p.m. The family will receive visitors at the church following the service. In lieu of flowers, memorials in honor of Dr. Thompson may be made to Arkansas Cancer Research Center (ACRC) Foundation , University of Arkansas for Medical Sciences (UAMS), 4301 W. Markham, #623, Little Rock, Arkansas 72205, Telephone (501) 686-6000, or charity of your choice. Cremation arrangements are by Ruebel Funeral Home.
---
Register Book
Daniel B. Nunn, M.D.
Medical Doctor
Jacksonville, Florida
Email: dbnunn@bellsouth.net
Samuel Morris
Memphis, Tennessee
Email: smorris@gmlblaw.com
David Appleby
Memphis, Tennessee
John Beifuss
Memphis Tennessee
Email: beifuss@gomemphis.com
Anne Dugan
Memphis, Tennessee
Email: annedugan@bellsouth.net
Demetra Lawrence
Memphis, Tennessee
Email: demetra@lawrencemgmt.com
Lisa Gimmy
Santa Monica, California
Email: lisa@lglalandscape.com
David and Taylor Laird
Jackson, TN
Email: dtwglaird@charter.net
Paul and Mary King
Huntington Beach, CA
Email: mmking@socal.rr.com
Lynette Morris
Dallas, Texas
Email: morrisl@esdallas.org
---