Howard T. Shepherd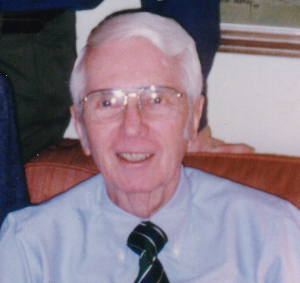 Obituary Notice
Howard T. Shepherd, of Little Rock died Friday, September 26 at his home. He was born May 16, 1918 in Little Rock to Mary Lee Thurmond and Joshua Kemp Shepherd.
He had successfully graduated from New Mexico Military Institute, Washington & Lee University, New York Insurance Institute, National Graduate Trust School, The Kennedy-Sinclaire Trust Sales Class, Officer Candidate School and various Air Force and Selective Service System Schools.
He served four years active duty in Army Air Corps during World War II and had 32 years of total reserve duty retiring as a Colonel in the Air Force Reserve and Commanding Officer of the Reserve Component - Selective Service System. He was awarded Selective Service System Meritorious Service Medal and Air Force Commendation Medal.
Mr. Shepherd was a member of the Trinity Cathedral. He was a president of the Shepherd & Company, Fire Insurance Managing General Agents; Vice president of Shepherd & Company, Fire and Casualty Affiliate of National Union Insurance Companies; Resident Secretary and Manager for Arkansas, Oklahoma, and Western Tennessee for National Union Insurance Companies of Pittsburgh, Pennsylvania; Trust officer with Worthen Bank & Trust Co. and a Trust Officer with Union National.
Mr. Shepherd was a member of The Country Club of Little Rock, The Capitol Club of Little Rock; Retired Officers Association; Little Rock Life Underwriters; Little Rock Air Force Base Community Council (Treasurer); Central Arkansas Estate Council; Little Rock Chamber of Commerce (Past Committee Chairman); YMCA (Past Chairman of Metropolitan Board); Arkansas Reserve Officers Association (Past President); Kappa Phi Kappa (Honorary); Ada Thompson Home for the Elderly (Treasurer); and Board Member of Roselawn Cemetery Board.
He was an avid swimmer and enjoyed water sports, calisthenics, weightlifting and gardening.
Mr. Shepherd is survived by his wife of 58 years Margaret Ohm Shepherd, son Stephen Kemp Shepherd and wife Ruth Darrow of Little Rock, grandchildren, Stephanie Shepherd of Devils Tower, WY and Paul D. Shepherd of Austin, TX, a niece, Mary Lou Rife of Graeagle, CA, and a nephew, H. Lee Ambrose of Grand Junction, CO. He was preceeded in death by his parents and a sister, Marion Shepherd Ambrose.
There will be a gathering at the family's home, 311 Normandy Rd., Little Rock, on Tuesday, September 30 from 5:00 to 7:00 p.m. There will be a memorial service on Wednesday, October 1 at 11:00 a.m. at Ruebel Funeral Home Chapel. Burial will be private.
The family wishes to express a special thank you to the Oncology Nurses at St. Vincent Infirmary and Arkansas Hospice. In lieu of flowers the family requests that memorials may be made to a charity of your choice.
Cremation arrangements are under the direction of Ruebel Funeral Home.
---
Register Book
Howard was one of the finest and upright men I ever met, which was over 50 years ago. He will be greatly missed by his family and all of his many friends.
Clifford McCloy, Jr.
Little Rock, Arkansas
Email: hodgecat@aol.com
Steve,
Our thoughts are with you and your family at this time.
Russell Quattlebaum
Little Rock, Arkansas
My condolences on your family's loss. I only met him twice, but he was a lovely man.
Beth Ann Dowler
Albany, New York
---