Fred H. Schmutz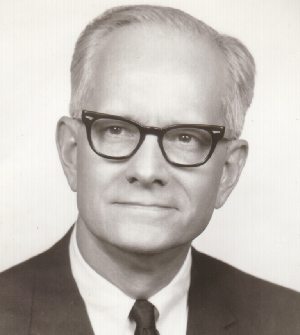 Obituary Notice
Fred H. Schmutz, 88, of Little Rock, died Sunday, August 17, 2003. He was born in Little Rock to Frederick J. and Lassie Shofner Schmutz. He was educated in the Little Rock public schools, graduated from Little Rock Jr. College, the University of Iowa with a BA degree and the University of Southern California with a MA in Speech and Theater Arts. He was a Delta Upsilon, Phi Beta Kappa, Pi Epsilon Delta and Phi Kappa Phi. He was employed by various radio stations in Little Rock for a short time before returning to the West Coast. While on the West Coast he performed in numerous stage and film productions including performance on stage as Marchbanks with Ann Harding in "Candida".
With the advent of WWII he joined the Enlisted Reserve and following training at Randolph Field he became an instructor at various air fields in California and Texas. Upon his discharge he joined the J. P. Riddle Co, where he studied Portuguese and became an instructor for the Brazilian Military in Sao Paulo, Brazil.
After returning to Little Rock he was employed by Channel 17, (later KATV). He then became director of broadcasting for the first show aired by KARK TV and was employed there for many years. He was then one of several who pioneered public television as a program administrator for what became AETN. He left AETN in 1982. During the late sixties he worked briefly for Cranford, Johnson, Hunt.
Fred served as President of the Board of the Little Rock Community Theater, and President of the Board of the City Beautiful Commission. He was a lifelong member of Second Presbyterian Church where he served as a Deacon and Elder. He is survived by his wife of 58 years, Jean Anne, two daughters, Julie Hollon Duro of Brooklyn, NY and Anne Elizabeth Schmutz and her husband, John Stephan of Coral Springs, FL.
A memorial service will be held at 10:30 a.m. Wednesday at the Second Presbyterian Church by Rev. Steve Hancock.
In lieu of flowers, memorials may be made to a charity of your choice.
Arrangements are under the direction of Ruebel Funeral Home.
---
Register Book
Fred was a force in public television in Arkansas. I learned a lot from him while working on the educational television series, "Money Magic." I am glad he lived a long life and sorry that you have lost him.
Mary Ann Campbell
Little Rock, Arkansas
Email: mac@moneymagic.com
Fred was such a joy to all of us at Andover Salon.. we will miss him terribly. Thankful to have met him and Jean Anne.
Charlotte L. Wilkerson
Sherwood, AR
Email: spw56@swbell.net
---