Delbert Adolphe Schmand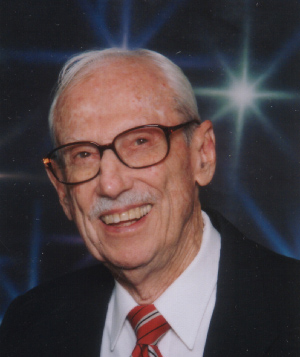 Obituary Notice
Delbert Adolphe "Del" Schmand, age 88, of Little Rock, died Tuesday, September 9, 2003. He was born in Little Rock where he graduated from Little Rock High School, Little Rock Junior College and the University of Arkansas at Fayetteville with his B.S. degree in electrical engineering in 1937. After school he served in the U.S. Army during World War II and then in the Army reserves, retiring as a Lieutenant Colonel in 1965. Del worked for the Corp of Engineers for 37 years. Part of this time included supervising desigen of locks and damns on the Arkansas River. He was awarded the Meritorious Civilian Service Metal (highest honor a civilian federal employee can receive) and was placed in the gallery of distinguished employees.
Following retirement from the Corps Del became director of the Little Rock Port Authority until 1977 when he became associated with Garver and Garver Engineers in Little Rock. Del was inducted into the University of Arkansas College of Engineering Hall of Fame in 1973 and was appointed a charter member of the Advisory Council to the College. He was a member of Theta Tau, Chi Epsilon, and Tau Beta Pi (Eminent Engineer-Syracuse University). In the State of Arkansas, Del had served two terms on the State Board of Registration for Professional Engineers and Land Surveyors, and served as president of the Arkansas Post, Society of American Military Engineers and the Little Rock Engineers Club. Del joined the Arkansas Society of Professional Engineers in 1950, a group he served as president, treasurer, and national director. He also served on the National Society of Professional Engineers as regional vice-president, chairman of Professional Engineers in Government, 1967-69 and as president in 1977-1978. He was recently awarded the Outstanding Professional Service Award in 2000.
Apart from engineering, Del's interests are varied. He was an avid duck hunter having membership in the Big Six Duck Club, a member of Quapaw Quarter Association, Pulaski County Historical Society, Concordia Historical Institute, and a member of the Little Rock Jazz Club. He was very active in Scouting for over 25 years, having been a Scout Master and a member of Troop 045. His music career started playing the saxophone in the high school band, the National Guard Band and The Arcadians, a local dance band. He was an active member of his church, First Lutheran, which he served as president and treasurer. He also was a member of the Master's Swim Program, setting several records for his age group.
His latest projects included two books he authored-"Heritage of First Lutheran Church", published in 1988 and "The Sweet Side of Little Rock- A History of Candy Making in Arkansas, published in 1997.
Del is survived by his wife of 63 years, Frances Rossner Schmand of Little Rock, two sons; Delbert A. Schmand, Jr. and wife Mary Ann of Memphis, Eric R. Schmand and wife Melissa of Newport Beach, California, two daughters; Jane Carter and husband Ken of Little Rock, Jo Anne Holmes and husband Ron of Little Rock, predeceased by a brother, William Schmand Jr., a sister Alma Schmand Stephen, and 6 grandchildren, Emily and Margaret Holmes, and Nikki Schmand, Nolan, Bradley, and Lauren Carter.
There will be a visitation Thursday from 5:00 to 7:00 p.m. at Ruebel Funeral Home, followed Friday with a funeral service at 10:00 a.m. at First Lutheran Church, 8th and Rock in Little Rock, officiated by Pastors Steven Teske and Paul Jilg. Burial will follow at Arkansas State Veteran's Cemetery. Arrangements are under the direction of Ruebel Funeral Home.
In lieu of flowers memorials should be made to First Lutheran Church, Little Rock.
---
Register Book
The many years of association with Del at work were appropriately capped with the brief visit on Tuesday morning on the barge. Best wishes for Frances and the remainder of the family, especially Ken and Family,whom I knew many years.
Bill Mathis
Biologist, Corps of Engineers
Lonoke, Arkansas
Our deepest sympathy to the family. Our prayers are with you.
Vickie and Litty Brown
Little Rock, Arkansas
Email: arkrose@earthlink.net
Our sincere condolences to the entire family.
Dub and Corinne Allen
Little Rock, Arkansas
Email: Corinne_Beard@psc.state.ar.us
My deepest Sympathy is with all the family during this time of Mr. Schmand's going to be with Our Father in heaven. I wish that I could be there with you during this time of loss. He was a great friend. My thoughts and prayers will be with all of you, especially you, Mrs. Schmand, in the coming days and weeks and months. Just rest assured that he is now with our Lord.
Doug & Martha Hof Stratton, Chad & Derrick Aycock & Family
Wolcott, New York
Email: Dougsmar@aol.com
To the family of Mr. Schmand: You have my deepest sympathies. Mr. Schmand was a kind and generous person to my grandmother (Ella Stephenson). I heard many fine things about him through his grandmother and sister at bingo night for railroad emplyees many years ago. Our prayers are with you.
Becky (Rose) Jukes
Sherwood, Arkansas
Email: aajukes@aol.com
---