Cleffie Reinhardt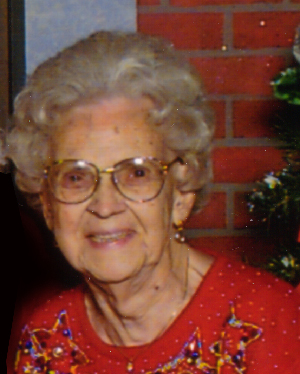 Obituary Notice
Cleffie Reinhardt, a resident of Little Rock for 89 years, passed from this life on Saturday May 3, 2003 , at the age of 94 years, 7 months. She was born September 24, 1908 in Evening Shade, Sharp County, Arkansas, the 9th child of James Henderson Brewer and Ruth Ella Ritchie. Fondly called "Miss Cleffie" by generations of Sunday School students, she shared with them her love of God. Even at age 94, she could still quote 10 chapters of God's Holy Word. She was a lifelong member of the 6th and Izard Church of Christ, and was a past president of the Little Rock chapter of Associated Women for Harding University.
Her parents, 8 of her 10 siblings, and her husband of 56 years, Herbert Paul Reinhardt, Sr. preceded her in death. Two sisters, Betty Aline Moffett and Pauline Darner of Little Rock, one daughter, Betty Wilson, of Allgood, Alabama, two sons, James Henry Reinhardt of Dallas, and Dr. Herbert P. Reinhardt Jr. of Oklahoma City, four grandchildren, eleven great-grandchildren, and one great-great grandson survive her. The family requests no flowers, but memorials may be made to Caring Friends of Arkansas Hospice, Bldg. 66, Room 65, 2200 Fort Roots Drive, North Little Rock, Arkansas 72114.
Memorial services were held on Sunday at 2:00pm at the Church of Christ, 6th and Izard, in Little Rock. Arrangements are by Ruebel Funeral Rome, Little Rock, AR.
---
Register Book
It was with great sadness that I read of the death of Mrs. Reinhardt. My memories of her are so special and so beautiful, just as she was special and beautiful to me. This world has suffered a great loss. My deepest sympathy to my dear friend Betty Jean and brothers, Herbert Paul and "Jimmy". How blessed I am to have known Mrs. Reinhardt and her family.

Ellen Westlake Lowrey Email: duch1@cox-internet.com
Russellville, Arkansas

Paul and I were sorry to learn about the loss of your mother. We stay in Little Rock a lot, but were not here at the time of her funeral. We have thought of you often since leaving Oklahoma City. We are thinking about you and your family.

Paul and Sharon Sullivan
Little Rock, Arkansas
---