William Blair Putnam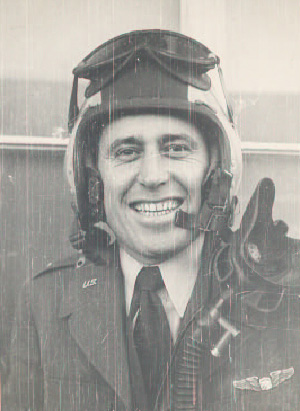 Obituary Notice
William Blair Putnam, 85, died Monday, June 16, 2003 in Little Rock. He was born October 31, 1917 in Campbell, Missouri. He served his country as a fighter pilot in WW II (136th Fighter Bomber Wing) and the Korean War (182nd Fighter Bomber Squadron) and flew 100 missions in each War.
Bill began his business career in insurance and was a former Vice President of Guaranty Insurance Corporation and headed its affiliate The Universal Insurance Company. In 1948 he formed Putnam Realty and "imagineered" numerous real estate developments in Little Rock for the past 45 years and was an appraiser. He served two terms (1970-73; 1991-93) on the Little Rock Planning Commission. In the mid-60's, he was a shareholder of The Shack at Third and Victory.
Putt-Putt's joie de vivre was playing and practicing golf and bird hunting. He was the unofficial golf instructor at Pleasant Valley Country Club for the past 35 years imparting his knowledge of golf to legions of willing and unwilling students. No doubt he is now showing God, Ben Hogan, Bobby Jones, and old Tom Morris how to improve their golf games.
Bill was a giving person and helped many people down on their luck and was honored by the Fellowship of Christian Athletes. He was a member of St. James United Methodist Church.
He is preceded in death by his parents, Harry and Lita Putnam, his daughter, Cathy Putnam, and his brother, Tracy Putnam. He is survived by his son, David Putnam, of Austin, Texas, three grandchildren, one great-grandchild, a host of golfing students, and his PVCC "gangsome" understudies.
A burial service officiated by Dr.Guy Whitney will be held 10:00 a.m., Thursday, June 19 at Roselawn Cemetery under the direction of Ruebel Funeral Home, www.ruebelfuneralhome.com . Due to libation restrictions, there will be no visitation at the funeral home, but his well-trained understudies will gather to imbibe in light hors d'oeuvres and heavy cocktails. Keep your head down, left arm straight, turn, fire out with the right hipů.
---
Register Book
Brian Minyard
City of Little Rock Planning and Development
Little Rock, Arkansas
Dana Carney
City of Little Rock Planning and Development
Little Rock, Arkansas
James Edward and Mary Jo Lusk
Little Rock, Arkansas
Jane & Curtis Homeyer
Little Rock, Arkansas

Bill was our kind, considerate neighbor on the 18th floor of One Union National Plaza. He often took time to share a thoughtful comment and encouraging word--and lots of warm hugs or pats on the back. His positive outlook on life was contagious, and he was quick to recognize and appreciate a fellow optimist. Bill enthusiastically reached out to connect meaningfully with others, and his buoyant personality was a joy to experience. We know he loved us because he told us so. We love him, too, and will miss him every day.
Ann Marshall, Polly Ramer, Linda Bryant, Margie Powell, Horace Smith, Gene Jones
Office of Desegregation Monitoring
Little Rock, Arkansas


Bill was a great real estate man who really helped me a lot. He was as gracious as he was brilliant-a rare combination.
Baker Kurrus
Vice President and General Counsel, The Winrock Group, Inc.
Little Rock, Arkansas

Perhaps the ultimate testament to a man's legacy is the son and grandsons he left behind.
Those of us here in Austin know and respect his son and grandsons. In the brief glimpse that we got of all three generations when Kyle graduated from the University of Texas, the generosity, temperament, feistiness, and talent that started at the top obviously didn't get watered down too much in the gene pool!
Make no mistake, like Father, like Son ... they did it "their way"! David is truly brilliant, frequently warm when appropriate and a good friend ... who's loss we regret.
Milton R. Jones
Neighbor and Friend of David
Austin, Texas
Email: milton.jones@prodigy.net

Bill and I first met in 1997 when the accounting firm I work for sent me on an assignment to Putnam Realty. As a hunter, I enjoyed Bill's stories of duck hunting trips to Stuttgart during a time when getting there was more than half the fun. I always looked forward to my yearly visit to Putnam Realty because I knew Bill would have a good story for me. Bill was a good man who had a great life and will be dearly missed.
Jay Clark
Gaunt & Company, LTD
Little Rock, Arkansas
Email: gauntco@aol.com

Seth Hickman
Formerly of Beach Abstract
Conway, Arkansas

James Hickman
Marlar Engineering
Conway, Arkansas
Monte Moore
Department of Planning and Development
Little Rock, Arkansas
Bill was a wonderful leader, with a great wit. It was a pleasure to serve with him on the Planning Commission.
Bob Lowry
Little Rock, Arkansas

How I shall miss Bill's twinkle--and his admonitions to those of us on the Planning Commission to quit "talking things to death." It was a privilege to know him and work with him.
Judith Faust
Little Rock, Arkansas

Walter Malone, AICP
Planning Manager
Little Rock, Arkansas
Glenn Haley
City of Little Rock, Public Works Department
Little Rock, Arkansas
---