Teresa Marie Metrailer Powers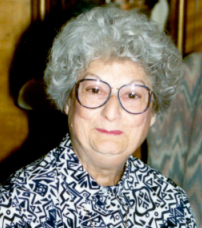 Obituary Notice
Teresa Marie Metrailer Powers, 84, passed away quietly on May 28, 2003. She was born April 26, 1919 in Little Rock, Arkansas, the third of five children born to Camille Frank Metrailer and Theresa Adleina Ruff Metrailer. She was preceded in death by her parents; brothers, Camille Anthony Metrailer and Joseph Francis Metrailer; sister, Marguerite Elizabeth Metrailer Fransioli; and special friend, John Northern.
She is survived by a sister, Mildred Ann Metrailer Buddenberg of North Little Rock; nephews, Dr. James Metrailer of Little Rock, J. Frederick Metrailer of Tulsa, Oklahoma, and Albert Metrailer of Dallas, Texas; nieces, Camille Annette Metrailer Kagy of Little Rock, Marguerite Elizabeth Fransioli Bunchman of Phoenix, Arizona, and Mary Ann Buddenberg Miller of Bloomfield, New Jersey; plus numerous grand-nephews and grand-nieces.
In her early days, Teresa grew up at 906 McGowan Street and attended St. Edward's Parochial School and Little Rock Central High School. She worked at an optical shop for a number of years and later opened her own business as Little Rock Optical on Capitol Street in Little Rock. Teresa was one of the first women business owners in Little Rock.
Funeral will be held at 1:00p.m. on Friday, May 30, 2003 at St. Edwards Catholic Church with Reverend Lawrence A. Frederick officiating. Pallbearers will be Mrs. Powers great-nephews. Burial will follow at Calvary Cemetery adjacent to her mother.
---
Register Book
Teresa was a dear friend and neighbor. She sent a card to my children on every holiday and she never missed one of their birthdays for 12 years. She was devoted to her faith. Teresa was a very different person who knew her direction. She was so loving to us. She had a heart of gold and treasured the friendship of those she chose as her friends. We loved her and she will be missed by all of us who knew her.
Brenda Cooper Email: brenda.cooper@afbic.com
Little Rock, Arkansas

Wallace Tracy and Lee Tracy
DeWitt, Arkansas

I know this is rather late, but I just discovered Mrs. Powers passing. My father was very close to the Metrailer's. His name was Gene Millot and was married to Virginia "Tinker" Millot. Unfortunately both are gone, mother in 1994 and daddy in 2000. I know they would've wanted to extend their condolences and so do I. Camille was a well known name around my house when I was growing up.
God bless you all and your family.
Kara Jean (Millot)Saurenman
Pickerington, Ohio (a suburb of Columbus)
Email: saurenk@nationwide.com
---