Joseph Robert Patterson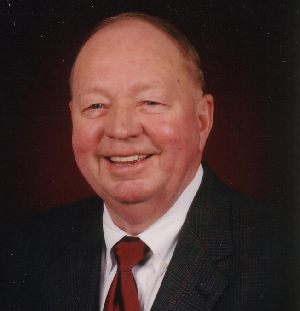 Obituary Notice
Joseph Robert Patterson of Little Rock died on Monday, October 20, 2003. Born on November 22, 1931 in Bradford, Arkansas. Mr. Patterson was the only son of the late Dewey Patterson and Opal Scantlin Patterson. He graduated from Bald Knob High School and attended Arkansas State Teachers College before serving his country in the Navy during the Korean War, where he was decorated for action in the invasion of Inchon in 1950.
After the war he entered the University of Arkansas at Fayetteville, where he was treasurer of Pi Kappa Alpha fraternity. He received a B.S. in Business Administration.
He is survived by his wife of 44 years, Carol Lackey Patterson, his sons Joe Patterson, Jr., and Chris Patterson, both of Houston, Texas, and his son Larry and his wife, Marie, of North Little Rock. His twin grandsons, Brandon Govan and Carter Alexander, born earlier this year, were the great joy of his life. He leaves behind a number of relatives, and many friends.
Joe was a natural salesman. In the course of his career, he was associated with the Frank Lyon Company of Little Rock and the Mischer Corporation of Houston, Texas. For the last 15 years, he has been a contract salesman for the W.L. Roberts Company in Memphis. He always had the gift of good humor and charm, and that sparkle in his eye that made him welcome when he called on his clients.
Joe was a 32nd Degree Mason and a Shriner. He was a member of Trinity Methodist Church in Little Rock, where he was president of the Boanerges Sunday School Class.
The family will receive friends from 5:00 to 7:00 p.m. on Thursday, October 23 at Ruebel Funeral Home. Funeral services will be 10:00 a.m. on Friday October 24 at Trinity United Methodist Church with interment following in Roselawn Cemetery. Honorary pallbearers will be members of the Boanerges Sunday School Class.
The family requests that in lieu of flowers, contributions may be made to Trinity United Methodist Church, 1101 North Mississippi, Little Rock, Arkansas, 72207.
Arrangements are under the direction of Ruebel Funeral Home.
---
Register Book
Mr. Patterson has left a wonderful legacy of family and friends with great memories of a man who lived life to the fullest. He will be missed by many.
Jerolyn Jones
Houston, TX
---