Geneva Ivanette Rinehart Oates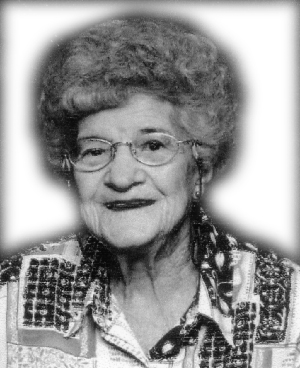 Obituary Notice
Geneva Ivanette Rinehart Oates, 88, passed away in her home on Friday, May 23, 2003. She was preceded in death by her parents, Alice Rinehart and Jesse Newton Rinehart; a sister, Carrie Huggins; a daughter, Joan Marie Oates; a son, Arthur Taylor Oates; and her husband, Lee Oates. She is survived by two daughters, Jane Marsh of Redfield, and Sue and Johnny Little of Redfield; three sons, Jerry and Edith Oates of Sheridan, Bill and Lou Ann Oates of Redfield, and Fred and Donna Oates of Redfield; 13 grandchildren and 14 great-grandchildren. She is also survived by two sisters, Eloise Durham of Fairfield Bay, and Gladys Reynolds of Hensley; and a host of nieces and nephews.
Geneva was a member of the Redfield Eastern Star, the Redfield Senior Citizens, and a lifelong member of Redfield United Methodist Church. She was born in Hensley, Arkansas on July 25, 1914, and was raised in Redfield. She graduated from Redfield High School. She married Lee Oates on November 3, 1934, and spent her life as a mother and homemaker. In her later years, she spent her time crocheting foot warmers for local area nursing home residents. She also enjoyed reading from her large collection of cookbooks. She cherished her family and will always be remembered as a loving wife, mother, and grandmother, and a dedicated Christian.
A Celebration of Her Life Service will be held on Tuesday, May 27, at 2 :00 pm at Redfield United Methodist Church in Redfield, Arkansas. Mrs. Oates will be lying in state at Ruebel Funeral Home Sunday, from 2:00 - 4:30 pm. Family visitation will be from 1:00 to 2:00 pm on Tuesday at Redfield United Methodist Church prior to the service. She will be laid to rest at the Redfield Cemetery.
Memorials may be made to Arkansas Hospice, 2200 Fort Roots Drive, North Little Rock,
Arkansas 72114-1709, or Redfield United Methodist Church, P.O. Box 232, Redfield, Arkansas 72132.
Arrangements are by Ruebel Funeral Home.
---
Register Book
Sorry about your mother.
Shelby Fewell from the Arsenal
North Little Rock, Arkansas

Dear Jerry and Edith,
I am sorry to hear of your loss.
After I read the article, I felt that hers was a life well lived and that her large family was very proud of her.
Louie & Alice
Little Rock, Arkansas

---