Charles Robert "Mike" Myklebust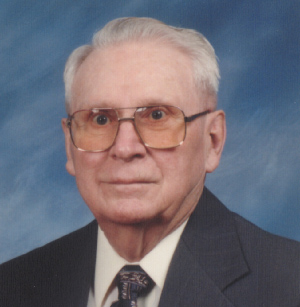 Obituary Notice
Charles Robert "Mike" Myklebust was born July 31, 1921 in Thor, Iowa. He passed away on August 11, 2003 at the age of 82. He is survived by his wife of 60 years, Shirley Butler Myklebust and children, Pam Busbea, Mary Jane Teague, Patti Fullington and husband Andy, Mark Myklebust and wife Diana, and Clark Myklebust and wife Cheryl. He is also survived by two aunts, Molly Joberg and Frankie Dalen. His grandchildren are Elizabeth Busbea, Michelle Abu-Halimeh and husband Mohammed, Bobby Teague, Jr., Jon Teague, Jenny Johnston and husband Daniel, Jacob Fullington and wife Carol, Matthew Myklebust and wife Melanie, Mary Kay Myklebust, Michelle Jenkins and husband Sean, and Michael Majors and wife DeShay. Great-grandchildren are Jordan Majors, Morgan Myklebust, and Dalton Mykle Johnston.
Visitation will be held at Ruebel Funeral Home, 6313 West Markham in Little Rock on Wednesday, August 13, 2003 from 5:00-7:00 p.m. The funeral will be held at Henderson United Methodist Church, 13000 West Baseline Road in Little Rock on Thursday, August 14, 2003 at 2:00 p.m. Burial will be at Forrest-Hills Cemetery, 10201 South Highway 5 in Little Rock.
Memorials may be sent to Henderson United Methodist Church and Hospice.
He is loved and will be missed.
Arrangements are under the direction of Ruebel Funeral Home.
---
Register Book
Diane Hensley Scott
Clemson, South Carolina
Email: discott@nuvox.net
Mary Jane,
So sorry to hear about your dad -- it is never easy losing a parent. Just wanted you to know that I am thinking about you and your family.
Tad, Deanne Martin Lancaster
Walnut Ridge, Arkansas
Email: tlancaster@pol.net
Mary Jane, I was so sorry to hear about your dad. I know that words are not enough when you feel such a loss. I will be praying for you and your family and please let me know if there is anything I could do for you.
Love you,
Loretta Burks
North Little Rock, Arkansas
Mary Jane and family. It is never easy losing someone you have known all of your life and one that made such an impression on you. I just wanted you to know that I am thinking of you and send you strength to get through these next days. There are a lot of wonderful memories and when you remember, you will smile and he will smile back.
With love,
Johanna Porfiris Siskos
Bloomington, Minnesota
DON AND BARBARA RAWLS
Little Rock, Arkansas
I am so sorry you lost your father. I know how much it hurts. My father is gone too. He will always be as near as your thoughts and always in your heart. Edna Lucille McDonald (Wilson) (class of 1965).
Edna Lucille McDonald (Wilson)
Batesville, Arkansas
Email: sandlefoot2003@hotmail.com
Mary Jane, I'm so sorry to hear about your dad. Both of my parents are gone now and I know how you feel.
Take hope in the fact that he's whole and happy once again.
Kara Millot Saurenman
Pickerington, Ohio
Email: saurenk@natinwide.com
---