George Robert Miller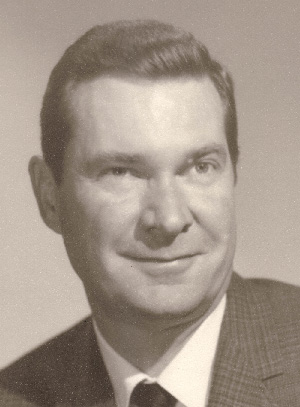 Obituary Notice
George Robert (Bob) Miller, 75, died September 23, 2003, at the Arkansas Veterans Home in Little Rock. He lived most of his life in Little Rock. He was a Navy veteran of WWII. Mr. Miller graduated from the University of Arkansas in Fayetteville where he was a member of SAE fraternity and Theta Tau engineering fraternity. He held positions with IBM and with Schlumberger Well Services before returning to Little Rock in 1968 when he opened Arkansas Rental Center.
Mr. Miller was a member of First United Methodist Church of Little Rock, a member of the Country Club of Little Rock, and a member of the Red, White and Blue Investment Club. In 1976 he suffered a severe stroke which limited his activities in future years. He became a resident of the Veterans Home in 1993. We are grateful for the kindness shown to him for all these years by the staff at the Home.
He is survived by two daughters, Nancy Witkowski of Washington, and Cindy Duggan of California; two grandchildren, Bradley Hamilton and Sara Hamilton; and one great-grandson, Nathaniel. He is also survived by a sister, Carol Becknell of Maryland.
A memorial service will be held on Friday, October 3, 2003, at 1:00 p.m. at the Arkansas Veterans Home, 4701 W. 20th Street in Little Rock.
You may send flowers to the Home for the service. Donations may be sent to the Red Cross.
We will miss Daddy's wonderful sense of humor and his amazing ability to smile through life's trials and tribulations.
Cremation arrangements are under the direction of Ruebel Funeral Home.
---
Register Book
Nancy,
I was sorry I could not come to the memorial service for your father but I was traveling in my work. I didn't know how to get in touch with you to express my sympathy. (I didn't realize Ruebel was arranging services. ) Hope you and your family are well.
Margaret English Holland
Little Rock, Arkansas
Email: msholland@midsouth.ualr.edu
---