Charles T. Meyer, Jr.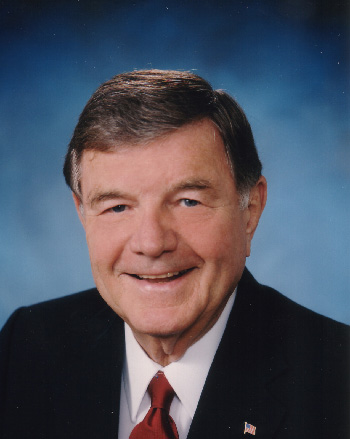 Obituary Notice
Charles T. Meyer, Jr. of Little Rock died Wednesday evening at the age of 85.He was the son of Lena and Charles T. Meyer, Sr. founder of Meyer's Bakeries. Mr. Meyer literally grew up in the baking industry spending much of his time in a bread box under the counter while his mother, Lena Ruck Meyer, handled sales at the Bakery originally located on West Seventh St. here in Little Rock. After graduating from Little Rock Central High as class president 1934-35 Meyer then graduated Cum Laude from the University of Arkansas with a degree in Business Administration. Meyer immediately embarked on a career in the family business, building Meyer's Bakeries into a national company. Meyer's grew from one small wholesale bakery here in Little Rock to six plants serving customers throughout the United States under more than 300 different brands. Meyer pioneered the process of "Brown N' Serve" rolls, breads, specialty items and English Muffins. During the 1990s, Safeway recognized the company as "Baker of the Year," Shurfine-Central selected Meyer as the "Supplier of the Year" and Super Value Bakery/Department awarded The Bakery with the "Outstanding Customer Service Award." Meyer's development of a trucking company for interstate distribution is another ingredient that set Meyer's apart in the baking industry. It gave the company the ability to serve customers coast to coast with fresh bakery products and contributed significantly to the Bakery's growth. Charles also believed deeply in, and was appreciative of, the over 1,000 employees and associates who helped him grow the company. He also believed in professional management inviting Arkansas business leaders Gus Blass II, Vernon Giss, Harold Engstrom and Louis L. Ramsay, Jr. to serve on Meyer's Board of Directors.
Charles Meyer is survived by his wife Mildred Williams Meyer, his children, Chuck Meyer and Marietta Nowicki of Little Rock and Caroline Finley of Saline County. He is also survived by seven grandchildren, Clay Cook, Lan Cook, Marley Meyer Jones, Carissa Meyer Pereira, Matthew Finley, Stuart Finley, Sam Finley and eight great grandchildren. He was preceded in death by Jeanne Hester Meyer the mother of his children.
In a 1986 PROFILE article for the Arkansas Democrat, Charles was asked "How would you like to be remembered" His response was "As having helped better the life of others." He did that well in all areas of life.
Meyer attended Pulaski Heights United Methodist Church where he taught youth and adults for15 years. His past service included Chairmanship of the Official Board and Chairman of the Finance Committee as well as 1977-1979 Chairman of the Board of Trustees United Methodist Children's Home.
He was also active in many community and civic causes as a Charter Member of the National Board of the Salk Institute, State Chairman of V.I.P.'s March of Dimes Teleramas, President of the Arkansas March of Dimes, State Chairman of the Heart Fund, Director of Arkansas Easter Seals Campaign, Chairman of Community Chest/United Fund, State Chairman of the Arthritis Foundation, YMCA Board of Directors, Executive Board of Little Rock University, Organized and was President of the North Little Rock Kiwanis Club, and served as Lt. Governor Kiwanis International.
Charles Meyer served others in business as well either Chairing or as a member of five separate committees of The American Bakers Association. He was on the Board of Trustees and the Executive Committee of the American Institute of Baking and a Board Member of the Independent Bakers Association, Chairman for the National Day of Bread, and member of the Food Marketing Institute. Charles was a Director of the American Management Association, Member of the Development Council University of Arkansas/Fayetteville, Member of the Council of Community Advisors/St. Vincents Infirmary and Founder of the Charles T Meyer Scholarship Awards. He also served on the National Advisory Board of First Commercial Bank.
There will be a visitation from 5:00 to 6:30pm Thursday at the Ruebel Funeral Home followed by funeral services at 10:30am, Friday, at Pulaski Heights United Methodist Church in Little Rock officiated by Rev. Vic Nixon. A reception will follow immediately after the service in the fellowship hall at the church. Private burial will be at Roselawn Cemetery. Pallbearers are: Clay Cook, Lan Cook, Matthew Finley, Stuart Finley, Sam Finley, and Blue Russell. Honorary Pallbearers are: Robert M. Goff, Louis Ramsay, Vernon Giss and the Butler Class of Pulaski Heights Methodist Church.
In lieu of flowers please make memorials to Hospice of Arkansas or Pulaski Heights United Methodist Church in Little Rock.
---
Register Book
We, the Firefighters of Firestation #10 C-shift, wish to express our deepest sympathy in passing of Mr. Meyer. If we can ever be of any service, please do not hesitate to call.
Respectfully Yours,
Captain Joe Rowe,
L.R.F.D. Firestation #10
Little Rock, Arkansas
Email: rowefireguy@scbglobal.net
Eternally greatful for a summer day at your duck camp with a group of boys from the Methodist Childrens Home back in the mid sixties. You will always be remembered as a kind and giving person to those less fortunate by everyone on that trip.
Peace be with you, Charlie T. Meyers.
Perry Rogers M.C.H. 1964 - 1971
Sherwood, Arkansas
Email: plrogers11648@comcast.net
Shirle & Richard Saxton
Little Rock, Arkansas
---