Lt. Col. Norman Porter Magers, Jr.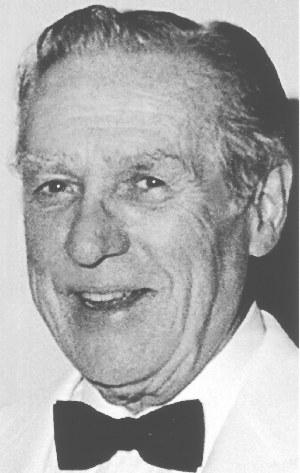 Obituary Notice
Lt. Col. Norman Porter Magers, Jr. USAF (ret) Age 84 of Little Rock, died of congestive heart failure at home on July 18, 2003, surrounded by his loving family.
Norman "Tony" Magers was born in Des Moines, Iowa, on October 13, 1918. He graduated from Roosevelt High School and studied Electrical Engineering at Iowa State College in Ames. He was drafted into the US Army in 1941. He graduated from Officers' Candidate School and Provost Marshal General School. As a Second Lieutenant in the US Army Air Corps he was assigned to West Point in 1942. He served in the European Theater in World War II and the occupation of Germany 1944-1947. He was Headquarters Company commander in the 831 Aviation Engineers and Security Officer during the construction of the Rhine Main Air Force Base near Frankfurt, which was used as the main airport for the Berlin airlift of 1948.
Norm was discharged as a Captain and a decorated war veteran in 1947. Three years later he was recalled into the Strategic Air Command and assigned to Ben Guareeer Air Base in Morocco. He later served at March Field in California (1852-58), England (1958-59) and Little Rock Air Force Base (1959-64) as Base Deputy Commander for Security and Law Enforcement. His service at Little Rock included special security responsibilities in Central Arkansas during the Cuban Missile Crisis. In 1964 he was transferred to Offutt AFB, Omaha, Nebraska, headquarters of the Strategic Air Command, where he commanded the SAC Elite Guard. He was greatly respected by his men, and the members of the Elite Guard gave a special farewell parade in his honor upon his retirement in July 1966. At that time he also received the Air Force Commendation Medal.
After retirement from the Air Force, Norm returned to Little Rock where he worked for ten years as vice-president and audio-visual specialist with Educators' Service Center. He was a member of the Retired Officers Association and the Heights Optimist Club. After his second retirement, he focused his energies on his hobbies of carpentry, gardening and travel. He remodeled his house, built custom furniture, and delighted his granddaughters with hand-made custom-designed doll houses. Norm and his wife enjoyed their travel abroad and in all 50 states. In 1997 he attended the opening ceremony of the American Air Museum in Duxford, England, as a founding member of the museum, which honors American airmen who served their country in Britain during World War II.
Norman is survived by his wife Bea Fugua Magers; his sons Norman P. Magers III (Altlanta, GA), James B. Magers (North Little Rock); his daughter Pamela C. Magers (San Francisco, CA); his step-son Richard Hegenberger (Charleston, NC); step-daughter Carla Fishman (New Orleans, LA); and nine grandchildren.
There will be a private family interment. The memorial service followed by a reception will take place at 3 pm Sunday, July 20, at Pulaski Heights Presbyterian Church, 4401 Woodlawn, Little Rock. Arrangements are under the direction of Ruebel Funeral Home.
In lieu of flowers, memorials may be made to the Salvation Army or Pulaski Heights Presbyterian Church.
---
Register Book
I had the pleasure of serving with L/Col Magers while assigned to the 3902nd Combat Defense Squardon at Offutt AFB in 1964 and 1965. Please accept my deepest sympathy for your loss.
Michael A. Altieri
Col. USAF (Ret.)
Reisterstown, MD
---