Robert Douglas Jones, M.D.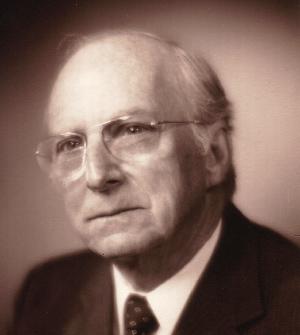 Obituary Notice
Robert Douglas Jones, M.D., age 87, of Little Rock, died Friday, August 29, 2003. Born in Thornton, Arkansas, Dr. Jones graduated from Fordyce High School in 1933,before graduating from Hendrix college in 1937, and later receiving his medical degree from the University of Arkansas Medical Science Center, 1941. He Interned at Arkansas Baptist Hospital, 1941-1942, before serving in the U.S. Army, 1942-1946. He was attached to the 6th Army Headquarters entering as a 1st Lt. in the medical corp. and discharged as a Major. He served in the Southwest Pacific, Australia, New Guinea, Philippines, and Japan. After the war Bob entered his medical practice in Little Rock in 1946. In that same year he joined Dr. H.G. Hollenberg and after 5 years became his partner for over 30 years. His son John joined the firm in 1979. Bob retired in 1985. He was a member of the Pulaski County Medical Society, Arkansas State Medical Society for 50 years, Arkansas Medical Association, and the Hendrix College Half Century Club. He served as Student Body President of Hendrix College, as well as Student Body President at the University of Arkansas Medical Science Center, served on the Council of the Arkansas State Medical Society, Chief of Staff and board of directors Saint Vincent Infirmary, board of directors of Presbyterian Village, and an Elder of Westover Hills Presbyterian Church. He was a charter member of the Norris Hunting Club located on Big Island in Desha County, and a charter member of the Mozart Hunting Club.
Dr. Jones was married to Mary Ellen Collier Jones who died in 1959, and presently married to Lavona Craggs Jones who survives him. He is predeceased by one son Robert D. "Bobby" Jones, who died in 1986, and is survived by 3 sons; Thomas Henry "Tommy" Jones and wife Dee of Little Rock, Dr. John Collier Jones and wife Julie of Little Rock, Fred Gray and wife Toni of Little Rock, 2 daughters; Lavona Russell and husband Clyde of Nashville, Tennessee, Barry Gray and husband Ed of Austin, Texas, 15 grandchildren and 8 great-grandchildren.
There will be a visitation held Monday from 5 to 7 p.m. at the home of Dr. John and Julie Jones, 12 Longfellow Lane, Little Rock, followed Tuesday with a memorial service at 11:30 a.m. at Westover Hills Presbyterian Church officiated by Reverends Jim and Debbie Freeman.
Memorials in lieu of flowers should be made to Westover Hills Presbyterian Church or Easter Seals of Arkansas, 3920 Woodland Heights Road, Little Rock 72212-2495.
Arrangements are under the direction of Ruebel Funeral Home.
---
Register Book
Lavonna and John, You and your families are in our thoughts and prayers. You and Bob were special friends to Mother and Daddy. Don't you know they are having a good time together in Heaven. John, Mother thought so much of you when you took such good care of her three years ago. Remember that you all are constantly being lifted up in love and prayers by many folks to sustain you through this difficult time.
Betty and Carl Glenn
Little Rock, Arkansas
bettycarl@sbcglobal.net
The Board of Deacons, and the entire congregation of WestoverHills Presbyterian Church extend their Sympathy to your family at this time. You are all in our thooughts and prayers.
Glenn West
Chairman Board of Deacons, Westover Hills
Little Rock, Arkansas
Email: rlsgew@aol.com
---