Douglas Leroy Johnson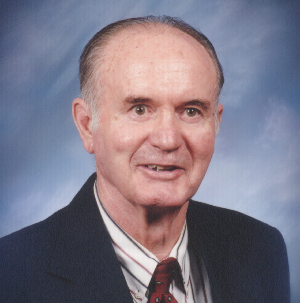 Obituary Notice
Douglas Leroy Johnson, 80, of Little Rock, went to be with his Lord on Friday, July 4, 2003. He was born in Gering, NE and during high school joined the U. S. Army. He served in the Aleutian Islands during WWII as a First Sergeant. On December 29, 1949 he and Peggy Jane Hewett were married. After his discharge, he went to watch repair school and moved to Stuttgart where he worked for Denman's Jewelry. In the early 1970's he started Custodian Supply, Inc. retiring in 1992. He was a founding member and one of the first congregational presidents of First Lutheran Church in Little Rock, later he became a charter member of Christ Lutheran Church. He and his wife were members of the Square Rounders Square Dance Club for over forty years. He is survived by his wife, a son, Steven Johnson, a daughter, Pamela Johnson Hooper and her husband, Dr. Sanford Hooper all of Little Rock, a sister, Gladys Stewart of Gering, NE, and granddaughters Michelle Hooper of Little Rock, and Sarah Hooper of Fayetteville.
Visitation will be held on Sunday, July 6 from 5:00 p.m. to 7:00 p.m. at Ruebel Funeral Home. Funeral services will be held at 10:00 a.m. on Monday, July 7, 2003, at Christ Lutheran Church with Pastor Paul Jilg officiating. Burial will follow in Oakland Cemetery. Arrangements are under the direction of Ruebel Funeral Home.
Memorials may be made to Christ Lutheran Church, 315 S. Hughes, Little Rock, AR 72205 or Baptist Hospice, 11900 Colonel Glenn Rd. Suite 2000, Little Rock, AR.
---
Register Book
Peggy, We offer sympathy and prayers for you and your family with the loss of Doug.
Bob & Joanne Richardson
Warren, Arkansas
For I Know That My Redeemer Lives and Thought My Body Be Destroyed Yet in My Flesh Shall I See God.
Doug The Blare Bunch will miss you and we can say without reservation we are better for having know you.
Cecil & Sharon Burks
Friend, Church Member, Cell Group Partner
Little Rock, Arkansas
Email: cecil@comcast.net
Dear Peggy, Pam and Steve,
Louis and I are saddened by the news of Doug's death. All of you will be in our thoughts and prayers in the coming days.
Love,
Montine and Carl L. Brunck
Little rock, Arkanasas
William Tirelli Stephens
Hot Springs, Arkansas
(Mrs.) Ada Tirelli Stephens
Hot Springs, Arkansas
Email: M14m@earthlink.net
You are in my thoughts and prayers.
Mary A. Collins
Little Rock, Arkansas
Email: collinsrealty@swbell.net
Peggy just to let you know your in our thought and prayers.
Judy Baser & A.B. Rogers, Jr. (Buddy)
Stuttgart, Arkansas
Email: jbaser@ipa.net
---