Kathryn Elise Henson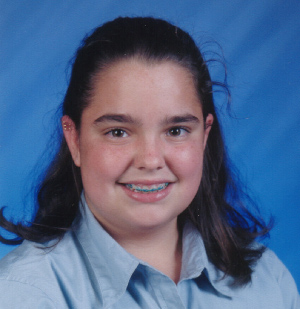 Obituary Notice
Kathryn Elise Henson, 14, of Little Rock, died Monday, September 1, 2003 on Lake Quachita. Kathryn was born in Little Rock to Doug and Vicki Yarberry Henson. She graduated from Christ Lutheran School and was a freshman at Lutheran High School. She enjoyed drama and loved wakeboarding and other activities at the lake. Kathryn is survived by her parents, her sister, Lauren, grandparents, James and Frances Yarberry of Hot Springs Village and James and Nell Henson of Blytheville, AR, uncles and aunts, Janice and Steve Littrell of Blytheville, Paul Henson of North Little Rock, Pam Zabicki of Little Rock, Eddie and Suzanne Yarberry of Turlock, CA, Jim and Nancy Yarberry of Lake Jackson, TX and cousins, Jessica, Beth, Vicki, Denise, Jennifer and Danny.
A visitation will be held from 5-7 p.m. Wednesday at the Ruebel Funeral Home with funeral services following on Thursday at 10:30 a.m. at Lutheran High School.
Memorials may be made to "Lifelong Leaders with Eternal Values" Capital Campaign at Lutheran High School, 6711 W. Markham, Little Rock, AR 72205.
Arrangements are under the direction of Ruebel Funeral Home.
---
Register Book
Phil Jordan
Little Rock, Arkansas
Our prayers are with you and your family. Let us know if there is anything we can do.
Renee & Jeff Bounds
Roland, Arkansas
My thoughts and prayers are with you and your family. Kathryn will be greatly missed by us all.
Thomas Huey
Lutheran High Freshman
Little Rock, Arkansas
Jim & Sandra Joyce
North Little Rock, Arkansas
My heart goes out to you. May God give you comfort in your loss.
Cletus Eppinette
North Little Rock, Arkansas
Our prayer are with your family.
Clark, Michelle, Meagan and Allen Wood
Sherwood, Arkansas
Email: cbmawood@swbell.net
Our prayers will be with you always. Your friends forever.
Doyle Phillips
Little Rock, Arkansas
Our thoughts and prayers are with you & your family at this time. May your faith in God give you comfort & strength to get through this difficult time in your lives. My husband & I lost our 12 yr old daughter,Caitlyn, on June 28,2002 so we as parents understand the devastating loss you are enduring. We are truly sorry for your loss, Heaven has gained another beautiful angel. May your memories of Kathryn live on through you all & God Bless.
Bobby & Cheryl Timbs
Hot Springs, Arkansas

For Doug, Vicki, Lauren, the grandparents, uncles, aunts, cousins, The Lutheran Family, the teenagers of Lutheran High School and all other friends of the HENSON family; may I pass on an e-mail that my older sister sent to me from Alexandria, Louisiana, in our time of sorrow over our loss of Kathryn.
My oldest sister lost her husband in 1980 after only 8 years of marriage. They had a young son, only 7 yrs at the time. My sister sent me the following message concerning the loss of Kathryn which I thought should be fowarded to everyone to consider.
"a death is never easy .... we are all selfish human beings who want our favortie folks TO LIVE FOREVER. It takes an UNselfish act to let that person go. We are all blessed with their memories and what we have learned from them. amen and amen. take care, big sis"
I think this kinda' sums it up .... may everyone that was touched by this event, move on with their lives and enjoy our families, for none of us are eternal.
May God Bless each of you and especially the Doug and Vicki HENSON family! ......
The Hank JOHNS family
North Little Rock, Arkansas
Email: HJohns3@aol.com

I love you Mr. Henson, and I am praying for you. I am so very sorry.
Ashley Cash
Student, Univeristy of Memphis, previous student at Lutheran High
Memphis, TN.
Email: kickash6521@writeme.com
Doug, Vicki and Lauren, Our hearts are filled with sadness over Kathryn's passing. Please know that you are in our thoughts and hearts always.
God Bless You.
Jon, Liz, Abby and Caroline Rucker
Oak Hill, Virginia
Email: mizliz415@aol.com
---