Nicholas David Harrel II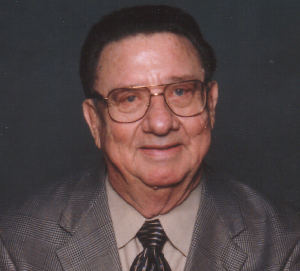 Obituary Notice
David Harrel II, 79, of Little Rock died Tuesday, October 14, 2003. He was born in Lewisville, AR to Fred F. and Vanessa Lee Pope Harrel. He graduated from Lewisville High School and attended Tulane University and received a law degree from La Salle University. He served with the United States Navy from 1943-1946 as an Aerial Gunnery Instructor. He married Betty Stolz in 1946 and she predeceased him in 1998. He was employed by the FBI from 1946 to 1974, becoming a special agent in 1951. After his retirement he become a private investigator until 1995. David was a member of the Pleasant Valley Country Club and St. James United Methodist Church.
He is survived by a son, Alan Harrel and his wife, Jeanne of Texarkana, TX, a daughter, Susan Harrel Underwood and her husband, Trevor of Greenwich, CT and two grandchildren, Nicholas D. Harrel III and Julie E. Harrel.
A visitation will be held from 5-7 Thursday at Ruebel Funeral Home. Funeral services will be held at 10:00 a.m. Friday at St. James United Methodist Church, officiated by Dr. Guy Whitney. Burial will follow in Pinecrest Memorial Park.
Memorials may be made to St. James United Methodist Church, Arkansas Children's Hospital or the Texarkana Regional Arts and Humanities Council.
Arrangements are under the direction of Ruebel Funeral Home.
---
Register Book
David was a very special person to all who knew him. He was very special to the members of "One Voice Praise Team" at St. James UMC. He was always there with a smile to help us break down every Sunday after the service. We will miss his smile and his presence. We know that he is in heaven singing the praise songs that he loved so much. Our prayers and sympathy to the family and all who knew and loved him.
Ginger Hicks
Director of "One Voice Praise Team"
St. James UMC
Little Rock, Arkansas
Email: ginger.hicks@afbic.com
Classmate first through twelth grade in Lewisville school. "Dugan" Harrell was president of student body in 1942, and a good friend.
Stewart Landes
Lewisville, Arkansas
Email: slandes @magnolia-net.com
Dick and Allene Stark
Texarkana, Texas
With deepest sympathy.
Howard and Sylvia Waldrop
ARWH
Texarkana, Texas
Email: hwaldrop@arwhlaw.com
Tommy Strickland
Texarkana, Arkansas
Email: TM5134@aol.com
My thoughts and prayers are with you.
LeJean TerAvest
ARWH
Texarkana, Texas
Email: lteravest@arwhlaw.com
Debbie Autrey
Texarkana, Texas
Please accept our condolences.
Mike and Joys Pearson
Texarkana, Texas
Email: MRPTX@AOL.COM
I can understand a part of your pain because you're never ready for them to leave you despite their pain. I am thinking about you. I hope you find some comfort in your memories.
Louise Tausch
ARWH
Texarkana, Texas
Email: ltausch@arwhlaw.com
Susan, my thoughts and prayers are with you.
Becky Baxter Porter
Old Friend from Broadmoor
Little Rock, Arkansas
Just want you to know you are in our thoughts and we will yell especially loud this weekend at the football game just for Mr. Harrel. We will also wear red underwear!!!
Junie and Dennis Young
Texarkana, Arkansas
Email: juniey@earthlink.net
Our deepest sympathy,
Betty Feir and Mike Richardson
Texarkana, Texas
Susan, So sorry to find out so late that your Dad died.
Debbie Oates Erwin
Little Rock, Arkansas
David was a friend with the rare talent of making a person feel special. He will be missed.
Patsy Keller
North Little Rock, Arkansas
---