G. Oliver Harper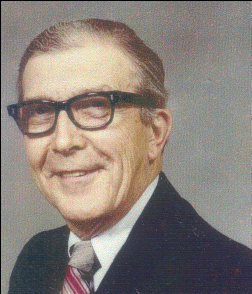 Obituary Notice
Goin Oliver Harper, previously of Little Rock, Arkansas, died on November 20, 2003 at Parkway Place Nursing Home in Houston, Texas. He was 91.
Born in Centerton, Arkansas on July 12, 1912 to Louise Irene Mueller and George Washington Harper, he attended public schools in Little Rock. He began his career in the food business at a young age. In the early thirties, he worked for Franke's cafeteria where he met his future wife, Mildred Embra Murphy, and his first business partner, Walter Oathout. In the late thirties, he and Walter Oathout opened their first restaurant, the Penthouse Cafe at 4th and Main Street. A few years later, the business was renamed the Lido Cafeteria and moved to 615 Main Street. Patrons enjoyed fine food and listened to organ music played by Mrs. LaLonde.
During World War II, Mr. Harper and his partners operated a food service for U.S. Time, a munitions manufacturer. Also during World War II, they opened the Lido Inn at 25th and Roosevelt. Both the Lido Cafeteria and the Lido Inn were listed in the Duncan Hines' guide to fine dining. People came from all over the state to enjoy the special menu items of chef s salad, New York strip sirloin steaks, and New Orleans gold brick sundaes. In the late forties, Mr. Harper and his partners opened the Minute Man fast food restaurant at 4 th and Broadway. This restaurant was the first in the state to employ microwave cooking; the slogan was "A Meal in a Minute." The Minute Man also became famous for its RadarRange fruit pies. Other ventures included a franchise for the first Tastee Freeze outlets in the state. The first Tastee Freeze was built beside Amos Ryan's grocery store on the comer of Wright Avenue and High Street. About this time, Mr. Harper and his partners opened the Lido Riverside, which expanded fine dining to the north side of Little Rock. He and his partners also founded Arkansas Frozen Foods, a processor and nation-wide distributor of Lido frozen candied yams, Lido navy bean soup, and Lido black-eyed peas. In his latter years, Mr. Harper was perhaps best known as the proprietor and operator of the Black Angus Charcoal Hamburger restaurants throughout the Little Rock area. The first opened in the early sixties on the comer of Markham and Van Buren.
Mr. Harper was a founding member and an early president of the Arkansas Restaurant Association; a member of the Little Rock Lions Club; a Sunday School teacher at Capitol View Methodist Church and later a Member of the Administrative Board of First United Methodist Church and the Music Leader of the Century Men's Bible Class. He had a life-long interest in music. As a young man he had taken voice lessons and tap dancing, and had sung for various events sponsored by the Women's City Club.
He was married for 58 years to the late Mildred Murphy Harper, who died in 1993. He leaves three children: G. Neil Harper and wife Anne of Belmont, MA, Morris N. Harper and wife Nancy of Houston, TX, and Janis Harper Haydel and husband Paul of Richardson, TX; seven grandchildren, Robert Yost Harper of Hopkinsville, KY, Susanna Harper Gallant and her husband Richard William of Dunstable, MA, Walter Russell Harper and his wife Ruth Decker of Los Angeles, CA, Christopher Scott Harper and his wife Melanie Poth of Houston, TX, Sally Haydel Jones and her husband Bryan Preston of Houston, TX, Christopher Paul Haydel of Chicago, IL, and Michael Robert Haydel of College Station, TX; and three great grandchildren, Mark Robert Gallant, Rachel Helen Anne Gallant, and Oliver Jacob Harper. Nothing was more important to Mr. Harper than his faith and his family.
A memorial service will be held Saturday, December 6, at 2:00 p.m. at First United Methodist Church in Little Rock. Arrangements are under the direction of Ruebel Funeral Home.
In lieu of flowers, the family asks that donations be made to the Mildred and Oliver Harper Scholarship Fund at the Gertrude Butler Child Care Center at First United Methodist Church 723 Center Street 72201.
---
Register Book
Neal, Morris & Janis: I am so sorry to hear of your dad's death. He and your mother were favorites of mine when I was a kid. I am so glad I stopped by to see them shortly before your mother died. He was a fine Christian man, and I know you will miss him. We will keep you in our prayers.
Alice Marie Harper Dixon
Springdale, Arkansas
Email: tomandalice@cox-internet.com
Gerald and Frances Mitchum
Ulaanbaatar, Mongolia
Email: gmitchum@magicnet.mn
Our Daddy was a true role model for an earthly father. We are certain he is now with the Lord and Mildred, his wife and our Mother. Those left behind can celebrate his strong faith and kind words to all those with whom he came into contact. He will be missed, but never forgotten.
Morris N. Harper
Houston, TX
I have fond memories of Uncle Oliver and his eateries. I was always fascinated by the variety of foods he was able to serve. Some of my favorite memories are of dining in his facilities. He was always kind and good through and through. Even when he no longer owned or operated the Black Angus', they were still a favorite burger place. My husband and I extend our deepest sympathy for the loss to the family, but we all know that he is with the Lord and his beloved wife, Mildred. May God give you peace during this time.
Mary Evelyn Harper Brown
Little Rock, Arkansas
Email: hilltopoaks@arczip.com
Morris, Nancy, Rita and I will not be able to attend your Father's memorial service but will have you and both in our hearts. It would appear that your Dad had a full life, what more could any of us ask. Our faith is our strength at times like these old friend.
Rita and Dick Leathers
Houston, Texas
Email: dleat01635@aol.com
---