John Harvey Haley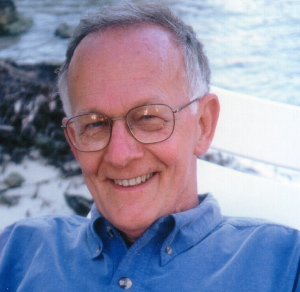 Obituary Notice
John Harvey Haley, age 72, of Little Rock, died Thursday, December 4, 2003. Born in Hot Springs, Ark. to Harvey H. and Anne Tanner Haley, he graduated from high school in Siloam Springs, received his A.B. degree in 1952 from Emory University, where he was President of the Student Body and Vice-President of the National Student Governors Association, and obtained his LLB degree in 1955 from the University of Arkansas, where he was editor of the law review. Mr. Haley began his law career as a clerk for Judge George Rose Smith of the Arkansas Supreme Court and served as a partner with the Rose Law Firm in the 1960s before forming his own law practice and associating with a series of firms over the next 30 years.
Most recently, he was of counsel to Eichenbaum, Liles and Heister law firm and chairman of a private company that developed and managed commercial and industrial real estate in Arkansas and Tennessee. Mr. Haley gave generously of his time to public service. He was appointed by Governor Winthrop Rockefeller to serve as Chairman of the Arkansas Board of Corrections, where he pushed for reform of the Arkansas prison system. He also served as Chairman of the Arkansas Board of Law Examiners and the Arkansas Pardon and Parole Board. He was a director of the Morgan Owens Foundation for Deaf College Students and served on the Boards of the Florence Crittenden Foundation, the Wildwood Center for Performing Arts, and Southshore Foundation. He was director of the Harvey Haley Foundation and served as a Director of several Arkansas-based manufacturers and utilities. He was a member of the Arkansas and American Bar Associations.
John is survived by his wife, Cynthia Haley; four children: John S. Haley and his wife, Danette, of Little Rock; Susan H. Adams of Minneapolis; David C. Haley and his wife, Lori, of Dallas; and Anna Holmes of Little Rock; a sister, Mary Anne Young of Little Rock; eight grandchildren: Anne Louise Haley and Colleen Stuart Haley, of Little Rock; Christopher Adams and Andrew Adams, of Minneapolis; and David, Connor, Lauren, and Katherine Haley, of Dallas; and two nieces: Peggy Seamon and Lissa McCoy of Little Rock.
A memorial service will be held 11 a.m. Monday at St. James United Methodist Church in Little Rock with Rev. David Moore officiating under the direction of Ruebel Funeral Home.
In lieu of flowers, the family requests that donations be made to a charity in his honor.
---
Register Book
Dear Cindy,
We are very sadden to hear of John's accident. We had just returned from Mexico. Our thoughts and prayers are with you and your family. We had only known John for a few years, and we are proud that we had the opportunity.
Charlie and Martha Hayes
Cherokee Village, Arkansas
I will miss you, Uncle John.
Margaret (Peggy) Anne Young Seamon
Little Rock, Arkansas
Email: rpnsea@aol.com
Our thoughts are with you at this time.
Laurence H. Lebowitz
Dallas, Texas
My thoughts are with you.
Baker Gentry
Esher, United Kingdom
Mimi Ramsey
Customer service/ Central Flying Service
Little Rock, Arkansas
John was a great friend and colleague. He will be missed by all. Sorry we could not make the trip to LR for the memorial service due to illness. Our sincere and deepest sympathy to the family.
John K. and Jenny Shamburger
Attorney at Law
Fairfield Bay, Arkansas
Email: jsham@artelco.com
Jim and Brenda Pagan
Little Rock, Arkansas
With our deepest sympathy,
Kathryn Brady Ragan and Lyn of the Brady bunch
Little Rock, Arkansas
Email: kinconir@aol.com
I'll remember you always, John Haley.
Kevin M. Kerr
North Little Rock, Arkansas
Email: kkerr@ccsmail.net
Cindy, I was sorry to hear about Johns death. Atlthough, I did not know John, I heard many good things about him. Wtih deepest regards and sympathy.
Kemp Nall
Grant County Judge
Sheridan, Arkansas
Email: grantcch@seark.net
Mr. and Mrs. Harold Goetz, Randy Goetz
Email: rgoetz@ipa.net
John's quick wit, along with the everpresent sparkle in his eye, will be missed. However, I am certain those are but a snippet of John's character, which has provided such delightful memories to so many over the years.
Ann Thomas
Accounting Manager, Northern Arkansas Telephone Co.
Flippin, Arkansas
Email: athomas@southshore.com
Michael Allwine
Little Rock, Arkansas
On behalf of my family, and on behalf of the Lutheran High School family (where two of John's grandchildren have attended), we send our heartfelt sympathy to John's family and friends at this time of loss. We will honor and remember John in our chapel service Monday morning at LHS.
Rev. Dr. Tom Wolbrecht
Principal - Lutheran High School
Little Rock, Arkansas
Email: dr.tom@lutheranhigh.org
John you will be missed by many arkansans, who benifited from your alidestics and visions of different views of life. Thank you for many years of giving.
M. L. Laxton
Hot Springs, Arkansas
Our deepest sympathy to Susan & ALL of John's family for your great loss and sorrow. Our thoughts and prayers of God's comfort, healing and peace are with you.
David Yeager & family
Minneapolis, Minnesota
Email: DYeager255@aol.com
At death we won't leave home - we will go home.
Peter Peitz
Cotter, Arkansas
Email: pgpeitz@cox-internet.com
My sincerest symphathy to John's family. Even though it had been eight years since I worked for him I never forgot all the many friends, family and clients that I dealt with. He was a great boss. He would have been very pleased with the services yesterday.
Kim Squires
Legal Assistant
Sherwood, Arkansas
Email: kim.squires@usdoj.gov
---