Charles Henry Gray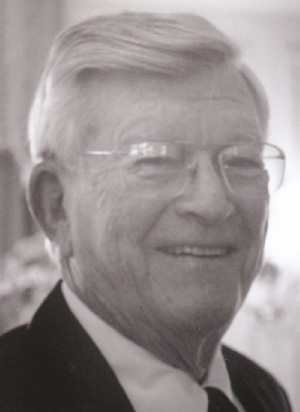 Obituary Notice
Charles Henry Gray, age 80, of Little Rock, died Tuesday, March 11, 2003. He was born in Paris, Arkansas on May 29, 1922 to the late Ezma Johns and Henry Gray. He graduated from Paris High School in 1940. He was preceded in death by one son, Charles Henry "Hank" Gray and a brother Kenneth Gray. He is survived by his wife, Bequita Bumpers Gray of Little Rock, two daughters; Anne Gray James and husband Dick of El Dorado, Gretchen Gray Norton and husband Mac of Little Rock, seven grandchildren; Hank Gray of Memphis, Chad Gray of New York, Andrew and William James of El Dorado, Gray, Elise and Mary Britton Norton of Little Rock, and two great-grandchildren; Vivian and Ava Gray of Memphis.
He was an Arkansas Tech Wonder boy for Coach John Tucker. Along with Tech's team they were members of the Navy-Marines Contingent that with the onset of World War II sent en masse to Arkansas A&M at Monticello. Gray spent four years in the Pacific as a Second Lt Marine. On his return from World War II he enrolled at the University of Arkansas where he received his Masters in Education. He was a member of the 1946 Razorback football team that tied Louisiana State University in the Cotton Bowl. He was assistant coach to Wilson Matthews at Little Rock High School. By 1949 he was coaching the Razorback freshmen in Coach Barnhill's last year. He was a special agent for the Federal Bureau of Investigation four years before returning to Fayetteville to become the first Executive Director of the Arkansas Alumni Association. He was appointed United States Marshall of the Eastern District of Arkansas under President Jimmy Carter and President Ronald Reagan, and for nine years was the Chief of Federal Probation and Pre-trial Services for the United States District Court until his retirement in 1997. He continued to be an avid supporter of the University of Arkansas and the Razorbacks. He also loved playing golf.
There will be a funeral service Friday at 10am at First United Methodist Church of Little Rock, officiated by Reverend Jeannie Burton and Reverend Ed Matthews. Burial services will be at 3pm at the Oakwood Cemetery in Paris, Arkansas. Services are under the direction of Ruebel Funeral Home.
Memorials may be made to First United Methodist Church of Little Rock or a favorite charity.
---
Register Book
Working at the marshal's office with Charlie Gray was a learning and rewarding experience that has continued throughout the years I have served with the Marshal's Service.

My wife, Kathy, and I extend our sincere thoughts and prayers to Charlie's family at this time of sorrow and loss.

Lucian and Kathy Bramel
Sherwood, Arkansas
---